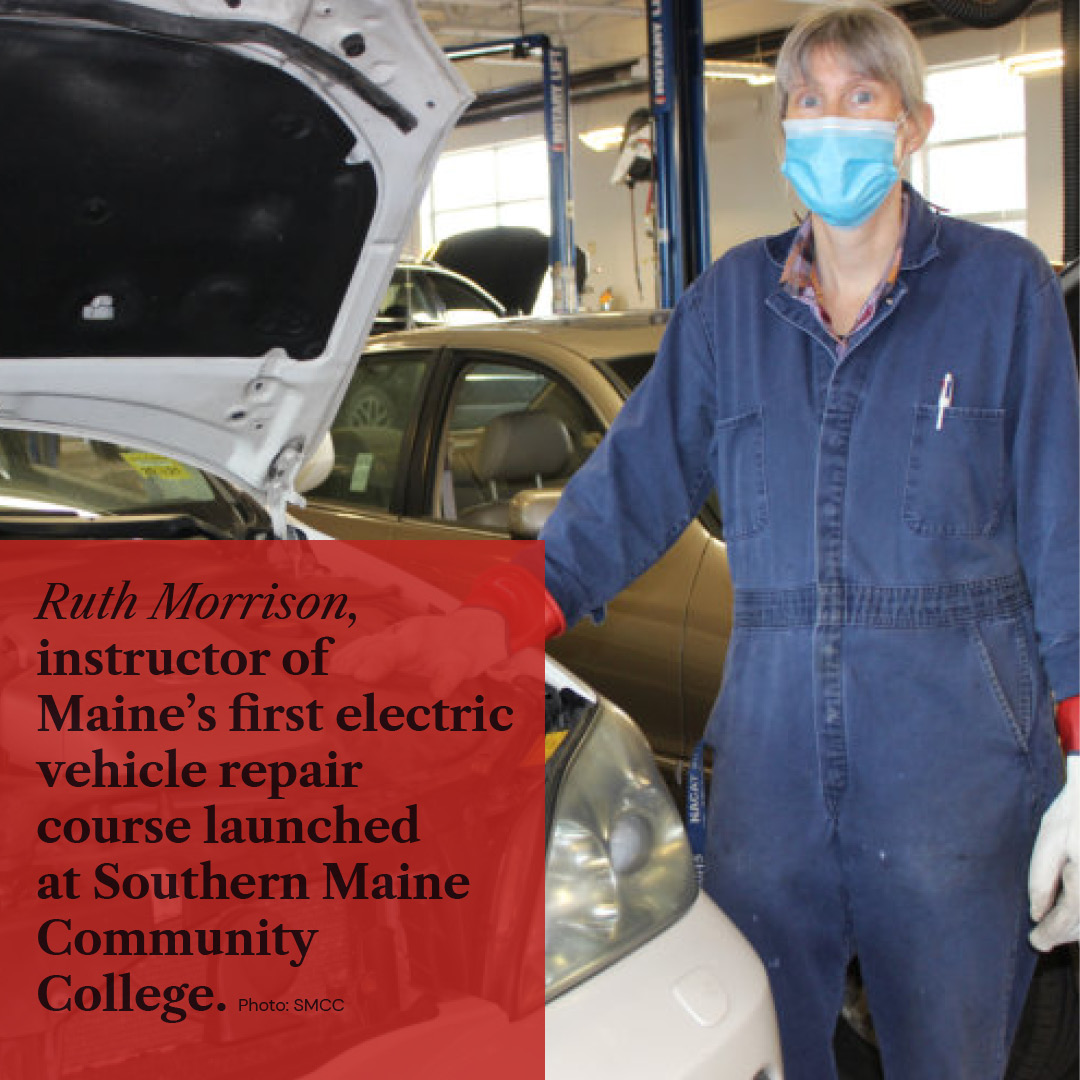 Maine's First EV Repair Training Course Meets Accelerating Adoption
The first electric vehicle repair course in Maine launched at Southern Maine Community College as EV and hybrid adoption accelerates across the state. In the course, auto technicians from dealerships, repair shops and other automotive businesses are trained to diagnose and service electric and hybrid vehicles.
The course comes as Maine embraces the future of transportation. In fact, registrations for EV and hybrid vehicles in Maine increased 90% from 2019 to July 2021. Public EV charging stations grew 62% in the same period. Both upticks represent significant progress toward the Maine Won't Wait plan goal of curbing state emissions by 46% by 2030. The course is also consistent with the Maine's goal of 30,000 clean energy jobs by 2030.
Justin Hynes, a program graduate and a Master Technician at VIP Automotive in Yarmouth with 19 years of automotive repair experience, calls the course a game-changer.
"Before the course, we sent electric or hybrid vehicles back to their dealerships. After the course, there are VIP locations and technicians confident and certified in servicing EV and hybrids. It brings another aspect of repair and services to our customer base. It's been a game changer." - Justin Hynes, ASE Automotive Master Technician, VIP Automotive.
The short-term course is currently offered for free for trainees who meet prerequisites. Enrollment is open for 2022 sessions. We asked SMCC Automotive Technology Chair, Ruth Morrison to tell us more about the program.
How did the SMCC EV Repair Training Program begin?

I wanted to start this curriculum for a decade, so I was thrilled when automotive service chain VIP approached me in 2019 with a request to train their technicians. I got support from our Workforce Development Department and a grant from Maine Quality Centers helped fund teacher training, new tools, and tuition for about 100 students.
 
Why did you want to start the EV repair curriculum?

There are already so many more electric and hybrid vehicles on the road now - and there are going to be more and more. We need more technicians to be able to service them. Also, as vehicles are sold to second and third owners, it is helpful to perform used vehicle condition and value checks.
 
What does the training look like? 

There are a few hours of both online lessons and hands-on training. The hands-on portion happens in SMCC's Automotive Technology Center, which is a large facility with two shops on Willard Beach. There are 10 lifts including alignment racks in the upper level shop and 6 lifts and space for bench work for rebuilding engines and transmissions in the lower level shop. 
 
What do students receive upon course completion? 

Students will gain the knowledge and skills to perform predictive maintenance, diagnose and repair hybrid and electric vehicles. The course prepares students to take the  National Institute for Automotive Service Excellence Light Duty Hybrid/Electric Vehicle Specialist Certification Test.
Course details can be found here. Interested technicians or employers are encouraged to email workforceregistration@smccME.edu or call 207-741-5955 for application information.