Recycling
Recycling of products and materials has many benefits and is an important component in achieving sustainable systems. By recycling products and materials, air and water pollution from waste disposal activities are reduced, and the recapturing of those products and materials lessens the amount of mining and extraction of minerals needed to manufacture new products. Additionally, energy and water consumption is decreased in many manufacturing processes. Many recyclable materials have commodity value, which provides additional incentive to their recovery. Maine DEP provides technical and educational assistance to residents, municipalities, schools and businesses to help increase the amount of resources that are recovered from the waste stream. DEP also collects, synthesizes, and reports data on solid waste management in Maine
Learn more about recycling in Maine:
Other Related Links (Off Site)
US EPA Reduce, Reuse, Recycle - Information, resources and educational materials available on ways to prevent waste and recapture material resources.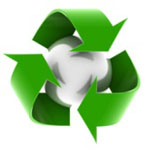 Maine Resource Recovery Association assists with marketing of recyclable and reusable materials, promotes market development of recyclables, and fosters professional practices To further the development of recycling and other forms of resource recovery as cost-effective components of environmentally sound solid waste management in Maine communities.
Northeast Recycling Council (NERC) - NERC's mission is to advance an environmentally sustainable economy by promoting source and toxicity reduction, recycling, and the purchasing of environmentally preferable products and services.
Earth 911 – Earth 911 provides a one-stop web site about "More Ideas, Less Waste", including a quick search function to find out how and where to recycle all kinds of products.
Household hazardous waste - The Environmental Depot in Lewiston and the Riverside Recycling Facility in Portland serve as collection sites for household hazardous waste from all Maine residents. Check their web sites for hours and charges. Learn more about household hazardous waste, and please contact your Town Office to find out if your town is participating in any household hazardous waste collection events.
Smoke Detector Recycling: Federal law requires manufacturers to take back smoke detectors that contain a radioactive source. This N.H. Department of Environmental Services website includes a listing of brands and information for returning smoke detectors to the manufacturers.
University of Maine Waste Characterization Study - A project undertaken by the School of Economics to characterize Maine's residential waste stream resulting in the report: "2011 Maine Residential Waste Characterization Study."
For more information, contact George MacDonald at 207-287-2870