Firewise Communities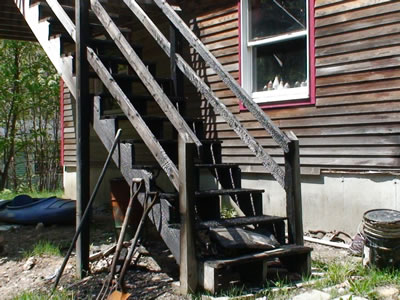 Lake Arrowhead Community (LAC), Waterboro, 2008
LAC is our first Firewise community and continues to be active in the program. A Firewise demonstration area has been set up near the central fire station that shows good defensible space. In addition, the Lake Arrowhead Community office put up a Firewise banner and several fire danger signs. Despite increased awareness and 5 years of brush chipping, several wildfires have occurred in LAC since it has become Firewise, including this one which scorched the steps leading to the back deck of a home.
---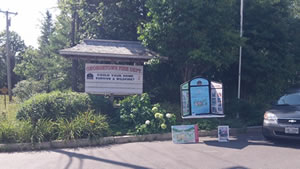 Indian Point, Georgetown, 2009
This community faces challenges such as excessive softwood and limited access to freshwater for suppressing wildfires. They have participated in our "Defensible Space Brush Chipping Program" and chipped up tons of brush near homes and within 50' of common forested areas. Last year, A "Firewise Day" was held at the Georgetown Fire Station.
---
Cushing Island, Portland, 2011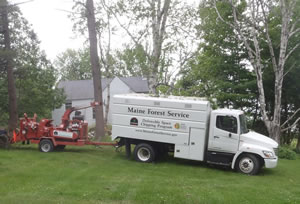 Through a collaborative effort with the City of Portland and the Portland Fire Dept, the Maine Forest Service "Defensible Space Chipping Program" chipper and truck were brought over by barge to chip brush near homes on all of Portland's Islands in June 2013. It is shown here on Cushing Island, which was Maine's first island Firewise Community.
---
Sprucewold, Boothbay Harbor, 2011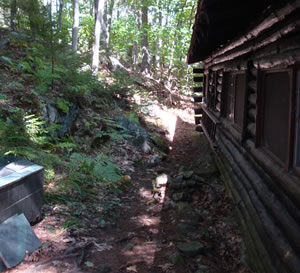 Located on a peninsula heavily forested with mature spruce, this community also faces challenges with vehicle access, limited freshwater for wildfire suppression and steep slopes where fire could spread rapidly. In addition, many of the cottages and homes are log cabins built decades ago and covered with creosote.
In 2014, the Sprucewold Firewise Community was awarded $900 from the National Fire Prevention Association to support activities to help reduce wildfire hazards. They were considered "runners up" in a national contest called "1000 safer places." For more info, please visit: http://www.firewise.org/usa-recognition-program/firewise-challenge.aspx?sso=0
---
Pequawket Lake Preservation Association (PLPA), Limington, 2012
PLPA was Maine's first lake association to achieve Firewise status and received their Firewise plaque at their annual meeting in July. Their organization focuses on water quality along with wildfire prevention. Community members continue to work on defensible space near homes and cutting brush back to allow access for fire fighting apparatus.
---
Little Diamond Island, Portland, 2012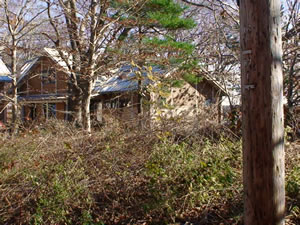 Portland's Little Diamond Island has three main concerns when it comes to wildfire: extended response time to wildfires (and structure fires that may spread into forested areas), limited access and dense vegetation near cottages. Fortunately, the community is very well organized and works together to reduce the risk of wildfires.
---
Great Diamond Island, Portland 2013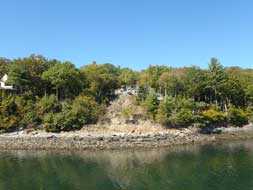 Great Diamond Island is a 400 acre island located in Portland's Casco Bay and is characterized by both historic buildings and newer homes and cottages. Most of the island is forested with mature hemlock and birch. Many of the hemlocks are stressed by insects and disease and are shedding branches on the forest floor. That, combined with the buildup of forest fuels is a growing concern.
---