Welcome to Maine's Official Fall Foliage Website!
A service of the Maine Department of Agriculture, Conservation and Forestry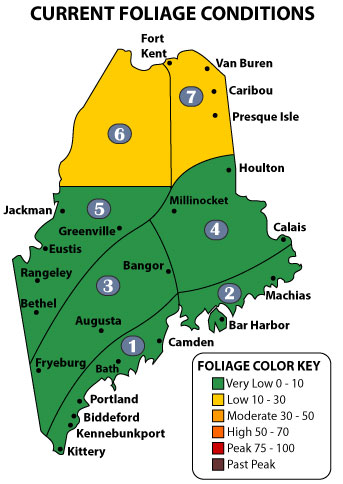 Greetings Visitors,
September 17, 2014 - There is a hint of color in northern Maine as The Department of Agriculture, Conservation & Forestry reports low 10 – 30% color change and very low leaf drop.
"We are right on target for a glorious fall foliage season, said Gale Ross, Fall Foliage Coordinator for Maine. "With the low leaf drop we anticipate that the northern part of the state will soon be a tapestry of beautiful colors," she added.
Plan Your Foliage Trip
Resources below will help you plan where to go, shop, stay, and eat! Find out the best region is to visit during your planned trip dates.
Things to Do in Maine
---
When & Where to Visit
---
We've put together some suggestions for the best locations in each region of Maine, and when to visit each one for the best fall colors.
State Fairs & Park Events
---