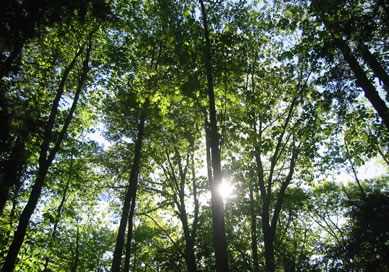 The Kennebec Woodland Partnership is a forestland conservation initiative whose mission is to ensure a long-term future for the county's forests and to help landowners in Kennebec County, Maine, make informed decisions about their woodlands.
The Partnership consists of a broad range of groups and individuals. These are the principles by which we agree to work together to achieve our mutual goal of inspiring a culture of conservation in Kennebec County.
Key Principles
Voluntary.

The partnership is based on voluntary cooperation and seeks non-regulatory approaches to conservation, defined in the broad sense.

Mutually beneficial.

The partnership is guided by mutual self-interest – there is something in it for everyone.

Multiple pathways of progress.

There are no single one-size-fits-all solutions; rather, there is a range of items (tools, strategies, actions, levels of commitment) that lead towards keeping forests as forests.

Personal focus.

Outreach and education efforts will "meet people where they are" along the path and help identify the next steps to take.

Diversify.

The partnership will bring together constituencies with similar interests that may not have traditionally worked together; for example, the land trust community and the forest products and logging industry.

De-mystify.

The efforts of the partnership will clarify terminology, reduce fears, and promote a common understanding of potentially divisive concepts; for example, commercial harvesting, conservation easements, comprehensive plans, data layers on maps.

Facilitate.

The goal of the partnership is not to dictate, but to facilitate informed decisions.

Mediate.

When disagreements arise, rational dialogue will be employed to work through differences.