Welcome to MaineDOT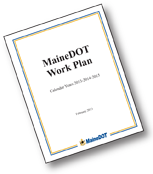 The New MaineDOT Work Plan
for Calendar Years
2013-2014-2015

Visit Our Transportation Safety website for more safety related information.
Roadway Work Zone Safety Reminder
You will be driving through Roadway Work Zones throughout the state.
An average of 700 crashes occur each year in Maine work zones, resulting in several fatalities. Another 200 are injured. Workers in these areas are vulnerable to serious injury, as well as vehicle occupants.
Slow down - drive at the posted work zone speed; Pay attention; Merge as soon as safely possible when required; Maintain a safe following distance; and Stay calm and be patient if there are traffic delays.
Please SLOW DOWN and PAY ATTENTION When approaching and driving through work zones.
And Remember to Always Wear Your Safety Belt!
Page last updated 5/13/13