Water Operator Licensure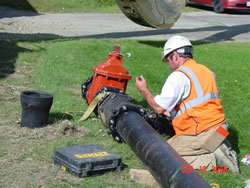 News
It is Renewal Time!

More information may be found on the Maintaining Your License and Training pages.
Renewal notices and forms will be mailed by Nov. 1st. If your license is due for renewal on 12/31/2014 and you do not get a form in the mail, either download the updated renewal form or contact Terry for assistance. Please call and update your mailing address.
Operators and training providers have been very successful in achieving required amounts of training during the renewal period.
Renewal notices and forms will have a notation if you have met the TCH requirement with courses on file with the Board. Renewal is simple! Just check the DO assignments on the reverse, answer whether you would like to receive the Service Connection in a greener fashion (email), sign, and enclose a check or money order payable to Treasurer State of Maine. Pop it in the mail.
If your TCH requirements have not been met, the TCH on record will be listed on the form and you only need to add enough courses to fulfill your requirements and completed steps outlined above.
The sooner you renew the sooner credits apply to the next renewal cycle. The computer system applies TCH to the active license when classes are taken. Early renewal get the benefit of a longer cycle and credits for the remaining time in 2014 will apply toward the next cycle. Likewise if you renew late; the credits apply to the active license at the time.
Credits may not be carried from one cycle to the next.
Common classes that are NOT accepted as relevant and therefore not accepted for renewal credit – First aid, CPR, Sexual Harassment.
Grace period: when all best attempts have been made to renew on time, to no avail, there is a grace period until March 2, 2015. After this time your license becomes inactivate. Inactive operators may not be in responsible charge of water systems. The license may remain in the inactive state until 12-31-2016. Reinstatement requires appropriate TCH submittal, a renewal fee ($75), and a reinstatement fee($50). This will bring the license to a renewal date of 12/31/2016.
For operators that are or have been on active duty or deployed, TCH requirements may be prorated and/or military training may be submitted for approval. Contact Terry with questions.
Take part in ABC's Job Analysis Survey! Ever wonder how exam questions are chosen? You have the opportunity to participate. ABC is performing a Job Analysis survey and asking for operators to help. From the results appropriate questions will be chosen for various levels of examinations. A link to the survey can be found here.
The following openings on the Board of Licensure of Water System Operators are open to be filled by appointment by the Governor:
Seat representing a registered professional engineer; and
Seat representing a manager of a water utility.
Please contact Terry Trott for more information.
Staff Contacts
Teresa Trott
Voice: (207) 287-7485
Fax: (207) 287-4172
Forms