Water Operator Licensure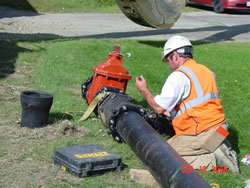 News
The September and December 2014 Water Operator Board meetings have been moved to Friday, September 19th and Friday, December 19th, respectively. Both meetings will take place at the Greater Augusta Utilities District on Jackson Ave. in Augusta.
The following openings on the Board of Licensure of Water System Operators are open to be filled by appointment by the Governor:

Seat representing a registered professional engineer;
Seat representing a manager of a water utility; and
Seat representing an owner or manager of a non-transient non-community public water system.
Please contact Terry Trott for more information.
Staff Contacts
Teresa Trott
Voice: (207) 287-7485
Doris LaBranche
Voice: (207) 287-5699

Fax: (207) 287-4172
Forms