The career development program that's fast, flexible—and proven to yield the skilled workers Maine needs.
Start working. Start living.
When it comes to jobs in Maine, many of us feel stuck—whether we're a business looking to hire or a person looking to start a career. The Maine Apprenticeship Program is here to connect people to jobs, business to employees, through apprenticeships that give a great return for everyone involved.
What is an Apprenticeship?
Apprenticeship is a type of career path guided by industries. It's a great way for companies to train their future workers and for people to get paid while they learn on the job, go to classes, and earn a nationally-recognized certificate. In fact, companies enjoy a 90% retention rate, while apprentice graduates earn $300,000+ more over their lifetimes than their peers who don't complete a program. Apprenticeship is a win-win for everyone.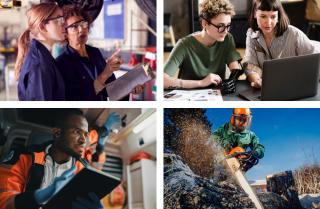 Did you know?
Registered Apprenticeship has a history of delivering great outcomes for both employers and workers.
90%
90% of apprentices who complete their program are still working with their employer after 1 year
3,058
Maine apprentices were actively working on industry-recognized skill certification in 2022
$27.44
average wage of apprentices who completed their programs during 2022
"We're passionate about scaling this 'earn and learn' model in the U.S. Siemens knows first-hand how valuable apprenticeships are to growing the workforce needed to be successful."

David Etzwiler, CEO, Siemens Foundation
Where do you want your career to take you?
Browse our interactive map to find an active apprenticeship program.
Find an apprenticeship
Frequently Asked Questions
From healthcare and IT to architecture, farming, and more, there are all types of apprenticeship programs available to Mainers who want to jumpstart their careers.
Any existing employee or new hire can become an Apprentice as long as they:
Are at least 16 years old
Are committed to furthering their education, both in the classroom and on the job
MAP is here for employers every step of the way. We'll help you develop your apprenticeship program and register your program for federal purposes. We'll even give you a $1500 signing bonus and reimburse you $500 per apprentice to offset the cost of classroom training, as our funding permits.
90% of apprentices who complete their program are still working with their employer after 1 year.
Yes. There are currently over 800,000 apprentices working across the United States. Upon completion of their program, apprentices receive a certificate that is recognized by every state.
Apprenticeship in the News