COVID-19 Vaccination in Maine
COVID-19 Vaccine Sites in Maine
All people age 12 or older are eligible for COVID-19 vaccination.
You may hear directly from your health care provider about getting a vaccine, or you may contact the locations below for an appointment. Many locations are also offering drop-in vaccinations with no appointment necessary.
If you need help scheduling an appointment, or want to know if a site near you is offering vaccinations without an appointment, call the Maine COVID-19 Community Vaccination Line at 1-888-445-4111.
Please note: There is no charge for the COVID-19 vaccine, but you should be prepared to provide any insurance information and proof of eligibility at the vaccination site.
What about the second dose?
The Pfizer or Moderna COVID-19 vaccine requires two doses. When scheduling your second dose, it is recommended that you make an appointment with the same vaccination site whenever possible and follow their process for signing up for dose two.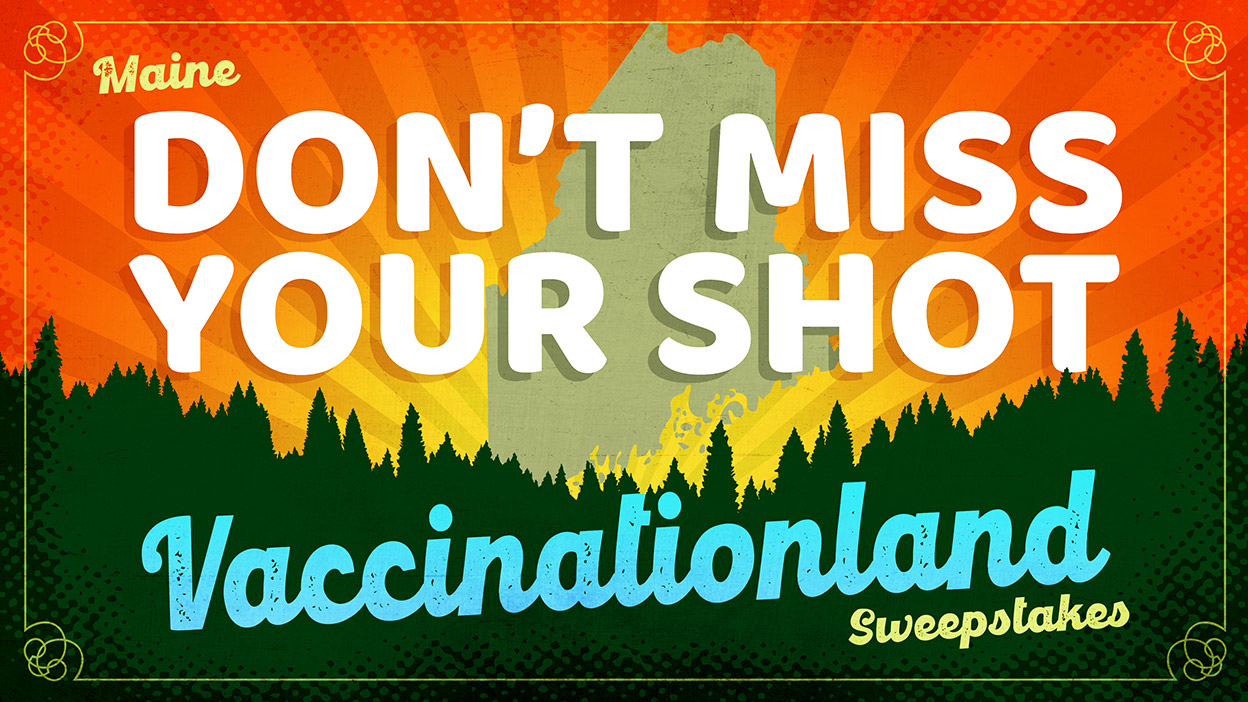 Introducing Maine's Don't Miss Your Shot: Vaccinationland Sweepstakes, a statewide COVID-19 vaccination incentive program that will reward one vaccinated winner with $1 for every person vaccinated in Maine by July 4. Available for those 12 and older. Registration required.
Vaccine locations in Maine
The following locations are now accepting appointments for eligible Maine residents. Appointment availability is dependent on vaccine supply. These listings are subject to change and will be updated regularly.
Type of vaccination sites: Health Care Centers | Pharmacies | Pop-Up Clinics
Name of Organization
Municipality
County
Scheduling Information
Vaccinates 12 to 17-year-olds
Public OR Patients Only
Bangor Public Health
Bangor
Penobscot

By appointment: Call 207-992-4548 or email vaccines@bangormaine.gov

Public
Bangor Community Health/PCHC
Bangor
Penobscot

Friday, June 25 - A vaccine clinic will be held at the Bangor Housing Gym from 11am-3pm. Food, refreshments, including an ice cream truck and entertainment will be available. Both Pfizer and J&J vaccines will be available.

12+
Public
Bridgton Hospital
Bridgton
Cumberland
Call 207-520-2917 to make an appointment. More information here.
Public
Bucksport Regional Health Center
Bucksport
Hancock
Visit www.bucksportrhc.com or call 207-469-7371 and press option 6, then option 2 for information about the vaccine and scheduling.
Public
B Street Clinic
Lewiston
Androscoggin
To make an appointment visit http://www.communityclinicalservices.com/covid-19-vaccines/.
Public
Caribou Health Center
Caribou
Aroostook
Information on vaccination clinics provided by Pines Health Services is available by calling 207-498-1638 or visiting www.pineshealth.org/.
Patient Only
Cary Medical Center
Caribou
Aroostook

Cary Medical Center will be offering vaccinations to the community at Caribou's "Thursdays on Sweden Street," on the following dates: July 1, July 15, July 29, August 12 and August 26.

We will be offering all three vaccines, no appointments required. More about Thursdays on Sweden: http://www.cariboumaine.org/index.php/event/thursdays-on-sweden-street-with-trish-king-music/

We also continue to offer vaccination to hospital patients and through primary care offices.

12+
Public
Central Maine Health Care/Auburn Mall
Auburn
Androscoggin

The vaccine clinic at the Auburn Mall is open Tuesday, Wednesday, Friday, Saturdays from 8-6pm.

Drop-in vaccinations are available from 9-5pm each of those days. Call 207-520-2917 to make an appointment. More information here.

Only 13 and older can make appointments online; for appointments for those that are 12 years-old, a parent or guardian should call the number above.

12+
Public
DFD Russell Medical Centers
Monmouth
Kennebec
By appointment only. Patients will be notified of eligibility to receive the vaccine. Visit https://dfdrussell.org/covid-19-updates/ for information.
Patient Only
East Grand Health Center-Danforth
Danforth
Washington
By appointment only. Patients will be notified of eligibility to receive the vaccine.
Patient Only
Eastport Health Care Inc.
Eastport
Washington
By appointment only. Patients will be notified of eligibility to receive the vaccine. For more information, visit www.eastporthealth.org or call 207-853-6001.
Public
Fish River Rural Health
Fort Kent
Aroostook
Patients interested in scheduling should call 207-834-1218. For more information www.frrh.org & Fish River Rural Health Facebook page.
FRRH calls patients directly and welcomes the public as well
Greater Portland Health
Portland
Cumberland
Patients may call 207-874-2141 to schedule an appointment.
Patient Only
HealthReach Community Health Centers dba Belgrade Regional Health Center
Belgrade
Kennebec
Patients may call 495-3323 to schedule an appointment.
Patient Only
HealthReach Community Health Centers dba Bethel Family Health Center
Bethel
Oxford
Patients may call 824-2193 to schedule an appointment.
Patient Only
HealthReach Community Health Centers dba Bingham Area Health Center
Bingham
Somerset
Patients may call 672-4187 to schedule an appointment.
Patient Only
HealthReach Community Health Centers dba Lovejoy Health Center
Albion
Kennebec
Patients may call 437-9388 to schedule an appointment.
Patient Only
HealthReach Community Health Centers dba Madison Area Health Center
Madison
Somerset
Patients may call 696-3992 to schedule an appointment.
Patient Only
HealthReach Community Health Centers dba Mt. Abram Regional Health Center
Kingfield
Franklin
Patients may call 265-4555 to schedule an appointment.
Patient Only
HealthReach Community Health Centers dba Rangeley Family Medicine
Rangeley
Franklin
Patients may call 864-3303 to schedule an appointment.
Patient Only
HealthReach Community Health Centers dba Richmond Area Health Center
Richmond
Sagadahoc
Patients may call 737-4359 to schedule an appointment.
Patient Only
HealthReach Community Health Centers dba Sheepscot Valley Health Center
Coopers Mills
Lincoln
Patients may call 549-7581 to schedule an appointment.
Patient Only
HealthReach Community Health Centers dba Strong Area Health Center
Strong
Franklin
Patients may call 684-4010 to schedule an appointment.
Patient Only
HealthReach Community Health Centers dba Western Maine Family Health Center
Livermore Falls
Androscoggin
Patients may call 897-4345 to schedule an appointment.
Patient Only
HealthReach Community Health Centers - Belgrade Regional Health Center
Belgrade
Kennebec
By appointment only. Patients will be notified of eligibility to receive vaccine. More information available at: www.healthreach.org/COVID.aspx
Patient Only
Harrington Family Health Center
Harrington
Washington
By appointment only. Patients will be notified of eligibility to receive the vaccine.
Patient Only
Health Access Network - Lincoln
Lincoln
Penobscot
Patients may call Renee Austin at 207-794-6700.
Patient Only
Hometown Health Center-Newport
Newport
Penobscot
Patients may call 368-5189 or 924-5200, choose option 7 to leave a message for scheduling.
Public
Houlton Regional Hospital
Houlton
Aroostook
Various clinics are being offered weekly. Please go to houltonregional.org for vaccine clinic scheduling details and information about which vaccines are being provided.
12+
Public
Intermed
South Portland
Cumberland

By appointment only. Please contact your primary care provider to schedule.

12+
Patient Only
Islands Community Medical Services
Vinalhaven
Knox
Patients may call Anna Clapham, 207-863-4341, extension 1126.
Patient Only
KVHC-Brownville
Brownville
Piscataquis
Patients may visit www.kvhc.org or 1-866-366-5842, Ext. 155 to register.
Patient Only
KVHC-Houlton
Houlton
Aroostook
Patients may visit www.kvhc.org or 1-866-366-5842, Ext. 155 to register.
Patient Only
KVHC-Ashland
Ashland
Aroostook
Patients may visit www.kvhc.org or 1-866-366-5842, Ext. 155 to register.
Patient Only
KVHC-Patten
Patten
Penobscot
Patients may visit www.kvhc.org or 1-866-366-5842, Ext. 155 to register.
Patient Only
KVHC-Millinocket
Millinocket
Penobscot
Patients may visit www.kvhc.org or 1-866-366-5842, Ext. 155 to register.
Patient Only
MaineGeneral Vaccine Clinic
Augusta
Kennebec
Appointments can be made by calling the Community Vaccination Line at 1-888-445-4111 or visiting VaccinateME.maine.gov.
12+
Public
MaineHealth Vaccine Clinic
Belfast
Waldo
Call 877-780-7545, or visit https://vaccine.mainehealth.org/. Drop-in appointments are also available this location.
Public
MaineHealth Vaccine Clinic
Norway
Oxford
Call 877-780-7545, or visit https://vaccine.mainehealth.org/. Drop-in appointments are also available this location.
Public
MaineHealth Vaccine Clinic
Sanford
York
Call 877-780-7545, or visit https://vaccine.mainehealth.org/. Drop-in appointments are also available at this location.
Public
MaineHealth Vaccine Clinic
Rockland
Knox
Call 877-780-7545, or visit https://vaccine.mainehealth.org/. Drop-in appointments are also available at this location.
Public
MaineHealth Vaccine Clinic
Rockport
Knox
Call 877-780-7545, or visit https://vaccine.mainehealth.org/
Public
MaineHealth Vaccine Clinic
Brunswick
Cumberland
Call 877-780-7545, or visit https://vaccine.mainehealth.org/. Drop-in appointments are also available at this location.
12+
Public
MaineHealth Vaccine Clinic
Boothbay
Lincoln
Call 877-780-7545, or visit https://vaccine.mainehealth.org/. Drop-in appointments are also available at this location.
Public
MaineHealth Vaccine Clinic
Farmington
Franklin
Call 877-780-7545, or visit https://vaccine.mainehealth.org/. Drop-in appointments are also available at this location.
Public
MaineHealth Vaccine Clinic
Westbrook
Cumberland
Call 877-780-7545, or visit https://vaccine.mainehealth.org/. Drop-in appointments are also available at this location.
12+
Public
Martin's Point
Portland
Cumberland
By appointment only. Call (207) 828-7814 or visit https://martinspoint.org/covid19/covid-vaccine to sign up for the waitlist.
Public
Millinocket Regional Hospital
Stearns High School, Millinocket and Patten Fire Department, Patten
Penobscot
To preregister: www.mrhme.org/getvax
Patten/Sherman/Stacyville residents can contact the Patten town office to preregister or visit the above website.
All others may call 207-723-7225. Leave a message that includes your name, date of birth, primary care provider, and telephone number. You will NOT receive a phone call back UNTIL you are called to schedule your vaccination date and time.
Public
Mount Desert Island Hospital
Bar Harbor, Southwest Harbor, Trenton
Hancock
Visit https://www.mdihospital.org/covid-19-vaccine/
Public
Nasson Health Care
Sanford/ Springvale
York

Walk-in weekdays 9-4 or call for an appointment: 207-490-6900

12+
Public
Northern Light Health Vaccine Clinic
Bangor
Penobscot
Visit covid.northernlighthealth.org/publicvaccine or call 207-204-8551. Clinic hours: Monday-Friday 10:30am-5:30pm, Saturday 8:30am-4:30pm.
12+
Public
Northern Light Health Vaccine Clinic
Caribou
Aroostook
Visit covid.northernlighthealth.org/publicvaccine or call 207-204-8551. Clinic hours: Wednesdays & Saturdays, 2pm-7pm
12+
Northern Light Health Vaccine Clinic
Dover-Foxcroft
Piscataquis
Visit covid.northernlighthealth.org/publicvaccine or call 207-204-8551.
Public
Northern Light Health Vaccine Clinic
Greenville
Piscataquis
Visit covid.northernlighthealth.org/publicvaccine or call 207-204-8551.
Public
Northern Light Health Vaccine Clinic
Newport
Penobscot
Visit covid.northernlighthealth.org/publicvaccine or call 207-204-8551.
Public
Northern Light Health Vaccine Clinic
Pittsfield
Somerset
Visit covid.northernlighthealth.org/publicvaccine or call 207-204-8551.
Public
Northern Light Health Vaccine Clinic
Portland
Cumberland

Visit covid.northernlighthealth.org/publicvaccine or call 207-204-8551. Walk-ins on Wednesdays and Fridays from 9am - 3pm.

12+
Public
Northern Light Health Vaccine Clinic
Presque Isle
Aroostook
Visit covid.northernlighthealth.org/publicvaccine or call 207-204-8551. Clinic hours: Wednesdays & Saturdays 2pm-7pm.
12+
Public
Northern Light Health Vaccine Clinic
South Portland
Cumberland
Visit covid.northernlighthealth.org/publicvaccine or call 207-204-8551.
Public
Northern Light Health Vaccine Clinic
Waterville
Kennebec
Visit covid.northernlighthealth.org/publicvaccine or call 207-204-8551.
Public
Northern Maine Medical Center
Fort Kent
Aroostook
Drop-in vaccinations are available at the hospital at 194 East Main Street every Wednesday and Friday from 12pm - 1pm for Pfizer, Moderna, and Johnson and Johnson vaccines.
12+
Public
Penobscot Community Health Center
Bangor
Penobscot
Visit pchc.com/vaccines for information.
12+
Public
Penobscot Valley Hospital
Lincoln
Penobscot
Register by visiting www.pvhme.org or call 207-794-7243.
Public
Portland Community Free Clinic, 103 India Street
Portland
Cumberland
Call 874-8982 to schedule an appointment.
Public
Redington-Fairview General Hospital
Skowhegan
Somerset

Drive-up clinic, 3:30-5:00pm every Thursday in the hospital parking lot at 46 Fairview Ave, Skowhegan.

No appointment necessary. Check www.rfgh.net to see which vaccines are available each week.

Public
Regional Medical Center at Lubec
Lubec
Washington
Patients may call Terry Rier at 733-1090, extension 5203.
Patient Only
Rumford Hospital
Rumford
Oxford
Call 207-520-2917 to make an appointment. More information here.
Public
Sacopee Valley Health Center
Porter
Oxford
Patients may call 207-625-8126 to be added to the wait list.
Patient Only
St. Croix Family Health Center
Princeton
Washington
Patients may call 207-796-5503 to make an appointment.
Patient Only
St. Joseph Hospital
Bangor
Penobscot
Preparing to begin scheduling appointments. For the latest information call 207-907-3441.
Public
St. Mary's Regional Medical Center
Lewiston
Androscoggin
Visit www.stmarysmaine.com for information or call 207-755-3100.
Public
Stephen's Memorial Hospital/ Western Maine Health Primary Care Vaccine Clinic
Norway
Oxford

Drop in appointments are available every Wednesday and Friday from 8am-5pm in the Stephen's Memorial Hospital - Ripley Building.

12+
Public
Buxton Fire-Rescue
Buxton
York
To make an appointment visit the Buxton website
Public
Northeast Mobile Health Services - Jackman Forest Hills High School
Jackman
Somerset
To make an appointment go to Northeast mobile health services website
Public
Buckfield Fire Rescue
Buckfield
Oxford
To make an appointment call 207–336–2999 or email at buckfieldems@gmail.com
Public
Westbrook Community Center
Westbrook
Cumberland
To make an appointment email vaccinations@westbrook.me.us
Public
Redington Fairview Hospital EMS - Quimby Elementary School
Bingham
Somerset
To make an appointment visit the Redington – Fairview General Hospital website
Public
Augusta Fire Department - Cony High School
Augusta
Kennebec
To make an appointment call 207-620-8164. For more information visit the Augusta website or visit the Fire Department's Facebook page. Do not call Cony High School to make an appointment.
Public
Door To Door Doctors
Milbridge
Washington
Call 207-847-8020 or emaild2ddoc@gmail.com. Please provide adequate contact information.
Public
North East Mobile Health Services
Portland
Cumberland
To schedule an appointment, visit: https://www.nemhs.com/vaccine
Public
United Ambulance Service
Lewiston
Androscoggin

To schedule an appointment, visit: Covidvaccine@unitedambulance.net

Public
Pharmacies
| Name of Pharmacy | Municipality | County | Scheduling Information | Vaccinates 12 to 17-year-olds |
| --- | --- | --- | --- | --- |
| Hannaford | Auburn | Androscoggin | Hannaford Pharmacies are now accepting walk-in customers for the COVID-19 vaccine, as well as scheduled appointments. Walk-in vaccines are subject to vaccine availability at each location. Visit https://www.hannaford.com/pharmacy/covid-19-vaccine for more information. If the online scheduler does not have an appointment available, please do not call the pharmacy. The scheduler updates in real time and accurately reflects appointment availability. | 12+ |
| Hannaford | Augusta | Kennebec | 118 Cony Street. Hannaford Pharmacies are now accepting walk-in customers for the COVID-19 vaccine, as well as scheduled appointments. Walk-in vaccines are subject to vaccine availability at each location. Visit https://www.hannaford.com/pharmacy/covid-19-vaccine for more information. If the online scheduler does not have an appointment available, please do not call the pharmacy. The scheduler updates in real time and accurately reflects appointment availability. | 12+ |
| Hannaford | Augusta | Kennebec | 29 Whitten Road. Hannaford Pharmacies are now accepting walk-in customers for the COVID-19 vaccine, as well as scheduled appointments. Walk-in vaccines are subject to vaccine availability at each location. Visit https://www.hannaford.com/pharmacy/covid-19-vaccine for more information. If the online scheduler does not have an appointment available, please do not call the pharmacy. The scheduler updates in real time and accurately reflects appointment availability. | 12+ |
| Hannaford | Biddeford | York | Hannaford Pharmacies are now accepting walk-in customers for the COVID-19 vaccine, as well as scheduled appointments. Walk-in vaccines are subject to vaccine availability at each location. Visit https://www.hannaford.com/pharmacy/covid-19-vaccine for more information. If the online scheduler does not have an appointment available, please do not call the pharmacy. The scheduler updates in real time and accurately reflects appointment availability. | 12+ |
| Hannaford | Bridgton | Cumberland | Hannaford Pharmacies are now accepting walk-in customers for the COVID-19 vaccine, as well as scheduled appointments. Walk-in vaccines are subject to vaccine availability at each location. Visit https://www.hannaford.com/pharmacy/covid-19-vaccine for more information. If the online scheduler does not have an appointment available, please do not call the pharmacy. The scheduler updates in real time and accurately reflects appointment availability. | |
| Hannaford | Brunswick | Cumberland | Hannaford Pharmacies are now accepting walk-in customers for the COVID-19 vaccine, as well as scheduled appointments. Walk-in vaccines are subject to vaccine availability at each location. Visit https://www.hannaford.com/pharmacy/covid-19-vaccine for more information. If the online scheduler does not have an appointment available, please do not call the pharmacy. The scheduler updates in real time and accurately reflects appointment availability. | 12+ |
| Hannaford | Buxton | York | Hannaford Pharmacies are now accepting walk-in customers for the COVID-19 vaccine, as well as scheduled appointments. Walk-in vaccines are subject to vaccine availability at each location. Visit https://www.hannaford.com/pharmacy/covid-19-vaccine for more information. If the online scheduler does not have an appointment available, please do not call the pharmacy. The scheduler updates in real time and accurately reflects appointment availability. | |
| Hannaford | Camden | Knox | Hannaford Pharmacies are now accepting walk-in customers for the COVID-19 vaccine, as well as scheduled appointments. Walk-in vaccines are subject to vaccine availability at each location. Visit https://www.hannaford.com/pharmacy/covid-19-vaccine for more information. If the online scheduler does not have an appointment available, please do not call the pharmacy. The scheduler updates in real time and accurately reflects appointment availability. | |
| Hannaford | China | Kennebec | Hannaford Pharmacies are now accepting walk-in customers for the COVID-19 vaccine, as well as scheduled appointments. Walk-in vaccines are subject to vaccine availability at each location. Visit https://www.hannaford.com/pharmacy/covid-19-vaccine for more information. If the online scheduler does not have an appointment available, please do not call the pharmacy. The scheduler updates in real time and accurately reflects appointment availability. | 12+ |
| Hannaford | Damariscotta | Lincoln | By appointment only. Visit https://www.hannaford.com/pharmacy/covid-19-vaccine to schedule an appointment. If the online scheduler does not have an appointment available, please do not call the pharmacy. The scheduler updates in real time and accurately reflects appointment availability. | |
| Hannaford | Ellsworth | Hancock | Hannaford Pharmacies are now accepting walk-in customers for the COVID-19 vaccine, as well as scheduled appointments. Walk-in vaccines are subject to vaccine availability at each location. Visit https://www.hannaford.com/pharmacy/covid-19-vaccine for more information. If the online scheduler does not have an appointment available, please do not call the pharmacy. The scheduler updates in real time and accurately reflects appointment availability. | |
| Hannaford | Farmington | Franklin | Hannaford Pharmacies are now accepting walk-in customers for the COVID-19 vaccine, as well as scheduled appointments. Walk-in vaccines are subject to vaccine availability at each location. Visit https://www.hannaford.com/pharmacy/covid-19-vaccine for more information. If the online scheduler does not have an appointment available, please do not call the pharmacy. The scheduler updates in real time and accurately reflects appointment availability. | |
| Hannaford | Gardiner | Kennebec | Hannaford Pharmacies are now accepting walk-in customers for the COVID-19 vaccine, as well as scheduled appointments. Walk-in vaccines are subject to vaccine availability at each location. Visit https://www.hannaford.com/pharmacy/covid-19-vaccine for more information. If the online scheduler does not have an appointment available, please do not call the pharmacy. The scheduler updates in real time and accurately reflects appointment availability. | 12+ |
| Hannaford | Gorham | Cumberland | Hannaford Pharmacies are now accepting walk-in customers for the COVID-19 vaccine, as well as scheduled appointments. Walk-in vaccines are subject to vaccine availability at each location. Visit https://www.hannaford.com/pharmacy/covid-19-vaccine for more information. If the online scheduler does not have an appointment available, please do not call the pharmacy. The scheduler updates in real time and accurately reflects appointment availability. | 12+ |
| Hannaford | Gray | Cumberland | Hannaford Pharmacies are now accepting walk-in customers for the COVID-19 vaccine, as well as scheduled appointments. Walk-in vaccines are subject to vaccine availability at each location. Visit https://www.hannaford.com/pharmacy/covid-19-vaccine for more information. If the online scheduler does not have an appointment available, please do not call the pharmacy. The scheduler updates in real time and accurately reflects appointment availability. | |
| Hannaford | Jay | Franklin | Hannaford Pharmacies are now accepting walk-in customers for the COVID-19 vaccine, as well as scheduled appointments. Walk-in vaccines are subject to vaccine availability at each location. Visit https://www.hannaford.com/pharmacy/covid-19-vaccine for more information. If the online scheduler does not have an appointment available, please do not call the pharmacy. The scheduler updates in real time and accurately reflects appointment availability. | |
| Hannaford | Kennebunk | York | Hannaford Pharmacies are now accepting walk-in customers for the COVID-19 vaccine, as well as scheduled appointments. Walk-in vaccines are subject to vaccine availability at each location. Visit https://www.hannaford.com/pharmacy/covid-19-vaccine for more information. If the online scheduler does not have an appointment available, please do not call the pharmacy. The scheduler updates in real time and accurately reflects appointment availability. | |
| Hannaford | Lewiston | Androscoggin | Hannaford Pharmacies are now accepting walk-in customers for the COVID-19 vaccine, as well as scheduled appointments. Walk-in vaccines are subject to vaccine availability at each location. Visit https://www.hannaford.com/pharmacy/covid-19-vaccine for more information. If the online scheduler does not have an appointment available, please do not call the pharmacy. The scheduler updates in real time and accurately reflects appointment availability. | 12+ |
| Hannaford | Lincoln | Penobscot | Hannaford Pharmacies are now accepting walk-in customers for the COVID-19 vaccine, as well as scheduled appointments. Walk-in vaccines are subject to vaccine availability at each location. Visit https://www.hannaford.com/pharmacy/covid-19-vaccine for more information. If the online scheduler does not have an appointment available, please do not call the pharmacy. The scheduler updates in real time and accurately reflects appointment availability. | |
| Hannaford | Mechanic Falls | Androscoggin | Hannaford Pharmacies are now accepting walk-in customers for the COVID-19 vaccine, as well as scheduled appointments. Walk-in vaccines are subject to vaccine availability at each location. Visit https://www.hannaford.com/pharmacy/covid-19-vaccine for more information. If the online scheduler does not have an appointment available, please do not call the pharmacy. The scheduler updates in real time and accurately reflects appointment availability. | 12+ |
| Hannaford | Old Town | Penobscot | Hannaford Pharmacies are now accepting walk-in customers for the COVID-19 vaccine, as well as scheduled appointments. Walk-in vaccines are subject to vaccine availability at each location. Visit https://www.hannaford.com/pharmacy/covid-19-vaccine for more information. If the online scheduler does not have an appointment available, please do not call the pharmacy. The scheduler updates in real time and accurately reflects appointment availability. | |
| Hannaford | Oxford | Oxford | Hannaford Pharmacies are now accepting walk-in customers for the COVID-19 vaccine, as well as scheduled appointments. Walk-in vaccines are subject to vaccine availability at each location. Visit https://www.hannaford.com/pharmacy/covid-19-vaccine for more information. If the online scheduler does not have an appointment available, please do not call the pharmacy. The scheduler updates in real time and accurately reflects appointment availability. | |
| Hannaford | Portland | Cumberland | Forest Ave. Hannaford Pharmacies are now accepting walk-in customers for the COVID-19 vaccine, as well as scheduled appointments. Walk-in vaccines are subject to vaccine availability at each location. Visit https://www.hannaford.com/pharmacy/covid-19-vaccine for more information. If the online scheduler does not have an appointment available, please do not call the pharmacy. The scheduler updates in real time and accurately reflects appointment availability. | 12+ |
| Hannaford | Portland | Cumberland | Riverside St. Hannaford Pharmacies are now accepting walk-in customers for the COVID-19 vaccine, as well as scheduled appointments. Walk-in vaccines are subject to vaccine availability at each location. Visit https://www.hannaford.com/pharmacy/covid-19-vaccine for more information. If the online scheduler does not have an appointment available, please do not call the pharmacy. The scheduler updates in real time and accurately reflects appointment availability.. | |
| Hannaford | Rockland | Knox | Hannaford Pharmacies are now accepting walk-in customers for the COVID-19 vaccine, as well as scheduled appointments. Walk-in vaccines are subject to vaccine availability at each location. Visit https://www.hannaford.com/pharmacy/covid-19-vaccine for more information. If the online scheduler does not have an appointment available, please do not call the pharmacy. The scheduler updates in real time and accurately reflects appointment availability. | |
| Hannaford | Rumford | Oxford | Hannaford Pharmacies are now accepting walk-in customers for the COVID-19 vaccine, as well as scheduled appointments. Walk-in vaccines are subject to vaccine availability at each location. Visit https://www.hannaford.com/pharmacy/covid-19-vaccine for more information. If the online scheduler does not have an appointment available, please do not call the pharmacy. The scheduler updates in real time and accurately reflects appointment availability. | |
| Hannaford | Saco | York | Hannaford Pharmacies are now accepting walk-in customers for the COVID-19 vaccine, as well as scheduled appointments. Walk-in vaccines are subject to vaccine availability at each location. Visit https://www.hannaford.com/pharmacy/covid-19-vaccine for more information. If the online scheduler does not have an appointment available, please do not call the pharmacy. The scheduler updates in real time and accurately reflects appointment availability. | 12+ |
| Hannaford | Scarborough | Cumberland | Hannaford Pharmacies are now accepting walk-in customers for the COVID-19 vaccine, as well as scheduled appointments. Walk-in vaccines are subject to vaccine availability at each location. Visit https://www.hannaford.com/pharmacy/covid-19-vaccine for more information. If the online scheduler does not have an appointment available, please do not call the pharmacy. The scheduler updates in real time and accurately reflects appointment availability. | 12+ |
| Hannaford | Skowhegan | Somerset | Hannaford Pharmacies are now accepting walk-in customers for the COVID-19 vaccine, as well as scheduled appointments. Walk-in vaccines are subject to vaccine availability at each location. Visit https://www.hannaford.com/pharmacy/covid-19-vaccine for more information. If the online scheduler does not have an appointment available, please do not call the pharmacy. The scheduler updates in real time and accurately reflects appointment availability. | |
| Hannaford | So. Portland | Cumberland | Millcreek. Hannaford Pharmacies are now accepting walk-in customers for the COVID-19 vaccine, as well as scheduled appointments. Walk-in vaccines are subject to vaccine availability at each location. Visit https://www.hannaford.com/pharmacy/covid-19-vaccine for more information. If the online scheduler does not have an appointment available, please do not call the pharmacy. The scheduler updates in real time and accurately reflects appointment availability. | 12+ |
| Hannaford | So. Portland | Cumberland | Maine Mall. Hannaford Pharmacies are now accepting walk-in customers for the COVID-19 vaccine, as well as scheduled appointments. Walk-in vaccines are subject to vaccine availability at each location. Visit https://www.hannaford.com/pharmacy/covid-19-vaccine for more information. If the online scheduler does not have an appointment available, please do not call the pharmacy. The scheduler updates in real time and accurately reflects appointment availability. | |
| Hannaford | Standish | Cumberland | Hannaford Pharmacies are now accepting walk-in customers for the COVID-19 vaccine, as well as scheduled appointments. Walk-in vaccines are subject to vaccine availability at each location. Visit https://www.hannaford.com/pharmacy/covid-19-vaccine for more information. If the online scheduler does not have an appointment available, please do not call the pharmacy. The scheduler updates in real time and accurately reflects appointment availability. | 12+ |
| Hannaford | Topsham | Sagadahoc | Hannaford Pharmacies are now accepting walk-in customers for the COVID-19 vaccine, as well as scheduled appointments. Walk-in vaccines are subject to vaccine availability at each location. Visit https://www.hannaford.com/pharmacy/covid-19-vaccine for more information. If the online scheduler does not have an appointment available, please do not call the pharmacy. The scheduler updates in real time and accurately reflects appointment availability. | 12+ |
| Hannaford | Turner | Androscoggin | Hannaford Pharmacies are now accepting walk-in customers for the COVID-19 vaccine, as well as scheduled appointments. Walk-in vaccines are subject to vaccine availability at each location. Visit https://www.hannaford.com/pharmacy/covid-19-vaccine for more information. If the online scheduler does not have an appointment available, please do not call the pharmacy. The scheduler updates in real time and accurately reflects appointment availability. | |
| Hannaford | Waterboro | York | Hannaford Pharmacies are now accepting walk-in customers for the COVID-19 vaccine, as well as scheduled appointments. Walk-in vaccines are subject to vaccine availability at each location. Visit https://www.hannaford.com/pharmacy/covid-19-vaccine for more information. If the online scheduler does not have an appointment available, please do not call the pharmacy. The scheduler updates in real time and accurately reflects appointment availability. | 12+ |
| Hannaford | Waterville | Kennebec | 140 Elm Plaza. Hannaford Pharmacies are now accepting walk-in customers for the COVID-19 vaccine, as well as scheduled appointments. Walk-in vaccines are subject to vaccine availability at each location. Visit https://www.hannaford.com/pharmacy/covid-19-vaccine for more information. If the online scheduler does not have an appointment available, please do not call the pharmacy. The scheduler updates in real time and accurately reflects appointment availability. | 12+ |
| Hannaford | Waterville | Kennebec | 190 JFK Plaza. Hannaford Pharmacies are now accepting walk-in customers for the COVID-19 vaccine, as well as scheduled appointments. Walk-in vaccines are subject to vaccine availability at each location. Visit https://www.hannaford.com/pharmacy/covid-19-vaccine for more information. If the online scheduler does not have an appointment available, please do not call the pharmacy. The scheduler updates in real time and accurately reflects appointment availability. | 12+ |
| Hannaford | Wells | York | Hannaford Pharmacies are now accepting walk-in customers for the COVID-19 vaccine, as well as scheduled appointments. Walk-in vaccines are subject to vaccine availability at each location. Visit https://www.hannaford.com/pharmacy/covid-19-vaccine for more information. If the online scheduler does not have an appointment available, please do not call the pharmacy. The scheduler updates in real time and accurately reflects appointment availability. | |
| Hannaford | Westbrook | Cumberland | Hannaford Pharmacies are now accepting walk-in customers for the COVID-19 vaccine, as well as scheduled appointments. Walk-in vaccines are subject to vaccine availability at each location. Visit https://www.hannaford.com/pharmacy/covid-19-vaccine for more information. If the online scheduler does not have an appointment available, please do not call the pharmacy. The scheduler updates in real time and accurately reflects appointment availability. | |
| Hannaford | Windham | Cumberland | Hannaford Pharmacies are now accepting walk-in customers for the COVID-19 vaccine, as well as scheduled appointments. Walk-in vaccines are subject to vaccine availability at each location. Visit https://www.hannaford.com/pharmacy/covid-19-vaccine for more information. If the online scheduler does not have an appointment available, please do not call the pharmacy. The scheduler updates in real time and accurately reflects appointment availability. | 12+ |
| Hannaford | Winthrop | Kennebec | Hannaford Pharmacies are now accepting walk-in customers for the COVID-19 vaccine, as well as scheduled appointments. Walk-in vaccines are subject to vaccine availability at each location. Visit https://www.hannaford.com/pharmacy/covid-19-vaccine for more information. If the online scheduler does not have an appointment available, please do not call the pharmacy. The scheduler updates in real time and accurately reflects appointment availability. | 12+ |
| Hannaford | York | York | Hannaford Pharmacies are now accepting walk-in customers for the COVID-19 vaccine, as well as scheduled appointments. Walk-in vaccines are subject to vaccine availability at each location. Visit https://www.hannaford.com/pharmacy/covid-19-vaccine for more information. If the online scheduler does not have an appointment available, please do not call the pharmacy. The scheduler updates in real time and accurately reflects appointment availability. | |
| Shaws | Ellsworth | Hancock | To schedule an appointment, please visit www.shaws.com/COVID-19. The website includes a link to the pharmacy's convenient online vaccine scheduler and answers to FAQs. Please do not call the Pharmacy to schedule an appointment and walk-ins are not accepted. | 12+ |
| Shaws | Freeport | Cumberland | To schedule an appointment, please visit www.shaws.com/COVID-19. The website includes a link to the pharmacy's convenient online vaccine scheduler and answers to FAQs. Please do not call the Pharmacy to schedule an appointment and walk-ins are not accepted. | 12+ |
| Shaws | Westbrook | Cumberland | To schedule an appointment, please visit www.shaws.com/COVID-19. The website includes a link to the pharmacy's convenient online vaccine scheduler and answers to FAQs. Please do not call the Pharmacy to schedule an appointment and walk-ins are not accepted. | 12+ |
| Shaws | Brunswick | Cumberland | To schedule an appointment, please visit www.shaws.com/COVID-19. The website includes a link to the pharmacy's convenient online vaccine scheduler and answers to FAQs. Please do not call the Pharmacy to schedule an appointment and walk-ins are not accepted. | 12+ |
| Shaws | Dover-Foxcroft | Piscataquis | To schedule an appointment, please visit www.shaws.com/COVID-19. The website includes a link to the pharmacy's convenient online vaccine scheduler and answers to FAQs. Please do not call the Pharmacy to schedule an appointment and walk-ins are not accepted. | 12+ |
| Shaws | Portland | Cumberland | To schedule an appointment, please visit www.shaws.com/COVID-19. The website includes a link to the pharmacy's convenient online vaccine scheduler and answers to FAQs. Please do not call the Pharmacy to schedule an appointment and walk-ins are not accepted. | 12+ |
| Shaws | Scarborough | Cumberland | To schedule an appointment, please visit www.shaws.com/COVID-19. The website includes a link to the pharmacy's convenient online vaccine scheduler and answers to FAQs. Please do not call the Pharmacy to schedule an appointment and walk-ins are not accepted. | 12+ |
| Shaws | Auburn | Androscoggin | To schedule an appointment, please visit www.shaws.com/COVID-19. The website includes a link to the pharmacy's convenient online vaccine scheduler and answers to FAQs. Please do not call the Pharmacy to schedule an appointment and walk-ins are not accepted. | 12+ |
| Shaws | Augusta | Kennebec | To schedule an appointment, please visit www.shaws.com/COVID-19. The website includes a link to the pharmacy's convenient online vaccine scheduler and answers to FAQs. Please do not call the Pharmacy to schedule an appointment and walk-ins are not accepted. | 12+ |
| Shaws | Saco | York | To schedule an appointment, please visit www.shaws.com/COVID-19. The website includes a link to the pharmacy's convenient online vaccine scheduler and answers to FAQs. Please do not call the Pharmacy to schedule an appointment and walk-ins are not accepted. | 12+ |
| Shaws | Rockland | Knox | To schedule an appointment, please visit www.shaws.com/COVID-19. The website includes a link to the pharmacy's convenient online vaccine scheduler and answers to FAQs. Please do not call the Pharmacy to schedule an appointment and walk-ins are not accepted. | 12+ |
| Shaws | Waterville | Kennebec | To schedule an appointment, please visit www.shaws.com/COVID-19. The website includes a link to the pharmacy's convenient online vaccine scheduler and answers to FAQs. Please do not call the Pharmacy to schedule an appointment and walk-ins are not accepted. | 12+ |
| Shaws | Bangor | Penobscot | To schedule an appointment, please visit www.shaws.com/COVID-19. The website includes a link to the pharmacy's convenient online vaccine scheduler and answers to FAQs. Please do not call the Pharmacy to schedule an appointment and walk-ins are not accepted. | 12+ |
| Shaws | Lewiston | Androscoggin | To schedule an appointment, please visit www.shaws.com/COVID-19. The website includes a link to the pharmacy's convenient online vaccine scheduler and answers to FAQs. Please do not call the Pharmacy to schedule an appointment and walk-ins are not accepted. | 12+ |
| Shaws | Sanford | York | To schedule an appointment, please visit www.shaws.com/COVID-19. The website includes a link to the pharmacy's convenient online vaccine scheduler and answers to FAQs. Please do not call the Pharmacy to schedule an appointment and walk-ins are not accepted. | 12+ |
| Walgreens | Auburn | Androscoggin | 61 Union Street. To schedule an appointment, visit Walgreens.com/ScheduleVaccine or call 1-800-Walgreens. Walk-ins are not accepted. | 12+ |
| Walgreens | Auburn | Androscoggin | 698 Minot Ave. To schedule an appointment, visit Walgreens.com/ScheduleVaccine or call 1-800-Walgreens. Walk-ins are not accepted. | 12+ |
| Walgreens | Augusta | Kennebec | 403 Water Street. To schedule an appointment, visit Walgreens.com/ScheduleVaccine or call 1-800-Walgreens. Walk-ins are not accepted. | 12+ |
| Walgreens | Augusta | Kennebec | 2007 N. Belfast Ave. To schedule an appointment, visit Walgreens.com/ScheduleVaccine or call 1-800-Walgreens. Walk-ins are not accepted. | 12+ |
| Walgreens | Bangor | Penobscot | 706 Broadway. To schedule an appointment, visit Walgreens.com/ScheduleVaccine or call 1-800-Walgreens. Walk-ins are not accepted. | 12+ |
| Walgreens | Bangor | Penobscot | 566 Union St. To schedule an appointment, visit Walgreens.com/ScheduleVaccine or call 1-800-Walgreens. Walk-ins are not accepted. | 12+ |
| Walgreens | Bar Harbor | Hancock | To schedule an appointment, visit Walgreens.com/ScheduleVaccine or call 1-800-Walgreens. Walk-ins are not accepted. | 12+ |
| Walgreens | Bath | Sagadahoc | To schedule an appointment, visit Walgreens.com/ScheduleVaccine or call 1-800-Walgreens. Walk-ins are not accepted. | 12+ |
| Walgreens | Belfast | Waldo | To schedule an appointment, visit Walgreens.com/ScheduleVaccine or call 1-800-Walgreens. Walk-ins are not accepted. | 12+ |
| Walgreens | Bethel | Oxford | To schedule an appointment, visit Walgreens.com/ScheduleVaccine or call 1-800-Walgreens. Walk-ins are not accepted. | 12+ |
| Walgreen | Biddeford | York | To schedule an appointment, visit Walgreens.com/ScheduleVaccine or call 1-800-Walgreens. Walk-ins are not accepted. | 12+ |
| Walgreens | Blue Hill | Hancock | To schedule an appointment, visit Walgreens.com/ScheduleVaccine or call 1-800-Walgreens. Walk-ins are not accepted. | 12+ |
| Walgreens | Boothbay Harbor | Lincoln | To schedule an appointment, visit Walgreens.com/ScheduleVaccine or call 1-800-Walgreens. Walk-ins are not accepted. | 12+ |
| Walgreens | Brewer | Penobscot | To schedule an appointment, visit Walgreens.com/ScheduleVaccine or call 1-800-Walgreens. Walk-ins are not accepted. | 12+ |
| Walgreens | Bridgton | Cumberland | To schedule an appointment, visit Walgreens.com/ScheduleVaccine or call 1-800-Walgreens. Walk-ins are not accepted. | 12+ |
| Walgreens | Brunswick | Cumberland | To schedule an appointment, visit Walgreens.com/ScheduleVaccine or call 1-800-Walgreens. Walk-ins are not accepted. | 12+ |
| Walgreens | Bucksport | Hancock | To schedule an appointment, visit Walgreens.com/ScheduleVaccine or call 1-800-Walgreens. Walk-ins are not accepted. | 12+ |
| Walgreens | Buxton | York | To schedule an appointment, visit Walgreens.com/ScheduleVaccine or call 1-800-Walgreens. Walk-ins are not accepted. | 12+ |
| Walgreens | Calais | Washington | To schedule an appointment, visit Walgreens.com/ScheduleVaccine or call 1-800-Walgreens. Walk-ins are not accepted. | 12+ |
| Walgreens | Camden | Knox | To schedule an appointment, visit Walgreens.com/ScheduleVaccine or call 1-800-Walgreens. Walk-ins are not accepted. | |
| Walgreens | Cornish | York | To schedule an appointment, visit Walgreens.com/ScheduleVaccine or call 1-800-Walgreens. Walk-ins are not accepted. | 12+ |
| Walgreens | Damariscotta | Lincoln | To schedule an appointment, visit Walgreens.com/ScheduleVaccine or call 1-800-Walgreens. Walk-ins are not accepted. | 12+ |
| Walgreens | Dover-Foxcroft | Piscataquis | To schedule an appointment, visit Walgreens.com/ScheduleVaccine or call 1-800-Walgreens. Walk-ins are not accepted. | 12+ |
| Walgreens | Ellsworth | Hancock | To schedule an appointment, visit Walgreens.com/ScheduleVaccine or call 1-800-Walgreens. Walk-ins are not accepted. | 12+ |
| Walgreens | Fairfield | Kennebec | To schedule an appointment, visit Walgreens.com/ScheduleVaccine or call 1-800-Walgreens. Walk-ins are not accepted. | 12+ |
| Walgreens | Falmouth | Cumberland | To schedule an appointment, visit Walgreens.com/ScheduleVaccine or call 1-800-Walgreens. Walk-ins are not accepted. | 12+ |
| Walgreens | Farmington | Franklin | To schedule an appointment, visit Walgreens.com/ScheduleVaccine or call 1-800-Walgreens. Walk-ins are not accepted. | 12+ |
| Walgreens | Fort Kent | Aroostook | To schedule an appointment, visit Walgreens.com/ScheduleVaccine or call 1-800-Walgreens. Walk-ins are not accepted. | 12+ |
| Walgreens | Fryeburg | Oxford | To schedule an appointment, visit Walgreens.com/ScheduleVaccine or call 1-800-Walgreens. Walk-ins are not accepted. | 12+ |
| Walgreens | Gardiner | Kennebec | To schedule an appointment, visit Walgreens.com/ScheduleVaccine or call 1-800-Walgreens. Walk-ins are not accepted. | 12+ |
| Walgreens | Gray | Cumberland | To schedule an appointment, visit Walgreens.com/ScheduleVaccine or call 1-800-Walgreens. Walk-ins are not accepted. | 12+ |
| Walgreens | Gorham | Cumberland | To schedule an appointment, visit Walgreens.com/ScheduleVaccine or call 1-800-Walgreens. Walk-ins are not accepted. | 12+ |
| Walgreens | Guilford | Piscataquis | To schedule an appointment, visit Walgreens.com/ScheduleVaccine or call 1-800-Walgreens. Walk-ins are not accepted. | 12+ |
| Walgreens | Hampden | Penobscot | To schedule an appointment, visit Walgreens.com/ScheduleVaccine or call 1-800-Walgreens. Walk-ins are not accepted. | 12+ |
| Walgreens | Houlton | Aroostook | To schedule an appointment, visit Walgreens.com/ScheduleVaccine or call 1-800-Walgreens. Walk-ins are not accepted. | 12+ |
| Walgreens | Kennebunk | York | To schedule an appointment, visit Walgreens.com/ScheduleVaccine or call 1-800-Walgreens. Walk-ins are not accepted. | 12+ |
| Walgreens | Kittery | York | To schedule an appointment, visit Walgreens.com/ScheduleVaccine or call 1-800-Walgreens. Walk-ins are not accepted. | 12+ |
| Walgreens | Lewiston | Androscoggin | 430 Sabattus Street. To schedule an appointment, visit Walgreens.com/ScheduleVaccine or call 1-800-Walgreens. Walk-ins are not accepted. | 12+ |
| Walgreens | Lewiston | Androscoggin | 315 Main Street. To schedule an appointment, visit Walgreens.com/ScheduleVaccine or call 1-800-Walgreens. Walk-ins are not accepted. | 12+ |
| Walgreens | Lincoln | Penobscot | To schedule an appointment, visit Walgreens.com/ScheduleVaccine or call 1-800-Walgreens. Walk-ins are not accepted. | 12+ |
| Walgreens | Lisbon Falls | Androscoggin | To schedule an appointment, visit Walgreens.com/ScheduleVaccine or call 1-800-Walgreens. Walk-ins are not accepted. | 12+ |
| Walgreens | Machias | Washington | To schedule an appointment, visit Walgreens.com/ScheduleVaccine or call 1-800-Walgreens. Walk-ins are not accepted. | |
| Walgreens | Madawaska | Aroostook | To schedule an appointment, visit Walgreens.com/ScheduleVaccine or call 1-800-Walgreens. Walk-ins are not accepted. | 12+ |
| Walgreens | Manchester | Kennebec | To schedule an appointment, visit Walgreens.com/ScheduleVaccine or call 1-800-Walgreens. Walk-ins are not accepted. | 12+ |
| Walgreens | Milo | Piscataquis | To schedule an appointment, visit Walgreens.com/ScheduleVaccine or call 1-800-Walgreens. Walk-ins are not accepted. | 12+ |
| Walgreens | Naples | Cumberland | To schedule an appointment, visit Walgreens.com/ScheduleVaccine or call 1-800-Walgreens. Walk-ins are not accepted. | 12+ |
| Walgreens | Newport | Somerset | To schedule an appointment, visit Walgreens.com/ScheduleVaccine or call 1-800-Walgreens. Walk-ins are not accepted. | 12+ |
| Walgreens | Norway | Oxford | To schedule an appointment, visit Walgreens.com/ScheduleVaccine or call 1-800-Walgreens. Walk-ins are not accepted. | 12+ |
| Walgreens | Oakland | Kennebec | To schedule an appointment, visit Walgreens.com/ScheduleVaccine or call 1-800-Walgreens. Walk-ins are not accepted. | 12+ |
| Walgreens | Old Orchard Beach | York | To schedule an appointment, visit Walgreens.com/ScheduleVaccine or call 1-800-Walgreens. Walk-ins are not accepted. | 12+ |
| Walgreens | Old Town | Penobscot | To schedule an appointment, visit Walgreens.com/ScheduleVaccine or call 1-800-Walgreens. Walk-ins are not accepted. | 12+ |
| Walgreens | Pittsfield | Somerset | To schedule an appointment, visit Walgreens.com/ScheduleVaccine or call 1-800-Walgreens. Walk-ins are not accepted. | 12+ |
| Walgreens | Portland | Cumberland | 127 Marginal Way. To schedule an appointment, visit Walgreens.com/ScheduleVaccine or call 1-800-Walgreens. Walk-ins are not accepted. | 12+ |
| Walgreens | Portland | Cumberland | 616 Forest Ave. To schedule an appointment, visit Walgreens.com/ScheduleVaccine or call 1-800-Walgreens. Walk-ins are not accepted. | 12+ |
| Walgreens | Portland | Cumberland | 290 Congress Street. To schedule an appointment, visit Walgreens.com/ScheduleVaccine or call 1-800-Walgreens. Walk-ins are not accepted. | 12+ |
| Walgreens | Portland | Cumberland | 713 Congress Street. To schedule an appointment, visit Walgreens.com/ScheduleVaccine or call 1-800-Walgreens. Walk-ins are not accepted. | 12+ |
| Walgreens | Rockland | Knox | To schedule an appointment, visit Walgreens.com/ScheduleVaccine or call 1-800-Walgreens. Walk-ins are not accepted. | |
| Walgreens | Rumford | Oxford | To schedule an appointment, visit Walgreens.com/ScheduleVaccine or call 1-800-Walgreens. Walk-ins are not accepted. | 12+ |
| Walgreens | Saco | York | To schedule an appointment, visit Walgreens.com/ScheduleVaccine or call 1-800-Walgreens. Walk-ins are not accepted. | 12+ |
| Walgreens | Sanford | York | To schedule an appointment, visit Walgreens.com/ScheduleVaccine or call 1-800-Walgreens. Walk-ins are not accepted. | 12+ |
| Walgreens | Scarborough | Cumberland | 233 U.S. Route 1. To schedule an appointment, visit Walgreens.com/ScheduleVaccine or call 1-800-Walgreens. Walk-ins are not accepted. | 12+ |
| Walgreens | Scarborough | Cumberland | 600 U.S. Route 1. To schedule an appointment, visit Walgreens.com/ScheduleVaccine or call 1-800-Walgreens. Walk-ins are not accepted. | 12+ |
| Walgreens | Skowhegan | Somerset | To schedule an appointment, visit Walgreens.com/ScheduleVaccine or call 1-800-Walgreens. Walk-ins are not accepted. | 12+ |
| Walgreens | South Portland | Cumberland | To schedule an appointment, visit Walgreens.com/ScheduleVaccine or call 1-800-Walgreens. Walk-ins are not accepted. | 12+ |
| Walgreens | Springvale | York | To schedule an appointment, visit Walgreens.com/ScheduleVaccine or call 1-800-Walgreens. Walk-ins are not accepted. | 12+ |
| Walgreens | Topsham | Sagadahoc | To schedule an appointment, visit Walgreens.com/ScheduleVaccine or call 1-800-Walgreens. Walk-ins are not accepted. | 12+ |
| Walgreens | Waterville | Kennebec | To schedule an appointment, visit Walgreens.com/ScheduleVaccine or call 1-800-Walgreens. Walk-ins are not accepted. | 12+ |
| Walgreens | Wells | York | To schedule an appointment, visit Walgreens.com/ScheduleVaccine or call 1-800-Walgreens. Walk-ins are not accepted. | 12+ |
| Walgreen | Westbrook | Cumberland | To schedule an appointment, visit Walgreens.com/ScheduleVaccine or call 1-800-Walgreens. Walk-ins are not accepted. | 12+ |
| Walgreens | Windham | Cumberland | To schedule an appointment, visit Walgreens.com/ScheduleVaccine or call 1-800-Walgreens. Walk-ins are not accepted. | 12+ |
| Walgreens | Winslow | Kennebec | To schedule an appointment, visit Walgreens.com/ScheduleVaccine or call 1-800-Walgreens. Walk-ins are not accepted. | 12+ |
| Walgreens | Winthrop | Kennebec | To schedule an appointment, visit Walgreens.com/ScheduleVaccine or call 1-800-Walgreens. Walk-ins are not accepted. | 12+ |
| Walgreens | Yarmouth | Cumberland | To schedule an appointment, visit Walgreens.com/ScheduleVaccine or call 1-800-Walgreens. Walk-ins are not accepted. | 12+ |
| Walgreens | York | York | To schedule an appointment, visit Walgreens.com/ScheduleVaccine or call 1-800-Walgreens. Walk-ins are not accepted. | 12+ |
| Walmart | Scarborough | Cumberland | To see availability and schedule an appointment, visit: www.walmart.com/COVIDvaccine. Please check your eligibility before scheduling an appointment. Drop-in vaccinations are also available. | |
| Walmart | Thomaston | Knox | To see availability and schedule an appointment, visit: www.walmart.com/COVIDvaccine. Please check your eligibility before scheduling an appointment. Drop-in vaccinations are also available. | |
| Walmart | Bangor | Penobscot | To see availability and schedule an appointment, visit: www.walmart.com/COVIDvaccine. Please check your eligibility before scheduling an appointment. Drop-in vaccinations are also available. | 12+ |
| Walmart | Farmington | Franklin | To see availability and schedule an appointment, visit: www.walmart.com/COVIDvaccine. Please check your eligibility before scheduling an appointment. Drop-in vaccinations are also available. | |
| Walmart | Auburn | Androscoggin | To see availability and schedule an appointment, visit: www.walmart.com/COVIDvaccine. Please check your eligibility before scheduling an appointment. Drop-in vaccinations are also available. | 12+ |
| Walmart | Augusta | Kennebec | To see availability and schedule an appointment, visit: www.walmart.com/COVIDvaccine. Please check your eligibility before scheduling an appointment. Drop-in vaccinations are also available. | 12+ |
| Walmart | Lincoln | Penobscot | To see availability and schedule an appointment, visit: www.walmart.com/COVIDvaccine. Please check your eligibility before scheduling an appointment. Drop-in vaccinations are also available. | |
| Walmart | Presque Isle | Aroostook | To see availability and schedule an appointment, visit: www.walmart.com/COVIDvaccine. Please check your eligibility before scheduling an appointment. Drop-in vaccinations are also available. | |
| Walmart | Lamoine | Hancock | To see availability and schedule an appointment, visit: www.walmart.com/COVIDvaccine. Please check your eligibility before scheduling an appointment. Drop-in vaccinations are also available. | |
| Walmart | Brunswick | Cumberland | To see availability and schedule an appointment, visit: www.walmart.com/COVIDvaccine. Please check your eligibility before scheduling an appointment. Drop-in vaccinations are also available. | |
| Walmart | Sanford | York | To see availability and schedule an appointment, visit: www.walmart.com/COVIDvaccine. Please check your eligibility before scheduling an appointment. Drop-in vaccinations are also available. | |
| Walmart | Houlton | Aroostook | To see availability and schedule an appointment, visit: www.walmart.com/COVIDvaccine. Please check your eligibility before scheduling an appointment. Drop-in vaccinations are also available. | |
| Walmart | Waterville | Kennebec | To see availability and schedule an appointment, visit: www.walmart.com/COVIDvaccine. Please check your eligibility before scheduling an appointment. Drop-in vaccinations are also available. | 12+ |
| Walmart | Palmyra | Somerset | To see availability and schedule an appointment, visit: www.walmart.com/COVIDvaccine. Please check your eligibility before scheduling an appointment. Drop-in vaccinations are also available. | 12+ |
| Walmart | Skowhegan | Somerset | To see availability and schedule an appointment, visit: www.walmart.com/COVIDvaccine. Please check your eligibility before scheduling an appointment. Drop-in vaccinations are also available. | |
| Walmart | Biddeford | York | To see availability and schedule an appointment, visit: www.walmart.com/COVIDvaccine. Please check your eligibility before scheduling an appointment. Drop-in vaccinations are also available. | |
| Walmart | Calais | Washington | To see availability and schedule an appointment, visit: www.walmart.com/COVIDvaccine. Please check your eligibility before scheduling an appointment. Drop-in vaccinations are also available. | |
| Walmart | Oxford | Oxford | To see availability and schedule an appointment, visit: www.walmart.com/COVIDvaccine. Please check your eligibility before scheduling an appointment. Drop-in vaccinations are also available. | 12+ |
| Walmart | Windham | Cumberland | To see availability and schedule an appointment, visit: www.walmart.com/COVIDvaccine. Please check your eligibility before scheduling an appointment. Drop-in vaccinations are also available. | 12+ |
| Walmart | Falmouth | Cumberland | To see availability and schedule an appointment, visit: www.walmart.com/COVIDvaccine. Please check your eligibility before scheduling an appointment. Drop-in vaccinations are also available. | |
| Walmart | Mexico | Oxford | To see availability and schedule an appointment, visit: www.walmart.com/COVIDvaccine. Please check your eligibility before scheduling an appointment. Drop-in vaccinations are also available. | |
| Walmart | Brewer | Penobscot | To see availability and schedule an appointment, visit: www.walmart.com/COVIDvaccine. Please check your eligibility before scheduling an appointment. Drop-in vaccinations are also available. | 12+ |
| Sams's Club | Scarborough | Cumberland | To see availability and schedule an appointment, visit: www.samsclub.com/covid. Please check your eligibility before scheduling an appointment. | |
| Sams's Club | Bangor | Penobscot | To see availability and schedule an appointment, visit: www.samsclub.com/covid. Please check your eligibility before scheduling an appointment. | |
| Eastport Family Pharmacy | Eastport | Washington | Schedule an appointment online, and call 207-255-8880 | |
| Machias Family Pharmacy | Machias | Washington | Schedule an appointment online, and call 207-255-8880 | |
| City Drug Store | Presque Isle | Aroostook | Schedule an appointment online, or call 207-764-4424 option 1 | |
| Kennebec Pharmacy and Home Care | Augusta | Kennebec | Schedule an appointment online. | |
| Spruce Mountain Pharmacy | Jay | Franklin | Call 207-897-9080 for an appointment or join our list online and we will contact you | |
| Kennebec Pharmacy and Home Care | Rockport | Knox | Schedule online | |
| The Medicine Shoppe | Lewiston | Androscoggin | To schedule an appointment, call 207-783-3539 or visit www.medicineshoppe.com/0550 | |
| Community Pharmacy, Blue Hill | Blue Hill | Hancock | To schedule an appointment visit communityrx.com/covid-19/ and select your location of choice. | |
| Community Pharmacy, Bucksport | Bucksport | Hancock | To schedule an appointment visit communityrx.com/covid-19/ and select your location of choice. | |
| Community Pharmacy, Cornish | Cornish | York | To schedule an appointment visit communityrx.com/covid-19/ and select your location of choice. | |
| Community Pharmacy, Corinth | Corinth | Penobscot | To schedule an appointment visit communityrx.com/covid-19/ and select your location of choice. | |
| Community Pharmacy, Gorham | Gorham | Cumberland | To schedule an appointment visit communityrx.com/covid-19/ and select your location of choice. | |
| Community Pharmacy, Hermon | Hermon | Penobscot | To schedule an appointment visit communityrx.com/covid-19/ and select your location of choice. | |
| Community Pharmacy, Randolph | Randolph | Kennebec | To schedule an appointment visit communityrx.com/covid-19/ and select your location of choice. | |
| Community Pharmacy, Saco | Saco | York | To schedule an appointment visit communityrx.com/covid-19/ and select your location of choice. | |
| Community Pharmacy, Waldoboro | Waldoboro | Lincoln | To schedule an appointment visit communityrx.com/covid-19/ and select your location of choice. | |
| Fairfield Pharmacy | Fairfield | Somerset | To schedule an appointment please call our pharmacy at 207-453-4411. Information will also be posted on our website | |
| Bangor Drug | Bangor | Penobscot | Call 207-922-3849 to schedule an appointment | |
| Carroll Drug Store | Southwest Harbor | Hancock | Please visit carroldrugstore.net to schedule an appointment. | |
| Nathan's Pharmacy | Boothbay Harbor | Lincoln | Call 207-315-2280 to schedule an appointment | |
| Northern Maine Medical Center Retail Pharmacy | Madawaska | Aroostook | NMMC's Retail Pharmacy is offering Johnson and Johnson shots for drop-in vaccinations every Wednesday and Friday from 112pm-1pm. Must be 18+. | |
| St. John Valley Pharmacy | Fort Kent | Aroostook | To schedule an appointment, call our pharmacy at 207-834-2880 or visit our website at www.sjvrx.com | |
| Holland's Variety | Skowhegan | Somerset | Visit Holland's Variety to be contacted for an appointment or call our scheduling line at 207-558-3313 | |
| Mt Blue Drug | Farmington | Franklin | Visit Mt Blue Drug to be contacted for an appointment or call our scheduling line at 207-558-3313 | |
| Belfast Drug Company | Belfast | Waldo | Visit Belfast Drug Company to be contacted for an appointment or call our scheduling line at 207-558-3313 | |
Pop-Up Clinics
Name of Provider
Municipality
County
Scheduling Info
Age
Public/Patient Only

MaineHealth Vaccine Clinic/Maine Beer Company

Freeport
Cumberland

June 23 - MaineHealth is partnering with the Maine Beer Company in Freeport to offer vaccinations from 11am-4pm.

18+
Public

MaineHealth Vaccine Clinic/Thompson's Point

Cumberland
Cumberland

June 24 - MaineHealth is partnering with Thompson's Point to offer vaccinations for those attending the Summer Sunset Series concerts on these dates from 4pm-8pm.

18+
Public
MaineHealth Vaccine Clinic/Portland House of Music
Portland
Cumberland
July 12 & July 14- MaineHealth is partnering with the Portland House of Music to offer vaccinations from 8pm-11pm
18+
Public
St. Luke Food Pantry and St. Elizabeth's Jubilee Center, 134 Park St., Portland
Portland
Cumberland
On July 6 and July 8, drop-in vaccinations are taking place from 9am-11am. Incentives will be available on site. Cultural brokering and language support in Dari, Lingala, Portuguese, French, Spanish, Arabic, Somali, Kirundi, and Kinyarwanda will be available. You are also welcome to bring along someone who can interpret for you.
18+
Public
Carey Medical Center
Caribou
Aroostook

Cary Medical Center will be offering vaccinations to the community at Caribou's "Thursdays on Sweden Street," on the following dates: July 1, July 15, July 29, August 12 and August 26.

We will be offering all three vaccines, no appointments required. More about Thursdays on Sweden: http://www.cariboumaine.org/index.php/event/thursdays-on-sweden-street-with-trish-king-music/

We also continue to offer vaccination to hospital patients and through primary care offices.

12+
Public
Northern Light/Saco Bay Rotary Club
Saco
York
June 26, 9am-12pm, the Saco Maine Arts Festival on Saco Main Street will have the Johnson & Johnson vaccine available for anyone 18+. No appointment needed. Free Rubber Duckies to anyone vaccinated.
18+
Public
North Atlantic Blues Festival/City of Rockland
Rockland
Knox

July 10, 6:30pm-10:00pm at Winslow-Holbrook Park at the intersection of Park and Main Streets in Rockland.

No appointments needed. J&J will be offered for anyone 18+; Pfizer will be available for those aged 12+.

12+
Public