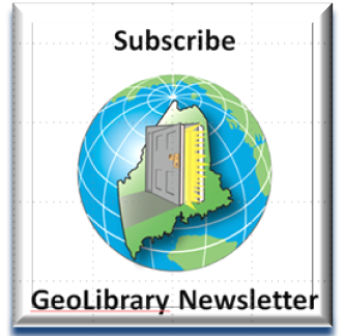 ABOUT US
The mission of the GeoLibrary is to create an electronic gateway to public geographic information, and to expand and promote the value of geographic spatial data through widespread distribution and innovative use for the benefit of Maine's citizens. To read about our legislative directives, please click "Legislation" on the right side menu.
GEOLIBRARY CALENDAR
RECENT HIGHLIGHTS
11/20/2014 - The Ortho imagery sub-committee met to view a presentation from Pictometry representatives providing on their capabilities and benefits of oblique imagery.
11/20/2014 - The LiDAR GeoSpatial data subcommittee met to hear presentations from Pictometry regarding its capacity for providing LiDAR data acquisition and from Chris Macon of the Joint Airborne LiDAR Bathymetry Technical Center of Expertise (JALBTCX). Chris works with an interagency team to research develop and acquire bathymetric data along the United States coast. He provide a very interesting overview of the Centers work, latest sensor technologies, challenges to bathymetric acquisition in Maine and the opportunities for state federal partnerships
10/23/2014 - The LiDAR GeoSpatial Data Subcommittee met. Matthew Nixon, Senior Planner from the Maine Coastal Program and Stephen Dickson, Marine Geologist from the Maine Geological Survey presented information on the need for better near shore bathymetric data along Maine's coast.
10/23/2014 - The Ortho imagery GeoSpatial Data Subcommittee met to discuss formulation of a structure for the next RFP for imagery acquisition services.
11/14/2014 - Joe Young, Executive director of the GeoLibrary presented an update on GeoSpatial data acquisition activities and a basic hands on demo of accessing GeoSpatial data on line. A copy of the presentation GeoSpatial Data is available.
10/29/2014 - Michael Smith provided an update on the GeoLibraries efforts to collect LiDAR data for high resolution topographic data to the Cooperative Forestry Research Unit's advisory committee meeting.
10/1-2/2014 - The GeoLibrary participated in the Maine Municipal Association convention. Working in partnership with the its contracting partners Woolpert Inc. and Kappa Mapping the GeoLibrary highlighted the ortho imagery program as well as its efforts to increase the availability of high resolution Topographic data for Maine.
9/26/2014 - The GeoSpatial Workgroup LiDAR Sub-Committee to develop a plan for acquiring LiDAR data for the state met for the first time today. The meeting began with a presentation from Qassim A. Abdullah, Ph.D., CP, PLSa Senior GeoSpatial Scientist and Associate, Woolpert Inc.. The title of his presentation was "Futuristic Look at Lidar Data Acquisition and Production in the US". LiDAR acquisition techniques are rapidly evolving, and new technologies such as space based data acquisition, flash LiDAR, Photon Counting and Geiger Mode Lidars. These new systems promise to reduce costs, increase data value and open new markets for LiDAR data. At the same time it may lose some market share to new technologies such as 3D GIS from imagery acquisitions where each pixel in an image is acquired with precise XYZ coordinates. This data provides very accurate elevation and digital surface terrain data.
9/25/2014 - The GeoSpatial Workgroup Sub-Committee to develop the next five year plan for ortho imagery acquisition had their first meeting today. The meeting began with a presentation from Qassim A. Abdullah, Ph.D., CP, PLSa Senior GeoSpatial Scientist and Associate, Woolpert Inc.. The title of his presentation was "Future Look at Ortho imagery and Production" and provided the committee a glimpse of the dramatic changes occurring in this field.
9/13/2014 - Board Member William Hanson and the GeoLibrary Executive Director presented " Using Maine Web Mapping Services to Assist Real Estate Practices " at the Maine Bar Association's Real Estate Institute.
Ortho Photography: Woolpert Inc. prime contractor for the program and its partners Kappa Mapping, Inc., Shyka, Sheppard and Garster Land Surveyors, and the James W. Sewall Company have completed the 2014 ortho imagery acquisition of Hancock and part of Penobscot Counties. Processing has begun and delivery of products will be spaced out over the summer and fall. The priority for delivery will be 3" resolution; 6" resolution; 12" resolution and then 24" resolution.
The Maine Office of GIS, Maine Department of Transportation, Maine Emergency Management Agency and the Maine Public Utilities Emergency Services Communication Bureau were this years partners contributing to the cost of acquisition. The 2014 acquisition will include 24" resolution base level imagery or better for all of Hancock county and one third of Penobscot county. In addition 12 communities in Hancock County and 5 communities in Penobscot County are buying up to higher resolution imagery. It is estimated that each community purchasing higher resolution imagery is saving on average $20,000 each. This would put total savings to communities participating in the program for 2014 at $340,000. The estimated savings for communities in 2012 and 2013 is $600,000 bringing our total community benefit to nearly $1,300,000 in avoided costs.
The GeoLibrary is working on a proposal for acquiring over 4,000 square mile of Lidar data meeting USGS QL2 specifications. This is exceptionally accurate data that will result in elevation data equal to 1' contours. The pre-proposal deadline has been extended several times. Preproposals are now due November 7th and full proposals are due December 12th. The draft map below shows our primary areas of interest based on current partners contributions. Discussions are underway to potentially broaden the proposal to include a three state partnership with New Hampshire and Massachusetts to improve the proposals competitive position. This page will be updated with more details after the pre proposal is submitted on September 5th.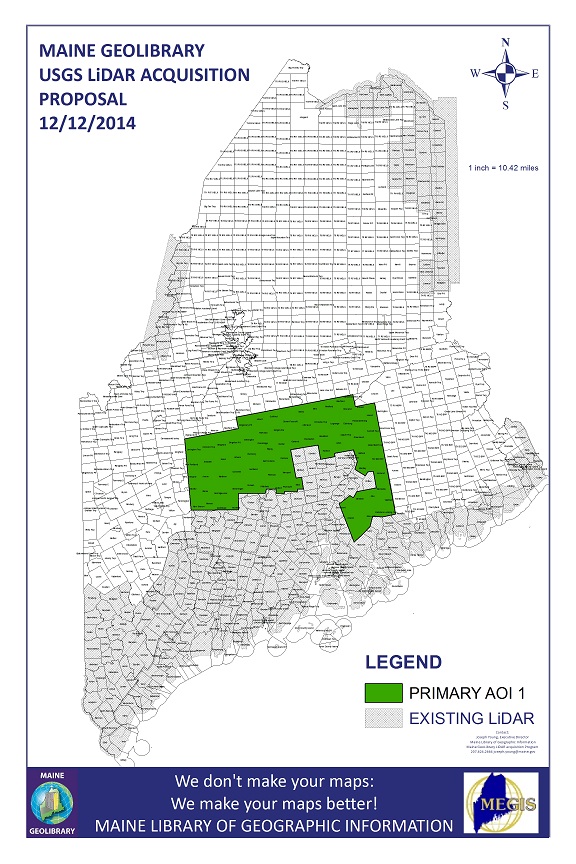 The USGS has published Summary fact sheets describing LiDAR acquisition efforts and the benefits it has for each state. You will find a copy of Maine's fact sheet on the USGS National Map web site.
The 2013 LiDAR acquisition data final processing has been completed and delivered to the USGS for their review. This review will be completed by the end of June 2014. The raw point cloud and DEM data should be distributed to the Maine office of GIS sometime in September. MeGIS will process the data to develop hill shade and contours over the summer. These data sets will then be hosted in the WMS.
This project was made possible through the contributions from Department of Agriculture, Conservation and Forestry, Maine Department of Transportation, Maine Department of Health and Human Services Drinking Water Program and Maine Emergency Management Agency. The Board was able to leverage federal funding from the United States Department of Agriculture, Federal Emergency Management Agency, in July of 2014. This collection includes just over 2,000 square miles of data in northern Kennebec, Cumberland and York counties. This acquisition will provide for the completion of high resolution data sets for these three counties. In this acquisition the Board was able to leverage over $550,000 in federal funds with just $55,000 in state agency funds.
GeoParcels: The Board working with the Maine Office of GIS has made significant progress in completing the Maine GeoParcels data set and in January of 2014 launched the Maine GeoParcel Viewer. Parcel data for nearly 80 % of Maine's communities is now available on line in one single data layer source.
2009 Strategic Plan: The Strategic Plan serves the same purpose for the GeoLibrary Board as a Comprehensive Plan does for a municipalities is meant to guide the actions of the GeoLibrary for the next five to ten years. Read more about the process and download the plan.
Updated Ortho Imagery Recommendations: The ortho imagery Subcommittee of the GeoSpatial Data Working Group has developed recommendations on how to procure updated aerial imagery for Maine. Since there is little to no national market for high-resolution imagery for Maine, acquiring updated imagery must be driven from within the state. Check out the report to see what the base program would look like, and how buy-ups from towns, counties, regions, or companies could be organized to upgrade the final product. The recommendations call for areas to be updated every three or five years. Visit the GeoSpatial Data Working Group page to download the report and appendices.
Projects and Services
MEGIS/GeoLibrary Web Mapping Services: The Maine Office of GIS and the GeoLibrary Board are proud to present a number of OGC-compliant web mapping services; read about them on our projects page.
Participate
Maine GeoNews: THE e-mail list to subscribe to for all GIS discussion in Maine! Click here to sign up.