Breastfeeding
Maine WIC is committed to promoting breastfeeding, protecting a woman's right to breastfeed her child, and ensuring the availability of quality health care for breastfeeding mothers. We collaborate with and support health care professionals and community groups working to increase breastfeeding rates in Maine.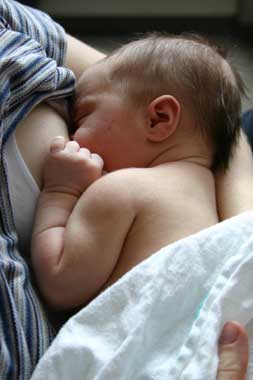 Most women have questions about breastfeeding. Each time you visit WIC you have the chance to get answers to your questions.
WIC can help you:
Talk about your thoughts and concerns and learn about the benefits of breastfeeding.
Get ideas for talking to family and others about how important it is to breastfeed.
Learn about breast pumps, where to get one if you need one, and with ideas on how to continue breastfeeding when you return to work or school.
Breastfeed... it's too important not to! Learn where to get additional breastfeeding help if you need it.
WIC also provides extra foods for breastfeeding women.
Maine Breastfeeding Facts
A Maine law that took effect in 2009 requires employers to provide adequate break time or mealtime so that an employee who is a nursing mother can express breast milk, as well as a clean, private, other than a bathroom, in which to express milk. The Maine WIC Nutrition Program and the Department of Labor have developed materials to help Maine employers support nursing mothers in the workplace. Call your local WIC clinic or check this page if you want help encouraging your employer to comply with this law.
Several hospitals in Maine, including York Hospital, Miles Memorial, Central Maine Medical Center, Bridgton Hospital, and Maine General Medical Center, have all become designated 'Baby Friendly' hospitals. The Baby-Friendly Hospital Initiative is a global program sponsored by the World Health Organization and the United Nations Children's Fund to encourage and recognize hospitals and birthing centers that offer an optimal level of care for breastfeeding.
Contact Info
Monday - Friday 8am-5pm
Voice: (207) 287-3991
In-state Toll Free:
1-800-437-9300
TTY: Maine relay 711
Fax: (207) 287-3993
Email: wic.maine@maine.gov
Mailing address:
11 State House Station
Augusta, ME 04333
Phone Number to your
Local WIC Clinic
Auburn 207-795-4016
Augusta 207-621-6202
Bangor 207-992-4570
Bath 207-442-7963
Belfast 207-338-1267
Biddeford 207-283-2402
Calais 207-454-3634
East Wilton 207-645-3764
Ellsworth 207-667-5302
Machias 207-255-8280
Portland 207-553-5800
Presque Isle 207-768-3026
Rockland 207-594-4329
Sanford 207-459-2942
Skowhegan 207-474-7463
Waterville 207-861-3580
Policies
FY Policies
What's New