Apply at your Local WIC Clinic
Find your local WIC Clinic
To set up your first appointment, call the main office that serves your county. We'll do our best to schedule you for the location nearest to where you live.
What To Bring to your first WIC appointment?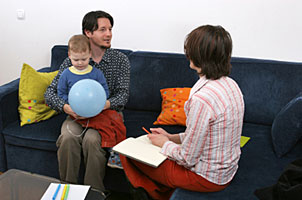 Women, infants and children applying for WIC must be present at the first visit. You also need to bring the following:
Proof of income for all members of your household for the past month. This might include:

Pay stubs
Military earning statements
Pay statement from employer
Child support agreement
TANF statement or check stub
MaineCare card
Food Stamp Program enrollment or renewal letter

Proof of where you live (your physical address, not a P.O. box). This might include:

Electric bill
Piece of mail with your name and address on it
Driver's license with your street address
Rental agreement or mortgage paper with your name and address
TANF statement, MaineCare card
Food Stamp Program enrollment or renewal letter

Proof of identification for everyone applying for WIC. This may include:

Driver's license
School ID
State of Maine ID card
Employer ID card
Birth certificate
Hospital crib card
Vaccination record
MaineCare card
What Will Happen?
Your first appointment will take about an hour. WIC staff will:
Check your income, residency and identification.
Get heights and weights for everyone applying.
See if a blood test is needed to check iron levels.
Tell you if you are eligible for the program.
Give you ideas for healthy meals and snacks and answer your health questions.
Tell you about other services in your community.
Teach you how to spend WIC checks at the grocery store.
Give you your WIC checks, and an appointment for your next visit.
Contact Info
Monday - Friday 8am-5pm
Voice: (207) 287-3991
In-state Toll Free:
1-800-437-9300
TTY: Maine relay 711
Fax: (207) 287-3993
Email: wic.maine@maine.gov
Mailing address:
11 State House Station
Augusta, ME 04333
Phone Number to your
Local WIC Clinic
Auburn 207-795-4016
Augusta 207-621-6202
Bangor 207-992-4570
Bath 207-442-7963
Belfast 207-338-1267
Biddeford 207-283-2402
Calais 207-454-3634
East Wilton 207-645-3764
Ellsworth 207-667-5302
Machias 207-255-8280
Portland 207-553-5800
Presque Isle 207-768-3026
Rockland 207-594-4329
Sanford 207-459-2942
Skowhegan 207-474-7463
Waterville 207-861-3580
Policies
FY Policies
What's New