Your Woodland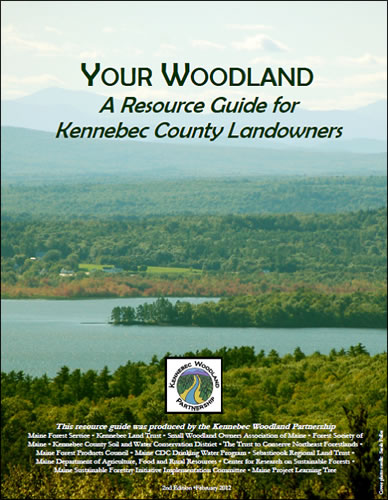 Your Woodland: A Resource Guide for Kennebec County Landowners is a print and web-based resource designed to provide information to landowners, government entities, and organizations that influence Kennebec County's forests. Much of the comprehensive information explored in the Kennebec Woodland Partnership's Fall 2010 Conference can be found here. As the forests and our collective knowledge of forests grow, please visit us frequently to stay connected to Your Woodland.
Find out more by exploring the links below. Should you have questions, please don't hesitate to contact a partner.
Jump directly to:
3. KWP Toolshed:

Find tools to help you at every step.
3.2. Getting started
3.3. Getting to know your woodland
3.4. Forest management planning
3.5. Timber harvesting
3.6. Forest management tools for woodland owners 3.7 Planning a legacy for your woodland

3.7.1 How to begin the process
3.7.3 Conservation easements

3.9. Words from the Woods
5. Your Woodland, Your Future

Stir your stump! Get involved in your Kennebec County woodland.