The mission of the Division of Quality Assurance and Regulations is to provide marketing assistance and consumer protection for Maine's agriculture, industry, and citizens. The Division ensures that a safe, high quality food supply is maintained, that weighing and measuring devices used in commerce are correct, and that standards used in law enforcement are properly calibrated and accurate.
The Quality Assurance Program enhances marketing opportunities for Maine companies and producers by ensuring that Agricultural commodities produced in Maine meet or exceed minimum quality standards. This assurance results in increased consumer confidence, fostering an increase in business and profitability.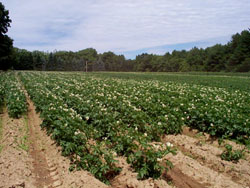 Potato field in full bloom.
Contacts:
Augusta Office: (207) 287-3841
Ron Dyer, Director
Steven Giguere, Program Manager
Michelle Newbegin, Inspection Analyst
Presque Isle Office: (207) 764-2100
John McCrea, Food Inspection Supervisor (State/Federal Inspection Services)
Joe Brooker, Inspection Analyst (207) 764-2115
State relay number for the hearing impaired or for inquiries about aids for the visually impaired (documents in large print or Braille): (207) 287-3871
Training Opportunities
None scheduled at this time.
Resources
USDA [US Dept of Agriculture]
FDA [Food & Drug Administration]
NIST, Office of Weights and Measures [National Institute of Standards and Technology]
National Conference on Weights and Measures