Your Woodland:
Kennebec County's Woodlands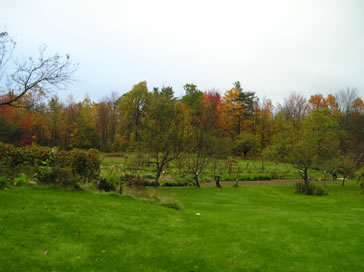 Discover landscape-level scientific and historical information about the forest:
---
Today, climb to any high point in Kennebec County is likely to offer scenic vistas a countryside is about two-thirds forested. Kennebec County's 374,000 acres of convey a sense of permanence, ago the region's landscape was dominated by farmland.
In 1880, Kennebec County defined by agricultural land uses, with over 60% of the landcover in fields and pastures. As agriculture declined in the early 1900s, abandoned fields reverted to early successional woodlands of white pine and gray and white birch.
By the 1930s, forests covered 44% of the county, a figure nearly matched by agricultural uses at 39%. The aerial photographs to the right, showing the same area in 1939 and 2009, demonstrate dramatic change in the landscape over time.
The percentage of forested land in Kennebec County is now declining again asare converted for and commercial uses. Unlike the previous succession pattern of forest to farm to forest,of today's developed acres will not to forest in the foreseeable future.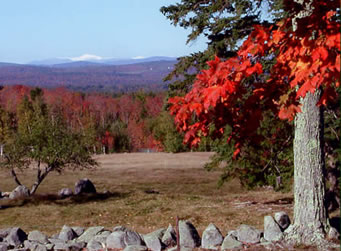 Our Woodlands Today
Across the region and the state, the majority of Maine's woodland owners are people just like you. Overall, Maine is approximately 89% forested; 32% of these lands are owned by small, non-industrial owners. In Kennebec County, 65% of woodland properties are smaller than one hundred acres.
Maine's foreststo change over time due to natural disturbances, climate change, invasive species, fluctuating wood product markets, oil prices, and landowner attitudes and decisions.
The forest history of Kennebec County continues. How will you help shape the future of the forest?
Kennebec County's woodlands define the ecological, economic, and cultural character of the region. Forestlands protect wildlife habitat and soil and water quality, provide recreational opportunities for hikers, hunters, and other outdoor enthusiasts, and support a regional economy based on wood products, summer camps, and tourism.
Kennebec County is connected to the global economy and the global ecosystem. As populations grow, increasing demand for wood products such as lumber, paper, heating and cooking fuel, and power generation will continue to put pressure on forest resources worldwide.
Much of the wood consumed in Kennebec County is imported, some from overseas. Long-distance transportation requires significant energy expenditure and has related environmental impacts. Wood products originating in areas of high ecological value raise questions about long-term sustainability, while our local forest resources have the potential to meet many of our wood products needs.
With these factors in mind, Amanda Lavigueur, Colby College student and Kennebec Land Trust Intern, and Ken Laustsen, Maine Forest Service Biometrician, are studying the following questions:
What are our wood resources in Kennebec County?
How much wood do we currently grow, harvest, and consume?
How much of Kennebec County's wood harvest is processed in the county, and how much is exported to other regions?
Can we sustainably harvest enough wood from Kennebec County's forests to satisfy our wood products needs, while also protecting more forestlands in permanent reserves?
The answers to these questions will inform landowners, conservation organizations, those who make a living from the woods, and policy makers about the long-term stewardship and sustainability of Kennebec County's forests.
---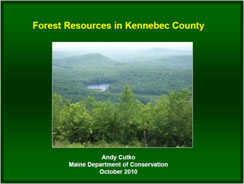 ---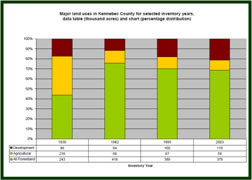 ---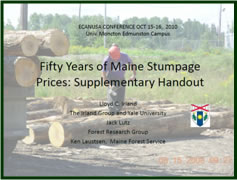 ---

---

---

---

---

---