Total Recovery Spending by County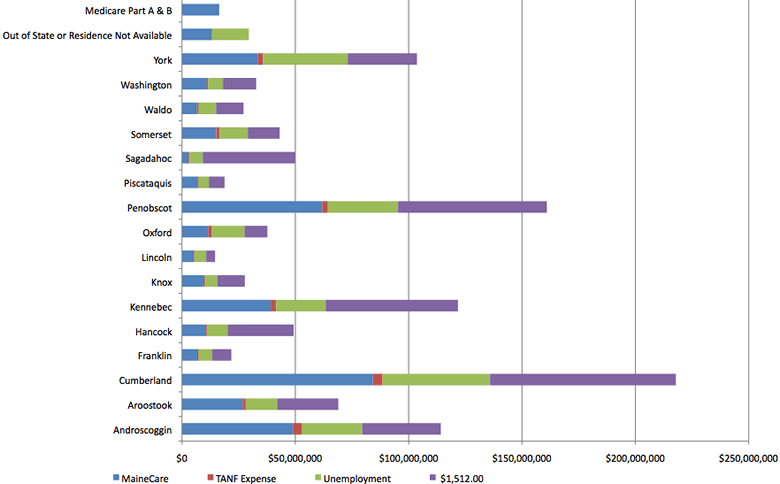 | County | MaineCare | TANF | Extended and Additional Unemployment Compensation | 1512 |
| --- | --- | --- | --- | --- |
| Androscoggin | $49,021,264 | $3,777,501 | $26,731,131.00 | $34,646,747.10 |
| Aroostook | $26,820,143 | $1,303,994 | $13,904,831.00 | $26,934,868.46 |
| Cumberland | $84,261,688 | $4,181,882 | $47,474,906.00 | $81,970,208.43 |
| Franklin | $6,709,263 | $658,001 | $6,031,289.00 | $8,377,288.58 |
| Hancock | $10,716,889 | $547,509 | $8,879,510.00 | $29,107,227.63 |
| Kennebec | $39,190,032 | $2,388,040 | $21,825,281.00 | $58,337,669.66 |
| Knox | $9,430,667 | $633,632 | $5,518,500.00 | $12,152,327.98 |
| Lincoln | $5,260,028 | $403,803 | $5,020,612.00 | $3,903,963.41 |
| Oxford | $11,619,505 | $1,372,268 | $14,600,977.00 | $10,068,189.00 |
| Penobscot | $61,873,686 | $2,469,283 | $31,014,249.00 | $65,600,533.17 |
| Piscataquis | $7,015,476 | $265,156 | $4,614,712.00 | $6,856,492.64 |
| Sagadahoc | $2,924,833 | $483,654 | $5,779,447.00 | $40,783,782.47 |
| Somerset | $15,172,581 | $1,353,910 | $12,581,995.00 | $13,957,434.73 |
| Waldo | $6,574,067 | $800,640 | $7,688,666.00 | $12,058,855.65 |
| Washington | $10,942,074 | $562,512 | $6,602,347.00 | $14,622,327.92 |
| York | $33,441,289 | $2,365,515 | $37,308,265.00 | $30,531,494.39 |
| Out of State or Residence Not Available | $13,274,075 | | $16,230,705.00 | |
| Medicare Part A & B | $16,403,855 | | | |
| Total ARRA Funds | $410,651,417 | $23,567,302 | $271,807,423 | $449,909,411.22 |
Mainecare
"FMAP" stands for Federal Medical Assistance Percentage. The Medicaid program for low income and disabled people, is a partnership between states and the federal government; each state pays part of the cost of its the program and the federal government matches what the state pays in. The portion of costs paid by the federal government is called the "match" or FMAP rate. The FMAP rate for a state can range anywhere from a low of 50% to a high of 83% -- the exact match rate changes from year to year and depends on changes in a state's poverty rate relative to all other states.
The American Recovery and Reinvestment Act of 2009 provided an extra "boost" to FMAP rates. This enhanced match is intended to help states meet the increased demand for Medicaid coverage during this period of severe recession. The MaineCare funds shown above cover the period from October 2008 through September 2010
Extended and Additional Unemployment Compensation
The Recovery Act extended and increased Unemployment Insurance (UI) payments. The Act included an increase of $25 a week in Federal Additional Compensation benefits for UI recipients and extended the lengthy of unemployment benefits for qualified individuals.
1512
The Recovery Act required recipients to file quarterly reports detailing funding received, detailed expenditures of funds, jobs created by the awards and several other data elements.
While this reporting requirement is comprehensive, it is important to note that it does not cover all of the Recovery Act funding in Maine. The state only reports on funding received by state agencies that are subject to Section 1512 reporting requirements. We will not be reporting on funding for entitlement programs or monies that went directly from the federal government to the other recipients such as universities, private businesses, and local municipalities, as they are responsible for submitting required reports directly to the federal government.
More Information
View a list of the programs subject to the Section 1512 reporting requirement on www.whitehouse.gov - PDF