Home → Maine Bicentennial

Maine 200 - A Celebration of Maine's Bicentennial
The Maine State Library is excited and honored to take part in numerous Bicentennial initiatives as we celebrate Maine's 200th. Our projects offer a reflective and celebratory view of Maine's history, as well as activities that speak to positioning Maine for the future.
We will be keeping this page updated throughout the Bicentennial year as the Maine State Library rolls-out these various Bicentennial Activities.
The Importance of Libraries in Maine's Rich History
From our earliest beginning as a state, libraries have played a critical role in defining the character of our communities. These three videos tell the story of how libraries are integral to heart and spirit of Maine communities – then, now, and tomorrow!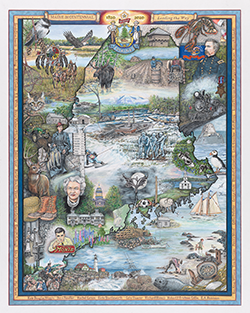 1820 The Bicentennal Map of Maine
Literary Map of Maine
Working with the Maine State Library, artist Deb Merrill (Brownfield, ME), has created a remarkable, one-of-a-kind "Literary Map of Maine." Weaving imagery of iconic Mainers who have contributed to the cultural fabric of Maine, combined with both subtle and overt imagery of some notable literary works of either Maine authors or Maine's beautiful geographic settings, this map tells a rich history of our state through a unique literary lens. Check back for more information on how you can purchase a copy of this unique literary map of Maine.
Bicentennial Literacy Initiatives
Family Literacy Activity Calendar: To help engage children and families with the celebration of Maine's bicentennial, the Maine State Library is producing a Maine-themed Day by Day Family Literacy calendar. This perpetual calendar will feature artwork from Maine picture book authors and artists, daily activity ideas for families with children ages 0-5, recommended book lists, and much, much more. Also featured will be a two-page spread with a state map showcasing literary and historical location highlights plus a page of notable facts and information pertinent to families and children. The calendar will be distributed to libraries, doctor's offices, and daycare and pre-k facilities where it is expected to reach approximately 30,000 families or more as funding allows.
Every Kid a Card Statewide Challenge: Led by the Maine State Library, we will create a survey mechanism and action plan that challenges each school to ensure their students have a library card. This card may be a school library card, and/or a local public library card provided in partnership with the school. Through this initiative, the goal is to have 100% of schools across Maine acknowledge that they have taken the time to highlight the role and importance of the library as a lifelong learning tool and have taken the steps necessary to ensure their students have access to library services. Small "Bicentennial" stickers provided to schools and public libraries will be placed on the student's card as a sign of participation in this initiative.
200 Years – 200 Items
The Maine State Library is creating a unique annotated "glorified" bibliography that will represent 200 items in our collection that best tell the story of Maine through four concrete educational themes: Living In Maine; the Business of Maine; Maine Leads; and the Maine Character. This bibliography can be used by the public, researchers, and K-12 schools as individuals look for unique resources that help tell the story of Maine.