Frequently Asked Questions - Maine State Library Delivery Service (MSL DS)
MSL Delivery Service (MSL DS) is a voluntary program, managed by the Maine State Library. Participating libraries use a courier service, Freedom Xpress, to deliver library materials (interlibrary loans, promotional materials etc.) to other participating libraries throughout the State of Maine.
All materials must be contained in special totes. (What's a tote? See question 6)
This service is funded by the State Library General Funds, federal Library Services and Technology Act (LSTA) funds through the Institute of Museum and Library Services (IMLS) and the participating libraries.
(Looking for pricing? See question 3) (Looking for eligibility? See question 2)
Maine libraries of any type - public, school, academic, medical, and special - are all eligible.
Open enrollment periods to join MSL DS are May and November and will begin service on either January or July of each year.
Request to join.
The following information will be needed in order to complete the form:
Name of the contact person at your library
Name of the library
Phone number of the library
Physical street address of the library including city, zip
Day(s) of the week your pickup is preferred (Mon, Tue, Wed, Thu, Fri)
Hours your library is open (Mon-Fri)
Number of totes you anticipate will meet your needs per stop (What's a tote? See question 6

)
If you have any questions about joining, please email Kimberly.R.Clark@maine.gov
When you join you will need to:
Use PDF labels or the spreadsheet which must be downloaded from the MSL Delivery Service participant list.
Make sure your library is signed up on these list servs:

MSLDELIVERY - Delivery Service participants only, for general discussion, timely notifications, and bag requests.
MELIBS - Maine Libraries list serv. Discussion based, ask questions, share stories.

Review the MSL Interlibrary Loan Services
3. How much does the MSL DS cost?
The current rate is $26.60 per delivery. Deliveries occur once per day for the number of days your library pays for.
The billing cycle begins July 1, 2023 and ends on June 30, 2024. Bills are typically sent out around September/October each year. Please contact Kimberly.R.Clark@maine.gov with any questions about your bill.

Charges
Are based on the number of delivery days per week. Participants determine how many days a week, from Monday to Friday they need for pick-up and delivery. Even if you have no totes going out, Freedom Xpress will arrive to deliver or check for outgoing totes. No adjustments are made for snow days, truck breakdowns, etc.
Rates effective July 1, 2023 - June 30, 2024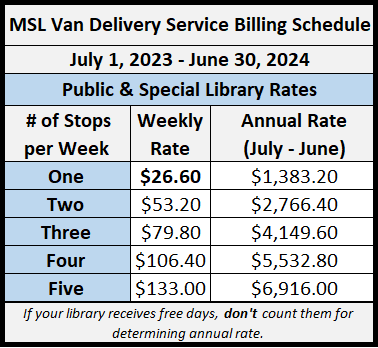 Fuel Surcharge Chart for the current contract.
Billing Credits
Public Libraries

Receive one free day subsidized by the Maine State Library IF their library meets current library standards and has enough ILL volume to qualify and make the service cost-effective.
Minerva Members

Receive one free day, subsidized by Minerva, (and are expected to have at least two delivery days per week).
Holidays

5 day per week libraries receive a 13-day credit for holidays.
4 day per week libraries receive a credit for the holidays that don't fall on a Monday.
4. How do participants pay for MSL Delivery Service? How do participants pay for the service
Paying libraries will receive an annual invoice from the Maine State Library typically around September/October. (See question 3 for more details)
A Vendor Customer Number is required for all participating libraries. If your library doesn't have a VC#, email Kimberly.R.Clark@maine.gov for a form to obtain one.
5. Who do I contact about MSL DS customer service complaints?
Questions Regarding Delivery:
Please use the Feedback Form to contact MSL and FX for:
More totes (What's a Tote?

See

question 6

)

Note: Bags are requested through MSLDELIVERY

Delayed or missed delivery
Received wrong, damaged, or missing materials
Temporarily closing (holiday, weather, construction etc.)

Notification by 3:00pm the day before

Add/drop delivery day
Permanently canceling delivery service
FX Customer Service Line: 1-877-848-7220 for urgent issues or last-minute storm closure notification when you don't have access to email.
Billing Questions:
Kimberly Clark - Kimberly.R.Clark@maine.gov
Delivery Questions Not Answered in this FAQ: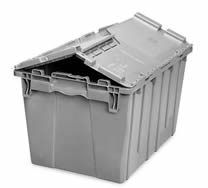 A tote is a plastic box-shaped carrier used by Freedom Xpress. Interior dimensions: 19.8" x 13.8" x 11.8". FX will supply a sufficient number of totes to accommodate deliveries. If you need more Totes, use the Feedback Form to request more.
Anything that can fit in a tote (lid closed) can be sent through delivery
FX will not take anything that is not in a tote
If a tote contains materials going to one destination, FX asks that you zip tie the tote and place the library's label on the top of the tote.

MSL will supply zip ties at library's request
If your library receives a tote(s) that you think is too damaged to continue circulating:
Feel free to toss the tote(s) and email Kimberly.r.clark@maine.gov how many have been tossed.
If your library isn't able to discard the tote(s), please label them as "Damaged" and leave for FX to pick up
*Not to be confused with "Bags".
Delivery Bags are cloth and come in three sizes. Materials destined to different libraries go in separate bags and are labeled. (Participant page with their labels). A tote contains the bags for FX to pick up. If you need more Bags, post your request to MSLDELIVERY.
7. What happens if library materials are sent, but do not arrive?
Occasionally materials which are in transit in the delivery service do not make it to the receiving library. There are a few things that can be done to potentially locate them. Check your shelves to make sure items have not been mistakenly shelved at your library.
Send a MSLDELIVERY message to alert libraries about items not received; ask other libraries check their shelves and be on the lookout for materials that may be mistakenly delivered to them.
Fill out a feedback form. FX cannot track individual items, but they will check with their warehouses and drivers for possible missing items if a request is submitted via the form.
The State Library is in contact with the delivery service regularly to see if there are any library materials marooned at the sorting warehouses. Any materials that can't be identified by the delivery service will be sent to the State Library for identification.
If you have tried the above options with no success, and the materials need to be replaced, please see question #8.
8. What happens if my materials are returned damaged?
Please use the Feedback Form to notify MSL and FX of any materials lost or damaged in-transit. Please provide the titles of the materials and their replacement cost.
The Maine State Library will evaluate each situation and determine what the next steps will be. The typical outcome results in a reimbursement check from MSL. MSL will ask the library with the damaged materials to send MSL an invoice, including the titles and costs for the materials. This can be sent via email attachment or mailed to the Maine State Library for processing.
This information, of course, only applies to materials lost in transit in the delivery service. Items lost by patrons are the responsibility of the borrowing library.
9. On which holidays will there be no deliveries?
Libraries will not receive deliveries on all State of Maine holidays, regardless of whether you are open on those days. There are now 13 state holidays. Those days are:
| | |
| --- | --- |
| New Year's Day | January 1 |
| Martin Luther King Jr. Day | Third Monday in January |
| Presidents' Day | Third Monday in February |
| Patriot's Day | Third Monday in April |
| Memorial Day | Last Monday in May |
| Juneteenth | June 19th |
| Independence Day | July 4 |
| Labor Day | First Monday in September |
| Columbus Day | Second Monday in October |
| Veteran's Day | November 11 |
| Thanksgiving Day | Fourth Thursday in November |
| Thanksgiving Friday | Fourth Friday in November |
| Christmas Day | December 25 |
10. How can I edit my MSL DS contact information?
When you need to change your library's contact information for the delivery service, use the Edit Form. This will prompt the DS Admin and the ILL Coordinator to update the billing and participation databases.
You may also need to update this new information with: