Meet the Commissioner: Dick Thompson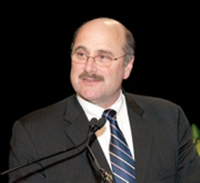 Dick Thompson
Dick brings a variety of experiences to the Library community, having served state government for 34 years, including over twelve years as the State's Director of Procurement and as Maine State Government's Chief Information Officer from 2003 to 2010, responsible for the consolidation and operation of Executive Branch information technology. He currently serves as the CIO of the University of Maine System.
In March, 2010, Government Technology Magazine selected Dick as one of the Top 25 Doers, Dreamers and Drivers in the U.S. for his accomplishments in delivering technology and government services to the citizens of Maine. He was also awarded the National Association of Chief Information Officers meritorious service award in 2009, and in 1999 the Public Administrator of the Year award by the Maine ASPA and the Gulio Mazzone Distinguished Service award in Public Procurement by the National Association of Procurement Officials.
Interests in Libraries large and small
Dick's early activity in Library was supporting the Maine State Library and those who contributed to its success. He supported access to government publications and for many years worked to be sure copies of publications were made available to the Library.
He recalls his participation in the Palermo Library Guild as a director, learning just how challenging things are for small libraries. He was appointed to the Maine InfoNet Board, working with other library leaders to guide and manage technology use and advancement for public libraries and patrons.
Dick was appointed to the Maine Library Commission to continue advocacy for all libraries and particularly small libraries who serve some of our most rural areas. "Since ?joining the Commission, I have been so impressed with the library community's ability to work together, solve problems and serve patrons," Dick said. "Their model of collaboration and cooperation is extraordinary!"
Professional Associations and Collaborations
In addition to the Maine InforNet Board and Library Commission where he continues to serve, Dick is a lifetime member of the National Association of State Procurement Officials, a director of the Maine State Credit Union's Board and is now second vice president of the Maine Association of Retirees (Mar).
Life's enjoyments?
Dick is a native of Maine, growing up in Portland and moving to central Maine where he and his wife, Joyce raised their family. They currently enjoy his six grandchildren.
His interests over the years include playing baseball and softball, building and racing his own stock car, and now "camping" in the RV. One of his favorite things to do is to listen to audio books whenever he drives. According to Dick, "the audio book program made available as part of Maine InforNet is a wonderful and valuable service! I am rarely without a book in my online library."