Meet the Commissioner: Joyce Rumery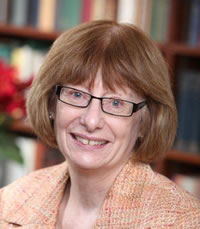 Joyce Rumery
A native of North Yarmouth, Joyce Rumery holds a bachelor's degree in history from what now is the University of Southern Maine. She earned her Master's of Library Science degree from the University of Arizona in 1980.
Before coming back to Maine, she was the regional librarian for Central Michigan University in its Institute for Personal and Career Development from 1981 to 1986. Her office was in D.C. She was responsible for library services to the students in the eastern region, Washington D.C. north to New York.
Life at Fogler
Joyce began her career at Fogler Library, University of Maine, in 1986 as the head of Access Services. She served as the Acting Director from July to December of 2001 and then became Interim Director of Libraries and Assistant Director for Public Services. She was hired as Dean of University Libraries In January, 2005; and is responsible for the management and supervision of all library departments, as well as facility planning and management, overseeing the operating and acquisitions budgets, and representing Fogler Library to the university community, the state, and beyond.
Professional Associations and Collaborations
Joyce is actively involved with the Maine Library Association Board, The URSUS System Library Director's Council, The Maine InfoNet Board, The Larger Libraries Director's Group, and the Maine Library Commission.
"A library is more than a place to keep books," she says. "The library is a place for people to get together and it can be the intellectual heart of the university."
In sharing her thoughts about the library's future, she stressed the importance of collaborations. Joyce strongly believes that in the changing world of information archives and access, libraries must collaborate in order to survive, saying "When any library becomes stronger, we are all stronger, and when any library becomes weaker we all suffer."
Enjoyments
Joyce is an Old Town resident and is an active supporter of Fields Pond, Maine Audubon Society and other environmental causes. Joyce enjoys hiking, camping, cross-country skiing, travel and, by no coincidence, reading. One book that she found intriguing this summer was The Great Influenza: the Story of the Deadliest Pandemic in History by John M. Barry.