Meet the Commissioner: Barbara McDade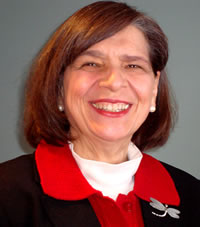 Barbara McDade
Barbara McDade has been director of the Bangor Public Library since 1991. As the director of an ARRC (Area Research and Reference Center) Library, she serves ex officio on the Library Commission. She received her BA in Political Science from Juniata College in Huntingdon, PA and her MLS from the Graduate School of Library and Information Sciences at the University of Pittsburgh.
Before coming to Bangor, Barbara was director of the Joint Free Public Library of Morristown and Morris Township, in New Jersey. Before that she started library service in Augusta County, Virginia; was a library director at the Beaver Area Memorial Library in Beaver, PA; and started her professional career as a reference librarian at the Cambria County Public Library in Johnstown, PA.
Civic Engagement
Barbara is currently the president of the League of Women Voters of Maine, vice-president of the Rotary Club of Bangor, co-chair of the Bangor Book Festival and plays organ at her church. She lives in Bangor with her husband, Michael.
Mrs. McDade has seen libraries change from microfilm cameras used in circulation to online audio books checked out without ever having to visit the physical library. She believes that getting the right book to the right person at the right time (and, in today's world, in the right format) is a vital service that won't be going away any time soon.
Barbara has been a "mover and shaker" in the Maine library community for almost two decades. In 2002 she was named Maine Library Association's Librarian of the Year. McDade has held several positions including president of the Maine Library Association and legislative chair for the association.