Meet the Commissioner: Mike Hays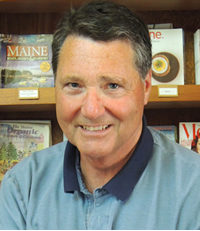 Mike Hays
Mike Hays was appointed to the Maine State Library Commission by Governor LaPage is the fall of 2012.
Life Before Maine
Mike grew up in Missouri before moving to New Hampshire in 1979 and began vacationing in Maine almost immediately. Like many people, he dreamed of becoming a Maine resident. In 2002, Mike and his wife May realized their dream and began living year-round in Bass Harbor. In his professional career, Mike worked in the computer industry for a number of companies with his last position being Director of Education for Symantec Corporation, a provider of IT security products.
Civic Involvement
Mike began volunteering at the Southwest Harbor Public Library as soon as they began living in Maine. Mike has served on the Board of Trustees of the Southwest Harbor Public Library since 2007 and has served as Treasurer, Vice Chair and Chair.
Additionally, Mike is a Volunteer Trail Crew Leader with the Friends of Acadia leading other volunteers in maintaining and building trails in Acadia National Park.
Why Libraries
For as long as he can remember, reading has been a central part of Mike's life. He still remembers getting his first library card at the age of six and bringing home as many books as the library would allow to be checked out at a single time (six). When asked why books are so central, Mike said that nothing has enriched his life as much as the books he has read. He cannot imagine an America without free public libraries.