Meet the Commissioner: Charlie Campo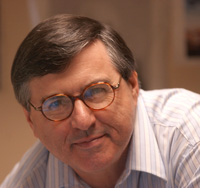 Charlie Campo
Charlie Campo, chief librarian at the Bangor Daily News was appointed to the Maine Library Commission to represent the interests of special libraries. He is currently serving his second five-year term. Charlie was born in Westfield, Mass., but moved to Old Town while in 6th grade and graduated from Old Town High School (1965). He then went on to earn a BA in English (1969) and an MLS (1974) from the University of Maine.
Charlie was a frequent visitor to the Old Town Public Library, but did not begin working in a library until Jane Holmes, head of the periodicals department at Fogler Library, hired him to work as a book mover during the summer between his sophomore and junior years in college. Library science doesnt get more basic than book moving. After an unsuccessful foray into teaching at the middle school level, he returned to graduate school, married his college sweetheart, and started a family.
It All Began at Fogler Library
While attending graduate school, Charlie took a position as a clerk-typist at Fogler and became involved with the fledgling union list of periodicals project. After receiving his professional degree, he became head of the newly formed serials department. In 1977, Charlie compiled and edited the first edition of the Maine Union List of Serials. A second edition appeared in 1979, along with a collaboration on the Maine Union List of Health Science Periodicals. In February 1980, he moved to the Bangor Daily News where he continues to serve as chief librarian.

Charlie has been very active in the News Division of the Special Libraries Association. He was the recipient of their Ralph J. Shoemaker Award of Merit in 1996, and their Agnes Henebry Roll of Honor Award in June 2001.
Reading and Family
Charlie, like most librarians, is a voracious reader. He reads an eclectic variety of authors and subjects in both fiction and non-fiction, and enjoys sharing his enthusiasm for reading with everyone he meets. If he werent a librarian, he would definitely be curled up in a cozy corner of someone elses library. Charlies favorite books are Huckleberry Finn by Samuel Clemens, Of Mice and Men by John Steinbeck, and Death be Not Proud by John Gunther. Charlies latest reading binge involves the Inspector Dalgleish mysteries of P.D. James.
Charlie and his educator wife, Jeanne, are empty-nesters residing in Hampden. They have two sons, Andrew and Matthew and, just this year, two new grandsons. Since the family is spread from Maine to Colorado, Charlie expects to be enjoying much more time reading on the road.