Meet the Commissioner: Jeff Cabral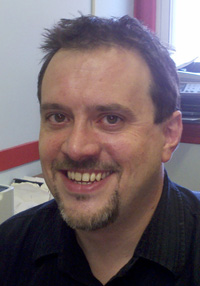 Jeff Cabral
Professional Career and Education
Jeff Cabral is the Director of McArthur Library in Biddeford and was appointed to the Maine Library Commission in 2013 to represent the Southern Maine Library District.
Prior to moving to Biddeford in 2011, Jeff was the Director of Yeadon Public Library in Delaware County (PA) just outside of Philadelphia, a Branch Manager in the Howard County (MD) public library system, and a Library Director in Upper Hutt, a city of 32,000 in the North Island of New Zealand just outside the capital city of Wellington.
He came to the world of public libraries after first embarking on a marketing career that included publishing, retail and financial services. His mid-career change to public library management came about when he found he wanted a more community-oriented career in a place where lives are impacted and transformed on a daily basis. It seemed like a natural fit when he thought back to his formative years, a time when he could be found in the public library every day after school.
Jeff is originally from Bridgewater, Massachusetts. His first library card was from Bridgewater Public Library at the age of 4, when he could meet the sole library card requirement the ability to print his own name! Jeff's academic career took him from Philadelphia to New Zealand. He earned a Bachelor of Science in Marketing from the Wharton School at University of Pennsylvania and later moved to New Zealand for several years, where he earned his Masters in Library Studies from Victoria University of Wellington. His professional research focused on animal-assisted therapy programs in public libraries. He returned to the States in 2006.
Community and Professional Involvement
Jeff has been a member of Biddeford's Historic Preservation Commission since being appointed by Mayor Alan Casavant in 2011. He is also the Vice-President of the Biddeford Mills Museum, an organization devoted to preserving the history and legacy of textile mills in Biddeford.
As part of his work on the Commission, Jeff is on the Steering Committee for CERC-ME (Cultural Emergency Resource Coalition), a new group of museum, archives, historic preservation, and library professionals devoted to encouraging awareness of emergency management planning and recovery assistance for the cultural assets of our State. Jeff is also a member of the Public Library Association, Maine Library Association, and New England Library Association.