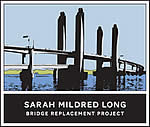 Sign Up for Project Email Alerts
Public Participation In the New Bridge Design
Public Participation
The Bridge Design Team of FIGG/Hardesty & Hanover are renowned for their public participation process and ability to reach consensus. Collectively, this team brings experience on bridge projects that have won more than 1,000 awards for world-class bridge design.
A Stakeholders Group was formed to provide initial input to the Design Team. The Stakeholders process is an open process where the members helped guide the Design Team by identifying project needs and providing feedback on the design as it is developed. In addition to providing design feedback, the stakeholders also acted as liaisons, between the various interest groups and the DOTs, by sharing information on the project with the groups they represent and bringing back any issues/concerns raised.
In addition, there were two all-day workshops that provided broad input regarding the aesthetics of the bridge.
Meeting Information
May 31, 2017 Stakeholders Meeting
September 18, 2014 Open House
November 20, 2013 Stakeholders Meeting
July 11, 2013 Design Workshop Documents
May 30, 2013 Stakeholder Meeting Documents
April 26, 2013 Workshop Meeting Documents
Presentations
May 2017 Stakeholder Meeting Presentation
Images
Select an image below to view larger version.
Video