MaineDOT's Climate Initiative
Multimodal Initiatives
Complete Streets and Mobility Management
It is the policy of MaineDOT to carefully consider the needs of all users in the earliest stages of infrastructure project design. This consideration leads to designs that have included new sidewalks, as well as the addition of shoulders, bike lanes, transit stops, freight unloading zones and accommodations for people with disabilities. Under Complete Streets, recent projects in urban or village areas, such as in Belgrade, Ogunquit, Thomaston, Yarmouth, Bar Harbor and Hallowell, have focused on safety for all users of the roadway, and resulted in streetscapes that are much safer and friendlier to pedestrians and other non-motorized users of the road network. MaineDOT is working closely with the Age-Friendly Community and Disability Networks to incorporate the needs of those who do not drive in both infrastructure planning and mobility management initiatives. MaineDOT is proud to be a team member of the Moving Maine Network, dedicated to increasing access for those with transportation barriers. When rides are shared, fewer greenhouse gases are emitted.
Public Transportation
Buses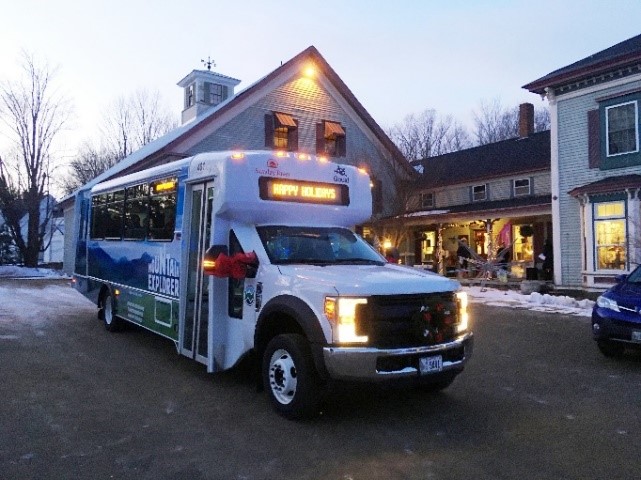 MaineDOT has prioritized investing Volkswagen settlement proceeds toward removing pre-2009 diesel buses from the rural and urban transportation fleets. We are proud to share that State Volkswagen settlement and bond funds have leveraged four times their total in federal dollars to replace 44 older diesel buses and trolleys with clean Tier IV diesel vehicles throughout the state since 2019. The new buses will reduce NOX emissions by an average of 86%. By 2022, there should be no remaining older diesel transit buses on Maine roads. Refer to MaineDOT's Volkswagen Diesel Emissions Settlement website for more information.
Battery-electric buses are the wave of the future, with battery capacity technology continually evolving. Range, especially in cold weather, remains a technical challenge. Large urban buses covering relatively compact routes are ahead of development compared with smaller 12-24 seat vehicles needed to travel longer distances across rural Maine. MaineDOT and transit providers, working with the Center for Transportation and the Environment and the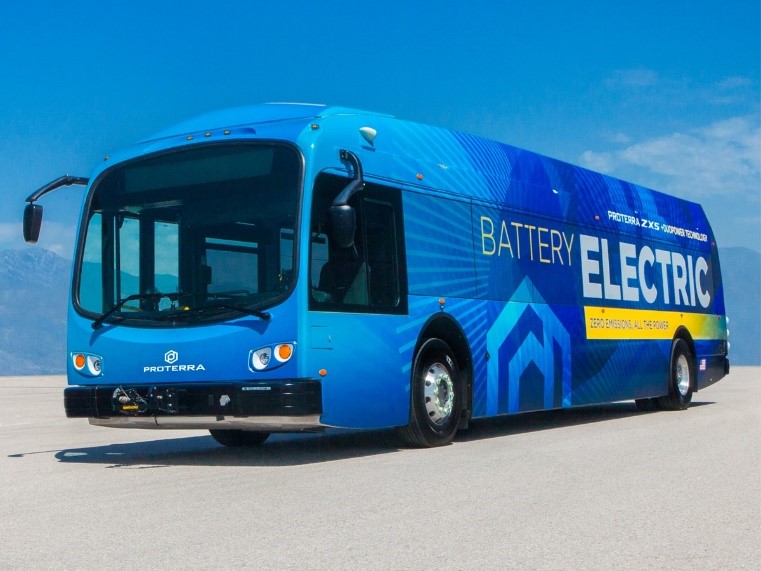 National Center for Applied Transit Technology (N-CATT), continually monitor the state of commercialized technology to be ready to act when suitable technology becomes available.
In 2018, MaineDOT stepped up to be the primary funder of a project that will deliver the first battery-electric buses and associated charging infrastructure for Greater Portland Metro and Biddeford-Saco-OOB Transit. The buses, which provide a comfortable, quiet, fume-free ride, are scheduled to be delivered late in 2021. Fast on-route charging will need to be installed at the Saco Transportation Center to keep two buses continually operating all day. Mechanically, electric buses have fewer moving engine parts and cost less to maintain. This project will be watched closely as vehicle performance is tested during Maine winters.
Ferries
MaineDOT is aggressively reviewing climate-friendly and cost-effective propulsion options for the Maine State Ferry Service (MSFS). There are many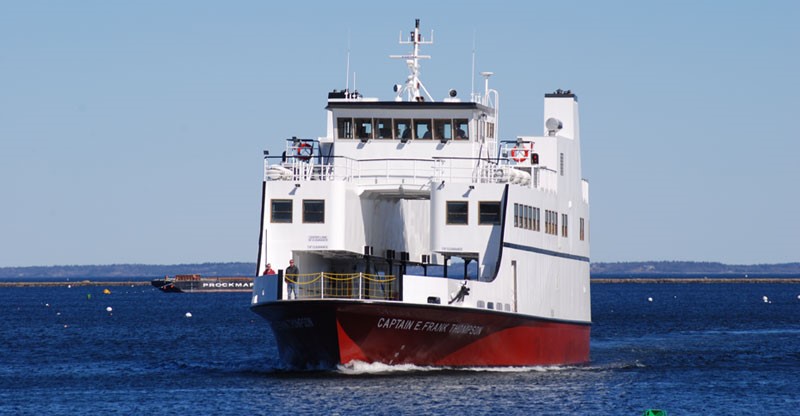 variables associated with each vessel's requirements. The particulars of each ferry route prevent a one-size-fits-all solution. Both electric and diesel-electric propulsion systems are being considered for upcoming ferry boat replacements. The Captain E. Frank Thompson is due for a mid-life overhaul in FY2022 and will have its engine upgraded to clean Tier IV diesel.
The MSFS is currently advertising for a diesel-electric hybrid propulsion system with stored power for the replacement for the Captain Henry Lee serving Frenchboro from Bass Harbor. This technology will yield a reduction of 35% in greenhouse gas emissions, the equivalent to 355 Metric tons of CO2. MaineDOT and MSFS personnel, including the Commissioner, are working with consulting engineers to develop cost comparisons based upon information from equipment manufacturers and suppliers in the hybrid propulsion field.
Due to the length of the route between Lincolnville and Islesboro, the Margaret Chase Smith ferry replacement will provide the best opportunity for an all-electric ferry for the MSFS. In FY2022, the MSFS will put out an RFP to design a double-ended ferry for Islesboro that will be an all-electric ferry with stored power. The Islesboro replacement ferry will reduce its carbon emission footprint by 75% -- or the equivalent of 1500 metric tons of C02.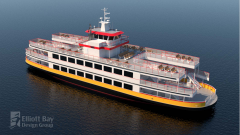 MaineDOT also provides support to the Casco Bay Island Transit District (CBITD) and is the primary funder for the shore charging station that will support the 900 kWh diesel-electric hybrid double-ended car ferry replacing the Machigonne II serving Peaks Island. CBITD leveraged state funds to secure substantial federal funding from the Maritime Administration and the Federal Transit Administration towards a forward-thinking integrated project involving a pier extension, terminal renovation, new ferry and the charging station, collectively valued at $17 million. Construction of the underground power extension is underway as a portion of the terminal renovation. The charging station will go out to bid as part of the ferry building project in 2021. It is scheduled to be commissioned by Summer 2022.
Intermodal Freight
MaineDOT and the Maine Port Authority teamed up to purchase four terminal tractors (aka "hustlers") for the International Marine Terminal (IMT) in Portland. These TICO Pro-Spotters with Tier IV diesel engines replaced 15 year-old vehicles in April 2019. They are the primary workhorses during vessel offloading operations where containers are landed by crane onto a "bomb cart", essentially a very robust trailer. The hustlers then connect to the bomb cart to move the container into another section of the terminal yard. Typically, there are 300-400 movements for the weekly liner service calls at the IMT. In between vessel calls, the tractors are continually moving containers to prepare them for pickup by over-the-road trucks.
Active Transportation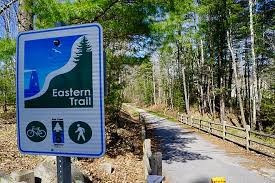 MaineDOT supports local and regional initiatives to improve both infrastructure and safety awareness for bicycle and pedestrian transportation. A significant project currently underway is the Eastern Trail connector in Scarborough and South Portland, which will result in a safe, attractive, pollutant-free travel route. This trail is extremely popular for commuting, recreation, fitness and other transportation purposes.
Each year, MaineDOT funds sidewalks and off-road paths in communities throughout the state based on a competitive application process, with priority given to projects that support Safe Routes to School. Students and staff walking or bicycling to school directly reduces greenhouse gas emissions, in addition to creating a healthy lifelong habit.
The Heads Up Pedestrian Safety Initiative, a partnership effort led by MaineDOT, is a multi-year effort to increase pedestrian safety by raising awareness among motorists, pedestrians, municipal officials and law enforcement personnel. Statewide public service announcements and awareness cards have been joined by massive distribution of reflective slap bands (to make pedestrians more visible at night) for use by pedestrians of all ages throughout the state, with special attention to vulnerable user populations including the homeless, New Mainers and others with mobility challenges.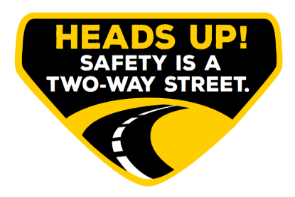 Twenty-one communities with higher rates of pedestrian crashes have been targeted for intensive outreach and the development of Pedestrian Safety Action Plans. These plans result in locally-prioritized strategies across the 5 E's: engineering, education, encouragement, enforcement and evaluation. Engineering solutions identified through these intensive community conversations are being prioritized for funding by the Department. We are cautiously encouraged by an overall reduction in pedestrian fatalities since the program began. With greater promotion of safe walking environments and behaviors, more people will feel comfortable leaving their motor vehicle and traveling by foot, with attendant reduction in greenhouse gas emissions.