MaineDOT's Climate Initiative
Inland Bridges and Culverts
Large rainfall events are happening more often and are becoming more intense. The Scientific and Technical Subcommittee of the Maine Climate Council found that annual precipitation statewide has increased by 6 inches since 1895. Subcommittee members also noted that Maine has experienced an increase in the average number of heavy precipitation events per year. More information about Maine's climate trends is available in the Scientific Assessment of Climate Change and Its Effects in Maine, which is also available on the Maine Climate Council Website
This increase in precipitation puts extra stress on stream and waterway crossings. MaineDOT has observed the damage that increased precipitation can cause, including complete washouts of roads, bridges, and culverts. Tropical Storm Irene in 2011 caused severe damage across New England. Although Maine was not hit has hard as Vermont and Massachusetts were, the storm certainly made an impact here.

To mitigate future damage due to increased precipitation, MaineDOT updated its hydraulic standards for culverts. The current culvert design standards require culverts to be designed for a 100-year storm event; the prior design guidance was for a 25-year storm event. Additionally, the bridge design guidance requires bridge replacements to be designed to have at least 2-ft freeboard during the 50-year storm event and consider effects of the 100-year storm event or the flood of record during design. More information about bridge replacements can be found in the Bridge Design Guide. The sizes of the culverts and bridges are generally determined by fish passage regulations, which typically exceed the size requirements of the hydraulic standards. To meet fish passage regulations, MaineDOT is typically required to increase the size of culverts and bridges when the structures are replaced; culverts sized for fish passage routinely have capacity for the 200-year event or larger.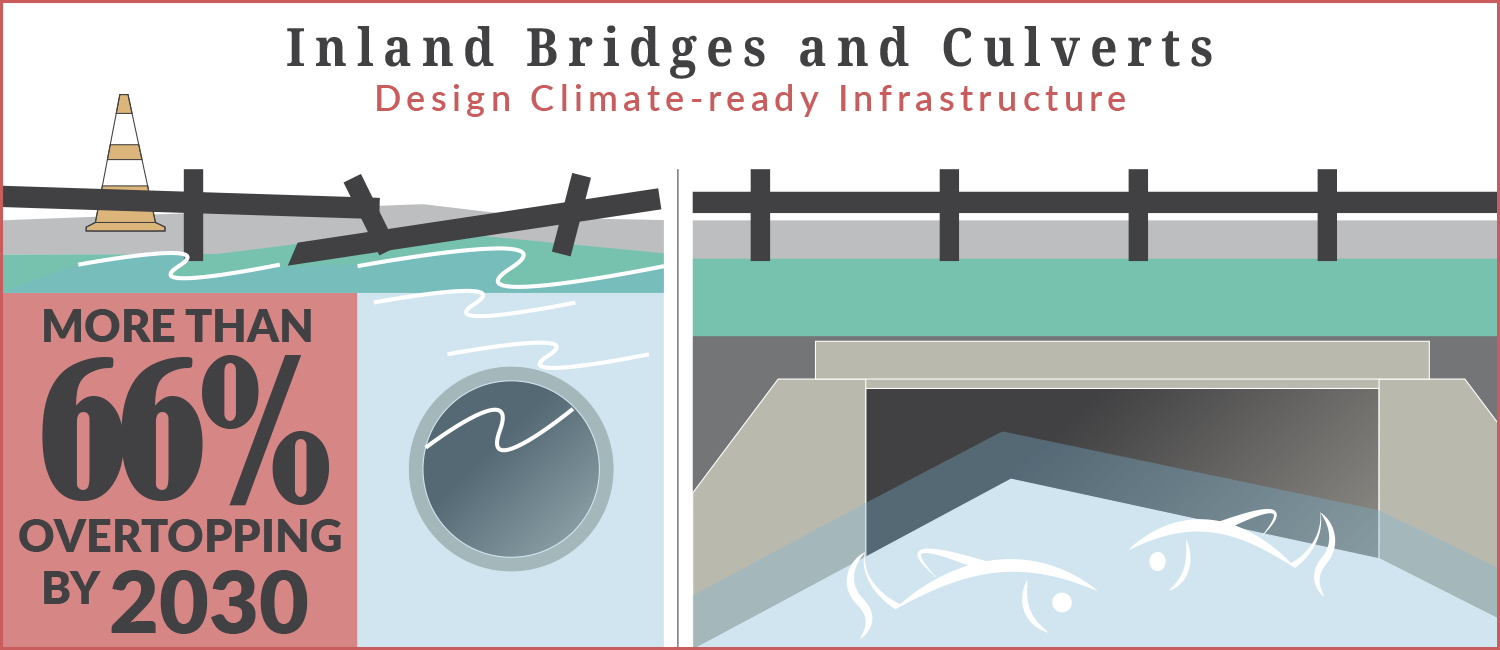 As noted in the Maine Climate Council's Vulnerability Mapping Report, many culverts across the state have a greater than 66% chance of overtopping within the next 30 years (75-year or greater recurrence interval peak flows). MaineDOT encourages municipalities that are looking to upgrade culvert sites to investigate use of the DEP Grants for Stream Crossing program.