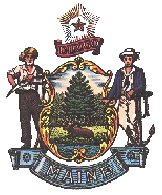 Maine State Legislature
Office of the Revisor of Statutes
Room 108, State House
Augusta, Maine 04333-0007
Phone: (207) 287-1650
Fax: (207) 287-6468
e-mail: revisor.office@legislature.maine.gov
---
Maine Law Background Information
Maine Constitution
The on-line version of the Constitution of Maine is updated as necessary by the Revisor of Statutes upon ratification of amendments to the constitution by the voters of the State. The Constitution of Maine is subject to recodification every 10 years by the Chief Justice of the Supreme Judicial Court (see Article X, Section 6). The last recodification was in 2013.
Maine Revised Statutes
The on-line version of the Maine Revised Statutes are maintained and updated each fall by the Revisor of Statutes to incorporate changes made by the immediately preceding legislative session. The on-line version of the statutes contains historical references to changes made to the statutes since the last general revision of the statutes in 1964. A section history follows a complete section and a last-action history follows a subunit of a section. Unless otherwise indicated all chapter references are to the public laws. Abbreviations used in the historical data include:
rpr means repealed and replaced

RR means Revisor's Report
Laws of Maine
The Laws of Maine, also known as the session laws, are published annually within 90 days of the end of each regular session by the Revisor of Statutes. Included in the publication are those public laws, private and special laws, resolves, constitutional resolutions, joint study orders, Revisor's Report and initiated bills, if any, that became law or that received passage during the immediately preceding regular legislative session.
---
Please send any questions or comments to webmaster.ros@legislature.maine.gov