Unemployment Information and COVID-19
Updates
Extended unemployment benefits: The federal CARES Act included 13 additional weeks of benefits for people who have exhausted their state unemployment benefits. Starting June 28, people who are actively filing weekly certifications will be enrolled in the Pandemic Emergency Unemployment Compensation (PEUC) program when they exhaust their state benefits. Some people were temporarily paid through the Pandemic Unemployment Assistance (PUA) program while PEUC was in process. These individuals will be enrolled in the PEUC starting July 1.
In order to complete the enrollment process, the next weekly certification will include a one-time set of questions. Once these questions are answered and the weekly certification submitted, the enrollment process will be completed.
$600 weekly federal payment rolled out April 16th: Additional $600 per week payment rolled on April 16th provided from the federal Pandemic Unemployment Compensation program to those already receiving traditional state unemployment benefits. These payments were made retroactive to 4/4/2020. State income tax is taken from the weekly distributions of the $600. After the first payment, you will receive your weekly benefit amount and your $600 together.
Pandemic Unemployment Assistance (PUA) program launched May 1: Applications accepted for federal unemployment program covering self-employed and others starting Friday May 1st. See more on MDOL Pandemic Unemployment Assistance Informational web page.
Questions
Video Information
Summary of Unemployment Programs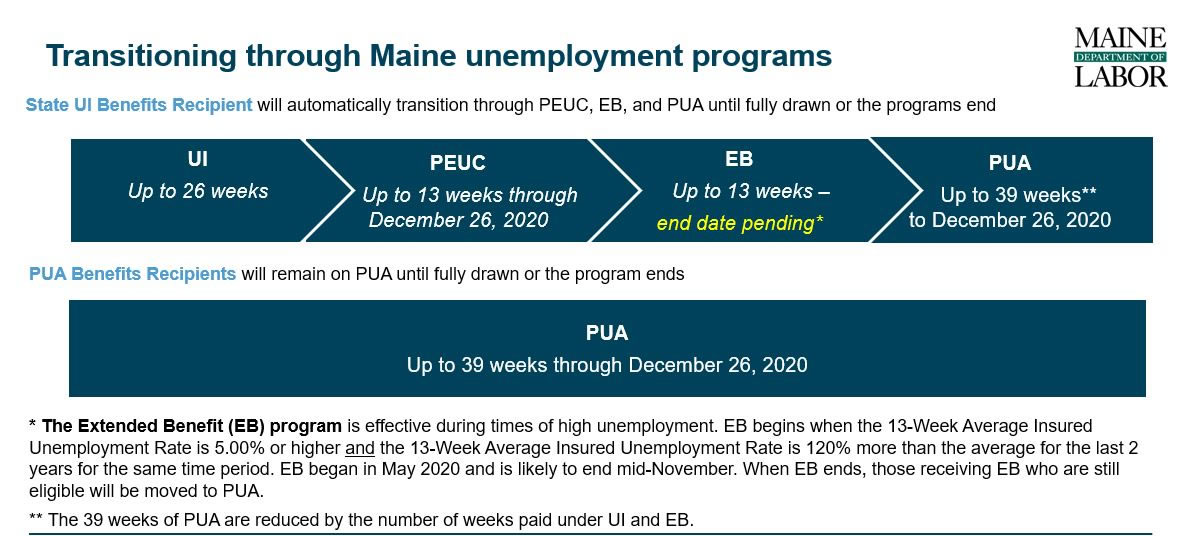 ×
Click on the image above to view the full size graphic or download the PDF version .