Field Trips to Swan Island
On this page: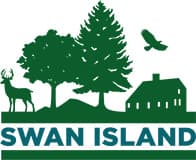 Last year, over 500 children, teachers and chaperones participated in exciting, enriching and educational programs and guided tours on Swan Island in the Kennebec River in Richmond. Available spaces fill up fast, so make reservations early so we can see you this coming Spring and Fall! Remember, register your classes early! Download Teacher Information Packet (PDF)
Regular Education Program fees for Swan Island are $5 per person. The $5 fee applies to students, teachers, chaperones and others accompanying the class, and includes general admission. There is a picnic area with plenty to see and do before and after your scheduled program or tour -- to make the most of your total trip experience. Download Self-guided Tour Booklet (PDF)
Swan Island programs start with an open boat ride across the river, then an open truck ride 1/4 of the way down the 4-mile long Island to the campground. Programs are held inside the campground boathouse or outdoors, depending on the weather and/or the programs. Island programs may be cancelled in the event of pouring rains, thunder storms, or river flooding; but dressing for the weather is essential.
2018 Swan Island Special Offer
This year we are able to offer free admission to the first 500 children signed up for a wildlife education program.

You may register for wildlife programs by calling 207-287-5244.
You may register for a Swan Island independent field trip, truck tour or camping by calling the Swan Island Reservation Line directly at 207-547-5322; or by emailing Swan.Island@Maine.gov.
All reservations for an Island program or tour are taken on a first-come, first-served basis.
If you need to cancel once you have registered, please call and let us know so that another class may participate.
We are looking forward to seeing you and your students at Swan Island this year for exciting and informative wildlife and conservation education programming.
For Teachers & Parents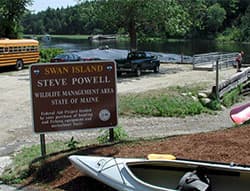 Directions: Richmond Landing, Kennebec River, Richmond, Routes 197/24 (view map). Bus and car parking is available here.
All wildlife programs are on Mondays and Wednesdays. Buses must arrive with students ready to board the ferry to the Island by 9:30 a.m. Students will then ride our Island tour truck to the Campground area. Wildlife Programs will begin promptly at 10:15 a.m. at the Boathouse, and run approximately 1 hour.
From 11:15 am to your departure time, classes can picnic and explore the Island on their own. Departure times for everyone must be prearranged. Bring lunches, snacks & beverages to hold you over until you are back on the mainland.
Please note: The Island is open to you and your students for an Independent Field Trip or Island Truck Tour on Thursdays and Fridays! To make a reservation, contact the Island directly at: 547-5322 or email: Swan.Island@maine.gov
Please be on time!
Please make every effort to be on time for all programs and tours! We understand that bus schedules vary, but please build in enough time for slower buses, morning traffic and finding your way to a new location.
Better early than late -- with enough time to use the Town of Richmond restrooms, if necessary. (a short walk from the parking area)
Please count your money and your kids!
Please know the total number of people in your group (teachers, parents, kids) and have the admission/tour fees counted out prior to your arrival. Counting bags of change on the Island dock only delays your field trip!
View Swan Island's Rules & FAQs
Swan Island Teacher Information Packet
Upcoming Education Programs
Download the entire calendar: 2018 Wildlife & Conservation Education Programs (PDF)
Call (207) 287-5244 to reserve dates and times. $5.00 per person for all group programs & tours. View program descriptions