Field Trips to Swan Island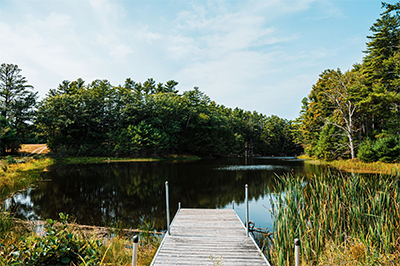 Are you seeking an enriching field trip for your class? Swan Island, located in the Kennebec River in Richmond, awaits you and your students for a day (or a few) in Maine's best classroom: the great outdoors. Choose the MDIFW delivered wildlife program or a self-directed trip.
Please note we are not scheduling field trips for the 2019-2020 school year at this time.
MDIFW delivered wildlife program: More than 900 children, teachers, and chaperones participate in this program every year! The field trip begins with an open boat ride across the river, then an open truck ride 1/4 of the way down the four-mile long Island to the campground. Depending on weather and the program itself, the program takes place outside or in the boathouse at the campground. Programs range from eagles, ospreys, & owls to animals' amazing adaptations.
After your educational program and optional guided tour of the island, plan time for lunch at our picnic area, your own planned activities, or try some exploring. To make the most of your total trip experience, download our self-guided tour booklet (PDF).
Click here for a complete learning agenda (PDF) with various learning topics tied to Swan Island.
Educational Programs are Monday and Wednesdays.
Regular Education Program fees for Swan Island are $50 per educational program which includes general admission, up to 50 people.
An Island tour is an additional $3/person.
Buses must arrive with students ready to board the ferry to the Island by 9:30 a.m. Students will then ride our Island tour truck to the Campground area where the Wildlife Program will begin promptly at 10:15 a.m. at the Boathouse and run approximately one hour.
From 11:15 am to your departure time, classes can picnic and explore the Island on their own. Departure times for everyone must be prearranged. Bring lunches, snacks & beverages to hold you over until you are back on the mainland.
You may register for wildlife educational programs by calling 207-592-1529.
To book an island tour call 207-592-1529
All reservations for an Island program or tour are taken on a first-come, first-served basis.
If you need to cancel once you have registered, please call and let us know so that another class may participate.
Island programs may be cancelled in the event of pouring rains, thunder storms, or river flooding; but dressing for the weather is essential.
Or, an independent trip: Make a reservation to visit Swan Island and plan your own programming or exploration of the island. Even better…make it a memorable camping trip! We have an indoor classroom, large picnic shelter, and outdoor classroom space available. The Beaver Pond Trail (PDF) is a half-mile nature trail with various stations to stimulate discussion and learning.
Independent school trips are on Tuesdays, Thursdays, or Fridays.
Regular island fees apply.
You may register for a Swan Island independent field trip, truck tour or camping by calling the Swan Island Reservation Line directly at 207-592-0579 or by emailing Swan.Island@Maine.gov.
We are looking forward to seeing you and your students at Swan Island this year for exciting and informative wildlife and conservation education programming.
Reminders
On the day of your trip:
Buses must arrive by 9:30 a.m.
Please know the total number of people in your group (teachers, parents, and kids) and have the admission/tour fees counted out.
Pack your food. There is no food served on the island.
Dress for the weather!
View Swan Island's Rules & FAQs
Teacher Resources
Suggested activities to do while you are at Swan Island:
Materials to look at before your visit:
Suggested materials to look at or do after your visit: