Fishing With Soft Plastics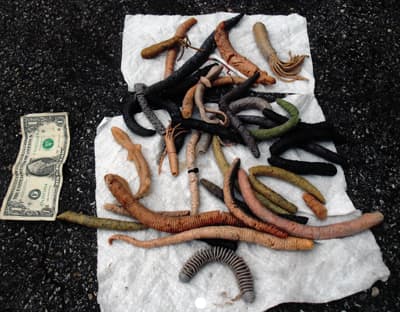 All of these lures were found in the stomach of a 14 lb. lake trout caught by
George Manley of Sidney, maine in Maranacook Lake in 2009.
Soft plastic baits are popular fishing tackle. Many discarded plastic baits are ending up on lake bottoms or in fish stomachs. Fish often ingest these baits off the bottom, and they may impact fish health. You can do your part to make sure that plastic baits are handled properly.
The best thing you can do is inspect your soft plastic bait frequently. After catching a fish, make sure your bait is still intact. If your bait is worn and will likely fall off, replace it with a new bait, re-hook it, or repair it. You can also extend the useful life of your plastic baits quite easily. Use a small o-ring or cinched small zip-tie in the middle of the bait, and place your hook right under the o-ring or zip-tie. That way, if your hook pulls through the bait, the o-ring or zip-tie will help retain your bait.
Never discard or dump used soft plastic baits into the water! Dispose of your used baits properly in a trash can, keep an eye out for recycling canisters which are now located at several boat launches in southern and central Maine, and check with your local fishing club or retailer to see if they are involved in a bait recycling program.
Help ensure the health of Maine's fisheries. Discarded soft plastic baits are trash. Replace any worn baits while fishing and dispose of them properly.