Rare Turtles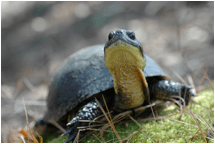 Blanding's Turtle
Photo credit: Jonathan Mays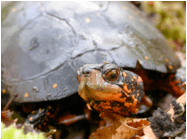 Spotted Turtle, Photo credit: Jonathan Mays
For nearly 20 years, MDIFW has actively researched the distribution and status of Blanding's and Spotted Turtles in Maine. Blanding's Turtles (Endangered) are 7 to 10 inches long with a yellow throat and light colored flecking on a helmet shaped shell. Spotted Turtles (Threatened) are 5 to 6 inches in length, have yellow spots on the head, tail, and legs and a somewhat flat, yellow spotted shell. Both species are semi-aquatic preferring small, shallow wetlands in southern Maine including pocket swamps and vernal pools. Undeveloped fields and upland forests surrounding these wetlands provide habitat for nesting, estivating (a period of summer inactivity), and moving between wetlands.
Despite the attention these turtles have received, habitat loss and fragmentation continue to threaten their persistence in Maine. Southern Maine's landscape is rapidly developing and active habitat protection will be critical for the preservation of both species. As the human population expands, road mortality becomes an ever increasing threat. The turtle's shell has provided sufficient protection from predators for millions of years, but unfortunately is no match for a car tire. Both Blanding's and Spotted Turtles are long-lived animals that take a minimum of 7 (Spotted) to 14 (Blanding's) years to reach reproductive age. This coupled with low hatching success places all the more importance on adult survivorship. Recent population analyses of several freshwater turtle species indicate that as little as 2-3% additive annual mortality of adults is unsustainable, leading ultimately to local population extinction. In other words, losing just a few breeding adult turtles each year to road kill may be the greatest factor threatening the extinction of Blanding's and Spotted Turtles in Maine.
MDIFW is currently involved in four active conservation projects benefitting Blanding's and Spotted Turtles in Maine:

Turtle crossing
photo credit: Jonathan Mays
Cautionary Road Signage Project (Turtle X-ing): A cooperative study by the University of Maine and MDIFW identified high-density rare turtle areas with road-crossing hotspots. With the assistance of the Maine DOT, The Nature Conservancy, and local towns, temporary yellow warning signs were installed in strategic locations to alert motorists to the possible presence of turtles on the roadway. The signs are deployed seasonally, coinciding with the period when overland turtle movements are greatest, thus helping to maximize the signs impact by reducing "sign fatigue" by local commuters. This project is now in its 7th year.
Conservation of Blanding's Turtle in the Northeast: MDIFW along with four other Northeastern states were awarded a Competitive State Wildlife Grant to develop a regional model and plan for Blanding's Turtles. This work, including a genetic assessment facilitated through Dr. Rhymer at the University of Maine, began spring 2012 and will continue through 2013. To date Maine biologists have systematically surveyed eight Blanding's turtle sites and obtained over 30 genetic samples for population analysis.
Wildlife Road Watch: Partnering with Maine Audubon and Maine DOT, a volunteer initiative to report wildlife-road interactions (both alive and dead) was launched in 2010. Data generated from this project may help in planning future projects and identifying mitigation efforts (e.g., additional signage areas, critter crossings, exclusionary fencing). In addition to incidental sightings, participants may also choose to adopt a road segment for repeated monitoring. Get more information on the Wildlife Road Watch.
Mt. Agamenticus Habitat Conservation: Some of the best remaining populations of Blanding's and Spotted Turtles can be found on a 35,000 acre area surrounding Mt. Agamenticus in York County. MDIFW is working closely with the Mt. Agamenticus Conservation Coalition ? including the U.S. Fish and Wildlife Service, The Nature Conservancy, local land trusts, water districts, and towns ? to protect habitat for turtles and other rare species in this area, one of the largest remaining contiguous coastal forest ecosystems between Acadia National Park and the New Jersey Pine Barrens. To learn more about progress on habitat conservation in the Mt. Agamenticus area visit http://www.agamenticus.org/
Funding for this work comes from the Loon Conservation Plate, Chickadee Check-off, Maine Outdoor Heritage Fund, the federal State Wildlife Grants Program (USFWS), Maine Department of Transportation, Maine Audubon, and The Nature Conservancy.