Hunting + Fishing
In an effort to encourage Mainers to get outside and safely practice social distancing, Governor Mills and Commissioner Camuso enacting the following changes effective immediately:
Fishing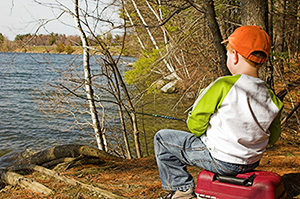 Licensing
Anglers were permitted to fish in inland waters without the required recreational fishing license through April 30, 2020. Beginning May 1, 2020, all anglers are required to hold a valid Maine fishing license to recreational fish inland waters.
Review the current fishing laws or purhcase your license online
Turkey Hunting
Season Dates
Youth days will be Saturday, April 25 and Monday, April 27. On these days, Junior Hunters who hold a valid junior hunting license may hunt wild turkeys. Participants may take up to two bearded wild turkeys with a shotgun, bow and arrow, or crossbow, but cannot exceed an individual WMD bag limit. LEARN MORE
The start of the regular spring turkey hunting season will be moved up to Saturday, May 2 instead of May 4. This will give hunters an additional Saturday to be in the field. All other current bag limits, license, and permit requirements apply. LEARN MORE
Tagging Requirements
Hunters participating in the 2020 spring wild turkey hunting season will NOT be required to tag their harvested turkey(s). Transportation tags will also not be required. This is specific to the Spring 2020 season only. Hunters will receive a post-season survey and are asked to participate to help provide data used to monitor Maine's wild turkey population. All other current bag limits, license, and permit requirements apply. Please review Maine's current hunting laws.