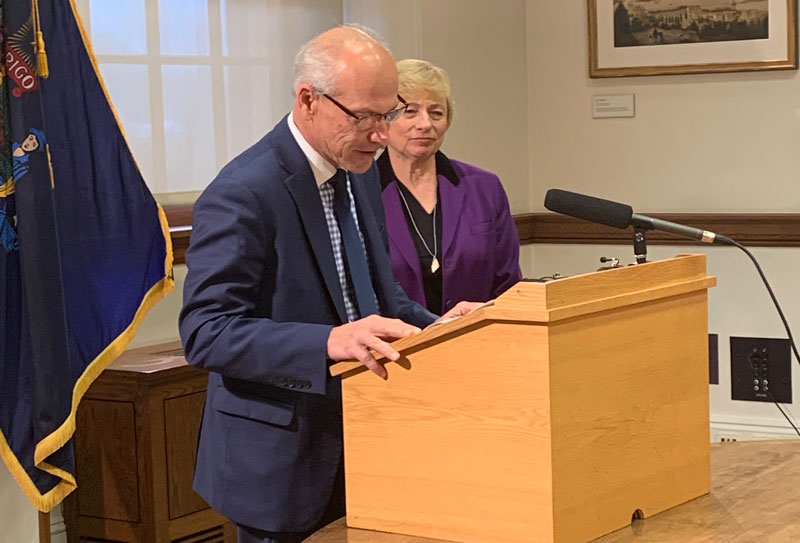 Governor Mills is committed to combatting the opioid crisis and protecting Maine families. On February 6, 2019 Governor Mills issued Executive Order 2: An Order to Implement Immediate Responses to Maine's Opioid Epidemic (PDF). The Order, which took effect immediately, set forth approximately twenty-five separate but related actions to be taken under the direction and leadership of Director Smith with the assistance of all the Commissioners and other staff as necessary. These actions are intended to reduce overdose deaths, expand treatment and recovery efforts and begin a focus on prevention.  And as noted in the "values" section of the Order, all actions shall be undertaken to reduce in every way possible the stigma associated with substance use disorders. To be effectively treated, addiction needs to be addressed as a chronic medical condition and, accordingly, de-stigmatization shall be an essential foundation underlying all actions.
During the 2018 gubernatorial campaign, then candidate Janet Mills released a 10-point plan to address the opioid crisis.  Once elected, Governor Mills has taken several steps to implement the points in the plan.  On Jan. 24, 2019, shortly after being inaugurated, Governor Mills appointed Gordon Smith, J.D., to serve as the first Director of the Opioid Response.  In appointing Smith, Governor Mills stated, "Gordon Smith is an experienced, well-respected, and highly qualified public health expert.  I have complete confidence in his ability to work across departments and knock down the silos that prevent us from working to combat this crisis and protect Maine families."  Prior to this appointment, Smith had served for twenty-five years as Executive Vice President of the Maine Medical Association.
Governor Mills added, "These people are not junkies. They are our neighbors, coworkers, family members, schoolmates, graduates of high schools, CTEs, universities and colleges. They are our sons and daughters. They are people without labels, citizens without stereotype. They are athletes and businesspeople, fishermen, cooks and clerks.  Mothers and fathers.  People we see every day."
For more information on this initiative, contact Gordon Smith at Gordon.Smith@maine.gov.
August 31, 2022 is National Overdose Awareness Day - for events at Recovery Centers Around Maine click here