March 9, 2020
Katharine England
On 03/04/20 at approximately 2350 hours, Trooper LiBritz stopped a vehicle near mile 37 southbound for a plate light out. Upon further investigation it was determined the operator, EHREN DWORAK (49-Year-old male from Arundel), was on conditions of release and he had an active warrant for failure to appear. DWORAK was arrested on the warrant and transported to the York County Jail.
On 03-08-20, at approximately 0820 HRS, Tr. Hager stopped SEAN SPARFVEN, 38 years old of Providence, RI for speeding 87/70 mph zone in York.  Mr. Sparfven immediately admitted to never having a driver's license.  Mr. Sparfven was issued a criminal summons for Operating without a License and a violation summons for speeding.  
3-4- Tpr. Darcy charged Jenna Kelly (33) of Biddeford with Operating after Suspension as the result of a traffic stop northbound on the turnpike in Wells.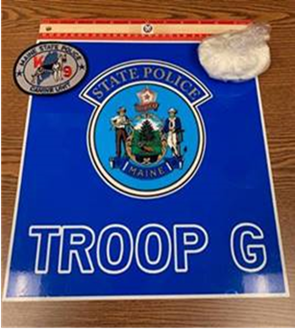 3-5- Tpr. Darcy stopped a vehicle northbound on the turnpike in York. Criminal indicators were observed during the roadside investigation and Tpr. Wilkinson and K9 Pinny were called to the scene. K9 Pinny alerted to the odors of narcotics in the vehicle and a search was conducted. As a result, 101 grams of fentanyl was seized. Joseph Tardiff (26) of Blaine and Brian Keenan (41) of Caribou were both charged.
Tr. Physic summonsed Joseph Berard for Criminal Speed for traveling 84 m.p.h. in a 50 m.p.h construction zone. 
On March 8, 2020 Tr. Physic spotted a vehicle going northbound in the southbound lane near mm37.  Tr. Physic made several attempts along the way to intercept it.  Tr. Physic was finally able to get the driver's attention enough where the vehicle stopped.  Tr. Physic arrested the driver, Joseph Neveux (23) for OUI.  Joseph took an intoxilyzer test at the Cumberland County Jail and blew over the legal limit. Cpl. Cote assisted.