June 8, 2020
Jennifer Newendyke
On 5/31/2020, Tr. Welch stopped Jonathan A. Mulero (37) of Nashua, NH for speed at mile 20 in Wells. As a result of the stop, Mulero was charged with Operating with a Suspended Registration (Tolls).
On 06/01/2020, Sgt. Pappas summonsed Brianna McArthur of Biddeford for Operating after Suspension.
On 06/01/2020, Tr. Davis and Sgt. Pappas responded to a vehicle fire at mile marker 81 in Lewiston. The operator drove off the roadway, striking the embankment, then rolled the vehicle which caught on fire. The operator, Trevor Slyvester of East Falmouth, MA, was transported to Central Maine Medical Center. Slyvester was charged with OUI.
On 06/01/2020, at approximately 2045 hours, Tr. Hager was called out to respond to Portland for a protest/demonstration in the area of the Portland PD. Tr. Hager assisted Troop G, Troop A, and Troop B units with the multi-jurisdictional response. All units cleared Portland at approximately 0230 hours.
On 06/03/2020, Cpl. Cote arrested Joseph R. Johnson (30) of MN on the ME Turnpike in Sabattus at mile 89 NB for OUI. His BrAC was over the legal limit.
On 06/04/2020, Tr. Darcy charged Ryen O'Connor (32) of Old Orchard Beach with Unlawful Trafficking Schedule W Drugs as the result of a traffic stop northbound on the turnpike in Ogunquit. Ryen was found to be in possession of 28 grams of crack cocaine. Tr. Williams assisted.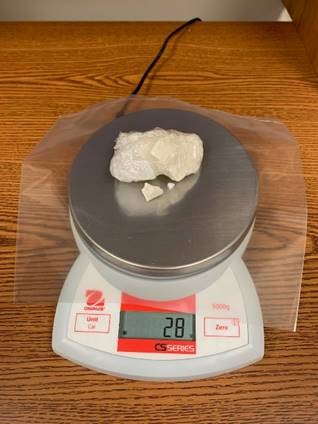 On 06/05/2020, Cpl. Cote summonsed Andrew Gerrish (40) of Sedgwick on the ME Turnpike in Lewiston at mile 79 SB for Operating after Suspension.
On 06/05/2020, Cpl. Cote, with Troopers Williams and Darcy, responded to a complaint of road rage northbound on I-95 in Wells. The complainant alleged another driver had pointed a gun at him through the window during the altercation. Tr. Williams located the suspect vehicle in the Kennebunk Plaza and made contact with the driver, who denied brandishing a firearm. During the contact, the driver ignored Tr. Williams' orders not to walk back toward the truck, and was subsequently arrested for Refusing to Submit to Arrest on Detention Class D. No firearm was located, and no further charges were deemed appropriate as a result of the investigation.
On 06/06/2020, Tr. Loder arrested Richard Stevens (53) of Old Orchard Beach for OUI-Liquor. Tr. Williams assisted.
On 06/06/2020, after receiving several traffic complaints about a vehicle that was all over the road and struck a guardrail, Tr. Darcy stopped the vehicle southbound on the turnpike in Kennebunk. As a result, the driver, Marie Forbes (56) of Hampton, NH was charged with OUI.
 On 06/07/2020, at approximately 0645, Tr. Duda and Sgt. Pappas responded to a single vehicle crash near mile marker 61 northbound. The lone female driver, Meaghan Grunst (25) of Massachusetts appeared to be under the influence. Grunst was transported to Maine Medical Center with complaints of pain. Grunst was charged with OUI. Blood draw results are pending.
On 06/07/2020, Sgt. Porter stopped a vehicle off Exit 42 after a passerby stopped to say they were following a vehicle from Wells to Scarborough that had the vehicle's bumper hanging off. It was stopped and the operator, Tara Ann McLeod (27) of Worcester, MA, stated she hit a bump in the roadway and the bumper that was already loose fell off. The plates were illegally attached, and the vehicle was towed. McLeod was charged with Operating an Unsafe Motor Vehicle.
On 06/07/2020, Tr. Welch stopped Ruth C. Barrett (44) of Wells for Criminal Speed (101 MPH) at mile 23 in Kennebunk. Barrett was cited accordingly.
Tr. Physic attended a forum with some citizens of Maine dealing with race.
Tr. Wilkinson assisted with the Portland protests on multiple days.
Tr. Keim was activated for the Crowd Management Team to Portland, Guilford, Lewiston, and Augusta for protests this week.
Tr. Keller was called out for the Member Assistance Team this week.
Cpl. Cloutier, Tr. Keller, Tr. Keim, Tr. Worcester, Tr. MacKinnon, and Sgt. Porter all assisted with the protests in Portland this week.