June 2, 2021
Jennifer Newendyke
On 05/25/2021, Tr. Darcy charged Richard Earles-Mitchell of Portland with OAS as the result of a traffic stop by the Biddeford Tolls.
On 05/27/2021, at approximately 0035 hours, Tr. LiBritz and Cpl. Physic responded to a vehicle fire at mile 38 southbound. A tractor trailer unit hauling a flatbed with two tractors was traveling south when the brakes heated up and caught on fire. The driver was able to pull over and disconnect from the trailer before it became fully engulfed. Lanes 2 and 3 were shut down for traffic control while the fire department put out the fire. No one was injured.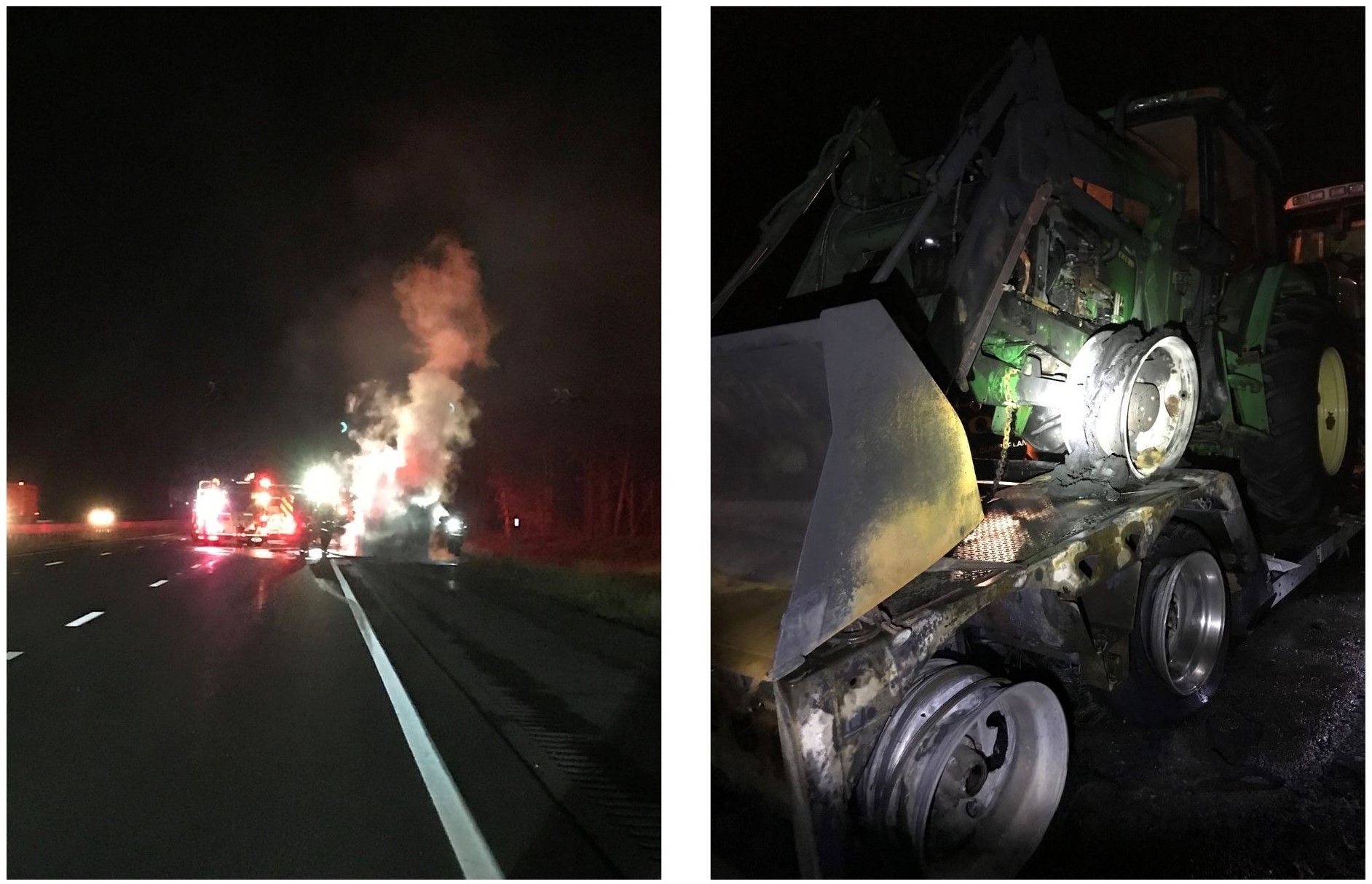 On 05/27/2021, Sgt. Pappas summonsed Robert True for OAS.
On 05/28/2021, Cpl. Physic summonsed Rehema Lunjwire for Criminal Speed for going 104 MPH in a 70 MPH zone.
On 05/28/2021, Tr. Keim arrested Marissa Irwin (32) of Carmel, ME for operating under the influence of intoxicating liquor.  Irwin tested above the legal limit.
On 05/31/2021, Cpl. Cropper was stationary southbound in the MM 20.4 cross in Wells. Cpl. Cropper observed a vehicle southbound and obtained a speed of 100 mph. After the vehicle passed it departed at Exit 19 and was failing to stop. The vehicle turned west on Rt. 109, drove up onto the divider, and crashed into a traffic sign. The vehicle then got back into the roadway and took off. The vehicle continued towards Sanford and then turned east onto Route 9A. A license plate was obtained and then the chase was shut down. Cpl. Cropper returned to the downed traffic sign to remove it from the road. Cpl. Cropper then heard Wells PD run the offending vehicle's plate. The vehicle arrived at the scene of an alleged assault on the Burnt Mill Rd. Wells PD was already on scene and detained the operator, Shania M. Cetina (24) of Lisbon until Cpl. Cropper arrived. Cetina was arrested for Revoked/HO class D and Eluding class C and was transported to YCJ.
On 05/31/2021, Sgt. Wilkinson was fueling up at the Rusty Lantern on Congress Street by Troop G. The store clerk advised Sgt. Wilkinson of a vehicle whose driver/occupants appeared to be intoxicated. Sgt. Wilkinson observed the pickup pull into a gas pump. The pickup was driving on the right front rim that had no tread left on it. After making contact with the male operator and conducting SFST's, Sgt. Wilkinson arrested and charged him with OUI. The test results were over the legal limit.