April 19, 2021
Sara M Parsons
On 04/08/2021, Tr. James responded to a tractor trailer roll-over on the Falmouth Spur during the early morning hours. The driver of the truck was transported to Maine Med with minor injuries and said he was unsure of what happened. The trailer was loaded with frozen hash browns and the spur was closed for several hours during the morning commute. Commercial vehicles units also responded to the scene.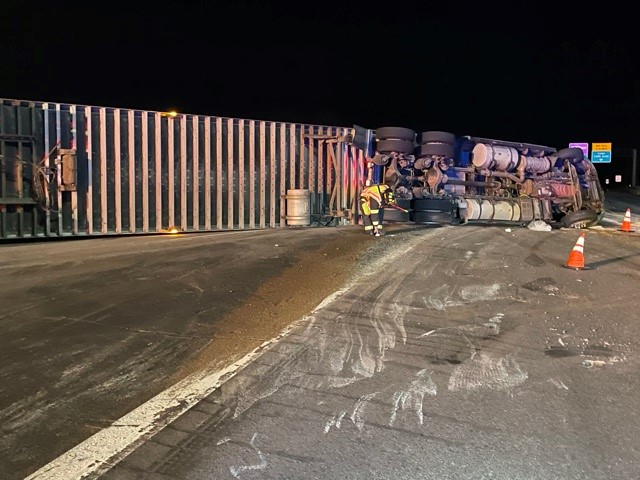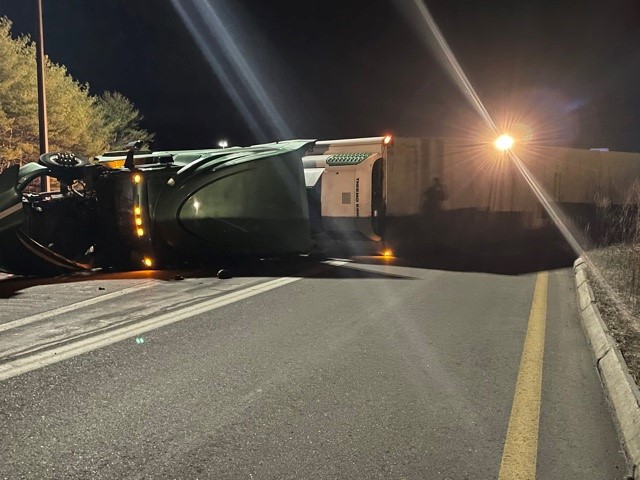 On 4/6/2021 at 2126 hours, Trooper Willard was observing traffic around Alfred A. Plourde Parkway and exit 80 in Lewiston.  His attention was drawn to an older style Chevrolet Suburban, as the operator was not wearing her seatbelt and the vehicle had a defect.  Trooper Willard contacted the female operator who stated they were taking a "ride" to Bangor.  Two male passengers were identified.  While speaking with Trooper Willard, the female driver granted consent to search the vehicle.  The female driver retrieved her nine-month-old baby from the vehicle, one of the male passengers informed Trooper Willard that the other male passenger, who had been sitting in the right rear seat had slipped a firearm out into the back of the SUV.  Trooper Willard requested back up units to the scene.  Once back up had arrived, a search of the vehicle commenced.  A .45 caliber Springfield semi-automatic pistol was located jammed between two boxes in the right rear trunk area of the vehicle, behind where one of the male passengers had been sitting.  The firearm had no round in the chamber but did have four bullets in the magazine.  The male passenger was placed under arrest and charged with felon in possession of a firearm.
On 4/11/2021 at 2257 hours, Trooper Willard observed a gray Toyota RAV4 traveling north on 295 in the area of mile 13.  The vehicle displayed FL PC 5WCF50, and was registered to Enterprise.  The vehicle was by itself and operating at around 55 mph in the posted 65.  Trooper Willard began following that vehicle as it exited at mile 15 in Yarmouth.  Trooper Willard eventually stopped the vehicle on Main Street in Yarmouth for a speed infraction.  The vehicle was being operated by a Omaid Shir who was on probation for trafficking. A search of the vehicle ensued and led to the discovery of around 20.7 grams of what appeared to be crack cocaine. The product was found inside the windshield washer fluid cap area underneath the hood of the vehicle. Also found in the vehicle was $2540.  The operator Omaid Shir was placed on a probation hold and charged with Unlawful Trafficking of Scheduled W drug.
On 04/06/21 Tr James received a traffic complaint on I295 in the Freeport area on a silver Chevy pickup truck being all over the road. Tr James was able to observe the erratic operation and make the traffic stop in Topsham. Scott NEWCOMB (64 of South Gardiner) had admitted to drinking vodka around 1 pm. NEWCOMB was arrested and transported to Topsham PD for a breathalyzer test. NEWCOMB's vehicle was towed and he was charged accordingly of Operating Under the Influence.
On 04/09/21 Warden Lounder initiated a traffic stop on a vehicle in New Gloucester for erratic operation. The vehicle failed to stop and continued to evade Warden Lounder, reaching criminal speed. Trp. Phillips was just behind Warden Lounder and was able to assist him in apprehending the subject once he finally came to a stop on his own accord. The suspect was taken into custody w/o incident.  
On 04/12/21 Tr. Lemieux was traveling north on Rt. 125 in Durham. He saw a red Chevrolet traveling south on Rt. 125 at a speed greater than the posted speed limit of 45mph. Tr. Lemieux locked the speed at 66mph. Tr. Lemieux turned around and activated the police cruisers emergency blue lights and siren. The truck remained at a speed of 66mph. Tr. Lemieux lost sight of the vehicle after cresting a hill. Tr. Lemieux turned down Puritan Road in Durham (dead end) where he met the truck turning around. Tr. Lemieux flagged down the driver. The driver rolled down the window and asked what he was being pulled over for. Tr. Lemieux advised him for speeding. He said there was no Durham police and I have no jurisdiction. Tr. Lemieux quickly informed him; he was a State Trooper. The driver continued to yell and slowly move forward, Tr. Lemieux ordered him to stop. The driver was removed from the vehicle and was identified as Keith Bouchard. BOUCHARD was on bail for disorderly conduct and terrorizing. BOUCHARD quickly calmed down. He was issued a summons for speed.
On 4/10/2021 Trooper Willard was clearing a traffic stop at 3 NB 295, when he observed a black Jeep Liberty pass his location traveling north.  The vehicle appeared to have a loud exhaust.  As Trooper Willard attempted to catch the vehicle, it exited at 5A.  Trooper Willard continued north on 295, but observed the vehicle continue past 5A and merge back onto 295.  Trooper Willard pulled to the shoulder and let the Jeep pass once again.  As Trooper Willard pulled in behind the Jeep it once again exited 295, this time onto exit 6B.  A routine query of the registration was conducted, and it showed it belonged to a Kayla Clifford of Bridgton.  A traffic stop was initiated once the vehicle turned onto Forrest Ave.  Trooper Willard found the vehicle to be operated by a John Berry of Casco.  A search of the vehicle was conducted per one set of conditions and a container of Fireball Whiskey was located.  The vehicle was towed, and John was charged with OAR (Class C) and VCR.
On 4/6/21 Cpl. Russell and Tr. Pyburn responded to a residence in Woodstock to attempt to Locate Erica Myers and Alex Ojeda.  Myers had an active arrest warrant for failure to appear and both subjects were on bail conditions.  Both subjects were located, and Myers was arrested on the outstanding warrant.
On 4/7/21 Cpl. Russell and Tr. Pyburn responded to a residence on Crystal Ledge road in Paris to attempt to located Joseph Fitts who had an active arrest warrant for a bail violation stemming from an underlying case of drug trafficking.  Fitts was located and arrested at the residence.
On 04/10/21 Tr. Lemieux was traveling south on Rt. 125 in Freeport. At this time, he observed a vehicle traveling North on Rt. 125 traveling 55mph in a posted 40mph.  Tr. Lemieux turned around in attempt to catch up with the vehicle. It took several miles to catch up with the vehicle. At one point, Tr. Lemieux locked the speed of the vehicle at 72mph in a posted 40mph zone on Rt. 136. The involved vehicle pulled over at the Freeport/Durham town line. Tr. Lemieux identified the driver as Dakota Ballard (24) of Yarmouth. BALLARD had a suspended license and two sets of bail conditions. BALLARD was placed under arrest and the vehicle was towed. Freeport PD assisted with the stop.