May 3, 2021
Katharine England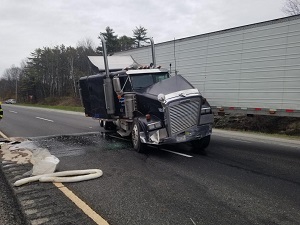 From the desk of Shannon Moss, DPS PIO
On Monday May 3,2021 at approximately 1pm, Trooper Willard was traveling south on I-295 around mile 10, when he observed a black Freightliner Tractor with a box trailer start to brake and jackknife.  Trooper Willard was able to reverse direction and arrive on scene a minute later.  
The tractor trailer was now blocking both lanes of travel bringing northbound traffic to a stop.  For a short period the driver, Jesse Philbrick, 66, from Limestone, was unable to exit the truck as one door was blocked and the other stuck.  The passenger side window was broken and Philbrick was assisted out of the truck without injury.
Witnesses say Philbrick was traveling in the right lane, when a vehicle entered 295 from exit 10, failing to yield to Philbrick.  This in turn caused Philbrick to apply his brakes and subsequently jackknife.  No other vehicles were involved in the crash.  
295 in the area of mile 10 was shut down for about 1.5 hours due to a large amount of fuel spilling from the ruptured fuel tanks.  Traffic was diverted to Route 1.    
At this time only one lane of traffic is open as cleanup continues on the left lane.
If anyone witnessed a black sedan that may entered the interstate just prior to the incident is asked to contact Trooper Connor Willard of Troop B in Gray, 207-624-7076.
Other members of Troop B and K along with Falmouth Fire and Police and DEP / DOT assisted.