September 9, 2019
Katharine England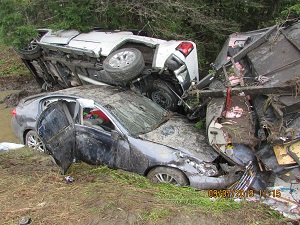 Multiple people were hospitalized with minor injuries after two vehicles collided Saturday morning in Sidney. 
On Sept 7, 2019,at approximately 11:30 a.m., Michael Moore, 74, of Texas, was operating his 2017 white GMC pickup and hauling a travel trailer southbound on Interstate 95 near mile marker 120 in Sidney.  Moore advised that he was diabetic and had blacked out while driving.  Moore and his passenger/wife Susan Moore, 68, drifted over into the passing lane and collided with Janet Arthur, 60, from Tennessee, in her 2007 Infiniti.  The two vehicles went off the road into the median where the pickup truck and camper then rolled over the sedan and came to rest.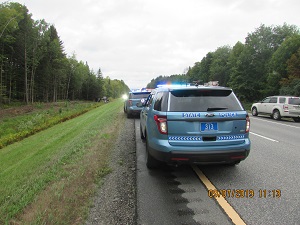 Arthur's passengers Linda Overvay, 55, and Barbera Knigge, 53, all from Tennessee, were transported to Augusta Maine General for minor injuries.  The Moores were also transported to Augusta for minor injuries and their two dogs were taking by the Animal Control Officer.  Multiple agencies responding to the scene and the passing lane was shut down for approximately 2 hours.