November 16, 2019
Katharine England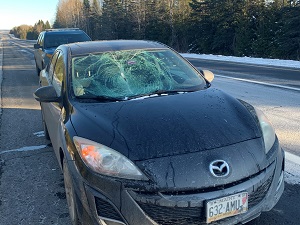 A driver was cited after a chunk of ice flew off their vehicle and through the windshield of a car that was attempting to pass it on Interstate 95.
On Nov. 16, 2019, Kristin Harmon was driving south on Interstate 95, Houlton.  She moved into the left lane to pass a slower moving vehicle driven by Rose Rodriguez.  As Kristin was passing, a large chunk of ice came off the top of Rose's vehicle and went through Kristin's windshield.  Kristin was able to flag down Rose and both pulled to the right side of the Interstate.
Rose was issued a traffic summons for unsecure load on her vehicle.  Kristin's vehicle was towed from the Interstate by York's of Houlton Towing.  No one was injured during this incident.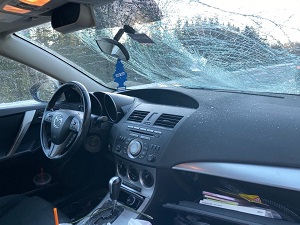 The State Police would like to remind all motorists to clear all snow/ice from their vehicles before driving on the public way.