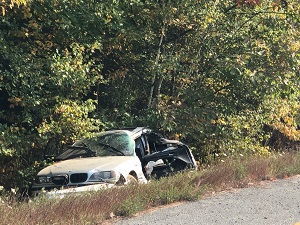 Maine State Police responded to a fatal crash on the I-95 NB 186 off ramp to Stillwater Avenue in Bangor on September 26, at approximately 9:22 a.m. 
Corporal Chris Hashey responded to the scene as the primary investigator, and as a result of the investigation learned that James Rice, 38, of Bangor, ME, was driving a silver 2005 BMW north on I-95 in Bangor and exited at Exit 186 to Stillwater Avenue.  As Rice exited the interstate, his vehicle failed to negotiate the right hand curve and travelled off the roadway and down an embankment, striking a tree.  The impact of the tree was to the driver's side door area of his vehicle.  The causation of the accident remains under investigation.
Rice, who was wearing a seatbelt was pronounced dead at the scene.  There were no other occupants in the vehicle.  
Maine State Police was assisted at the scene by the Bangor Fire Department.
The off-ramp was closed to traffic for approximately 2 hours.
This is all of the information that is available at this time.