March 17, 2020
Katharine England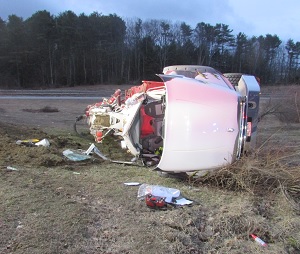 A cement truck rolled over when attempting to exit the interstate early this morning.
Maine State Troopers say at approximately 6 a.m., a N.S. Giles cement truck was traveling southbound on I-295 in Freeport, when it attempted to negotiate the Exit 22 southbound off-ramp. The vehicle was traveling too fast for the ramp, and ultimately rolled over into the median. The driver, Benjamin Cookson, 42, of Enfield, was transported to an area hospital with non-life-threatening injuries. 
Exit 22 southbound was shut down for a couple hours while crews removed the vehicle. Freeport Police Department, Freeport Fire & Rescue and Copp Motors assisted on the scene.