November 24, 2019
Katharine England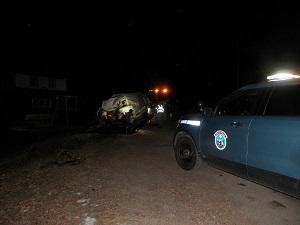 A crash left one dead and two injured in Canaan. The road was closed for five hours as Troopers investigated the incident.

On Nov. 23, at approximately 7:09 p.m., 2019, Maine State Police Trooper Garrett Booth, Trooper Eric Sucy, Corporal Rick Moody, and Sergeant Peter Michaud responded to the area 1292 Hill Road in Canaan for a report of a single vehicle crash involving three occupants. As a result of the investigation, it was determined that the driver of a 2004 Mustang convertible failed to negotiate a left turn, went off the roadway and struck a tree head-on where it came to rest.  The driver, David Johnson, 44, of Clinton and passenger Robert Archer, 58, of Clinton, were both taken to a local hospital then then transferred Eastern Maine Medical Center in Bangor for serious injuries.  The third passenger, Scott Miller, 55, also of Clinton, was killed in the crash.
Preliminary investigation suggests alcohol to be contributing factor in the crash, however the investigation is ongoing.  
Troop C personnel were assisted by Specialist Pion of the Maine State Police Traffic Unit for mapping and reconstruction purposes.  Canaan Fire Dept and Somerset Sheriff's deputies also assisted in the emergency response.  The Hill Road was shut down for approximately 5 hours while Troopers completed the scene investigation.