New Tip Sheet on Psychological First Aid
Psychological First Aid (PFA) is an evidence-informed intervention model to assist students, staff members, and families in the immediate aftermath of a disaster or emergency event, and can be used by any trained staff member or school administrator. PFA is designed to reduce the initial distress and trauma caused by emergencies, and to help students return to their usual school-based activities after such an event. By using these brief and effective interventions in the form of the five steps of PFA (Listen, Protect, Connect, Model, and Teach), schools can provide a long-lasting, positive influence on trauma-related stress. Read more about PFA via our K-12 At a Glance and Higher Ed At a Glance pages.
To help education agencies implement the PFA model at their site, the REMS TA Center created a tip sheet on the topic: "10 Tips for Teaching the Psychological First Aid Model." This two-page document:
Describes core elements of the PFA model;

Lists 10 tips for implementing each element of the PFA model; and

Incorporates resources that education agencies can use to learn more about this topic.
Resources on PFA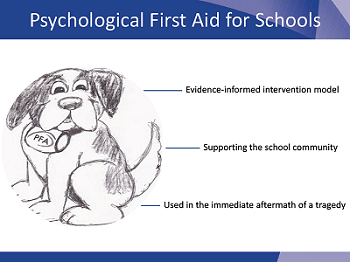 Previously, the REMS TA Center wrote a Helpful Hints publication, PFA for Students and Teachers: Listen, Protect, Connect—Model & Teach, which is also available en Español. The REMS TA Center created an entire Web page devoted to the topic of Supporting Efforts to Create a Public Health, Medical, and Mental Health Annex as a Part of Your Emergency Operations Plan for you to find resources. This page is one of 20 in our topic-specific resources hub. The REMS TA Center also hosted a Webinar with the Substance Abuse and Mental Health Services Administration on Implementing PFA in School and Postsecondary Settings and a Webinar on Trauma-Informed Care for Schools Before, During, and After Possible Emergency Events with Dr. Marleen Wong of University of Southern California Suzanne Dworak-Peck School of Social Work. Access these archived Webinars at any time to learn more online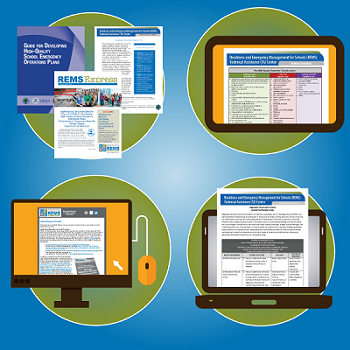 Guidance Documents

—Federal agencies have worked together to create joint products on critical topics in emergency management for education agencies, which are built upon years of work and contain best practices.

Sample Annexes

—While it is important that planning teams develop their own customized EOPs, these sample annexes may be useful in helping to understand what the structure and content of an annex may include.

Fact Sheets

—These documents explore key topics in school and higher ed preparedness and safety, security, and emergency management, and are based on research conducted by the REMS TA Center.

Resource Lists

—The REMS TA Center develops supplemental reading guides to accompany presentations.

News & Updates from the REMS TA Center

—This is our email newsletter.

REMSExpress

—These articles highlight emerging issues in emergency management planning.

Lessons Learned

—These publications are brief descriptions of actual school emergencies that spotlight the critical actions, decisions, and events that took place before, during, and after a real incident.

Success Stories

—These documents offer brief profiles on specific activities, tools, or strategies developed or utilized by education agencies that have been successful and could be replicated by other sites.

Helpful Hints

—These articles provide a quick overview of school emergency preparedness topics that are frequently the subject of technical assistance inquiries.

Other Publications

—The REMS TA Center also creates many more written resources, including toolkits, informational sheets, lists, FAQ sheets, work sheets, and tip sheets.