Module Work Pages
Module Overview and Goals
Video Transcript
Click to view full transcript

In this video, I'll be offering an overview of the module goals and learning objectives. This module has one main goal, which is to understand the components of a full-scale MTSS as a single system for whole-school continuous improvement. The learning objectives that will be used to measure this module goal are: 1. Define MTSS 2. Identify the main components of a full-scale MTSS 3. Examine the system as a framework for whole school continuous improvement 4. Understand implementation science as a driver for establishing an MTSS 5. Review one schools process of implementation
---
Module Work Pages
Video Transcript
Click to view full transcript

In this video, I am going to offer an overview of the module framework, and the work pages that you will be able to use while engaging with the module. This module utilizes a three-phase framework consisting of an exploration, module content, and wrap up. During the exploration, you will be invited to work out some of your thoughts and ideas on the Assess the Barriers work page. This work page had been designed to get you thinking about some of the barriers that you believe may exist in your school in relation to the content. Working through the Assess the Challenge page leads you through a process in which you identify a goal, or something you would like to achieve, by the end of the module. During the Wrap up, you will be invited to reflect on the barriers you identified, and based on the content of the module, identify potential action steps that you can do to reduce or remove those barriers. Feel free to print out the work pages to write on, or simply use them as a guide if you prefer to take notes in a notebook or other digital note-taking method.
---
Lesson 1 - Define MTSS
Video Transcript
Click to view full transcript

MTSS, or Multi-tiered Systems of Support, is a whole-school systems approach to creating universally designed environments that prevent school failure and ensure the academic, behavioral, and social-emotional well-being of each and every student. Like the tiers of a birthday cake, where each tier is supported by the ones below it, MTSS is a method of layering increasingly intensive supports for students when they need it, and for as long as they need it. MTSS is comprised of 4 essential components that are supported by a 5th critical component, strong team leadership. With a leadership foundation in place, schools are able to utilize evidence-based practices, effectively layer supports for student success, use data to make critical decisions about school environment, curriculum, instruction, and student supports, and thoughtfully engage families and communities to be part of the overall success of the school community. A full-scale MTSS includes analyzing, and sometimes reorganizing all available resources within the school context such as people, facilities, time, data, curriculum & instruction, and any additional resources.
---
Assess the Challenge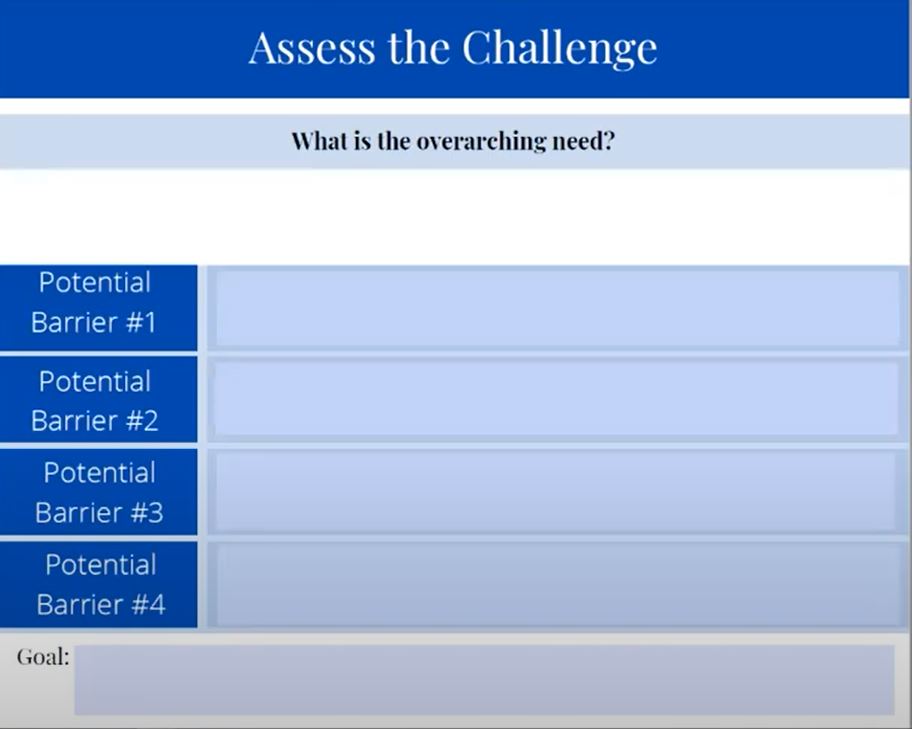 ---
Lesson 2  - A System with a Single Purpose
Video Transcript
Click to view full transcript

So just to start us off with a big idea, um, of prevention over intervention. If we feel to plan with the most vulnerable students, not just in mind, but at the table, we will continue to be stuck with old ways of learning that are both impractical and unsuited to move us from. And I think that, um, as a quote and as like a frame, you know, framing our thinking for, um, as we build that system, you know, really what we're trying to do with these support systems is, um, develop new ways of assessing. How our kids are doing and what we need to do to get them, um, where we want them to go. Um, but then, you know, thinking about how we're going to create those universal systems and the universal, um, environment and create policies and practices that are going to make sure that we're not leaving anybody out. And so really trying to think about it from, um, a little bit more of a, of a, um, inclusion model and, um, equity model then perhaps the, um, you know, the, the, the student fixing model that is an easy trap to fall into, um, Student fixing, um, and you know, exclusionary practices, um, policies that marginalized kids that, and that only some kids benefit from and things like that. Those are all things that are very easy to accidentally do and incorporate into, um, very well-meaning systems. Um, and so keeping a pulse on those students in mind can help to guide how you're creating your systems. Um, as you move forward. So, um, we've got a little bit of a different way of thinking about the five components of MTSS. And, um, if we look and we're gonna look at it from like a, like a flow chart, um, framework. Uh, concept map kind of way, um, to, to really think about how this system, um, really tries to get us to one single purpose. And if we can, um, use this framework or this, um, concept map as a way to. Build our system from the ground up. It's also going to allow folks that already have systems in place to maybe look back and say, oh, I could, I could, you know, we could do some work here or we could do some work there there's always room for improvement. Um, or to validate what you're doing, which is. Yeah, which would be great too. Um, and so, you know, to start us off, we're going to talk a little bit about, um, like the overall leadership and how at the, at the very foundation, um, of a sustainable, um, MTSS which incorporates your RTI, your PBI S um, is the leadership team that does, um, that helps to facilitate and keep that train going. Right. And so they're the ones that are helping to support educators. They're the ones that are, um, maybe asking the hard questions about what services. Distance need to change how things need to look. And, um, some of that decision making piece that comes along with, you know, with a system, because without that strong leadership layer, um, you, you know, you're going to have a hard time sustaining, you know, anything, especially if you leave that building and go to a different building, if someone else comes in. Um, and also the teachers that you're trying to support. And so some of the things that go into, um, the type of people that you would, um, Think of to add to your leadership team. Yes. You want to think about their, uh, their education level. Um, are they new teachers versus veteran teachers? Are they passionate about systems of support? Are they apprehensive about systems of support? You know, what grade levels are you trying to represent? Um, you know what, um, bachelor degree master's degree, all of those things are important, but then there are some other pieces that you want to take into consideration as you're structuring your leadership team as well. And that's, um, the kinds of characteristics. That you want your team to have. Together, they can, um, help lift and sustain the support system, um, of, you know, of a tiered system of support in your school. And so you want team members regardless of who they are, um, to be, you know, strong and steadfast. Um, engaged. They, they want to be seen, they want to be active. They want to help, um, and innovative. So they've got a natural, um, skill or, um, a drive to really look at. Systems and the, how we can be creative to, um, to create systems that are inclusive of all children. Um, you remember last week I saw I spoke of Shelly Moore and she's got her seven, 10 split. Um, theory that she talks about where, you know, you reached the outer kids before you reach the inner kids. And to do that, you have to come in at an angle, coming in at an angle is tricky. If you, if you can't see it, um, or if you can't visualize it. And so those innovative approaches, um, creativity, those kinds of things, one thing that's missing from this bubble that was brought up to me early. Was the idea that knowledge is not in that bubble and it should be, you know, those team members, um, that you're selecting for your leadership team should be, um, knowledgeable about the process, but also able to articulate that process to someone else so that they can help to transfer that knowledge to other people. So as those qualities build your leadership. The leadership then the leadership team, rather. So anytime I say leadership at this point, I'm thinking of like the collective intervention team as a whole, they are going to be the ones that help to facilitate that educator support system. They're going to be the ones that are not only looking at, um, what the students need, but also what the teachers need. Because if they're tired, if they're fatigued, if they're overwhelmed, they are not going to be able to. Address or implement systems with fidelity. And if you're not implementing systems with, with fidelity, you may not, you it's, it's almost like not even worth having the system in a lot of ways. You really, you really need things working at max capacity. And so one of the equal, um, really equal piece to developing your system and how you develop your policies and your practices is to really make sure that that educator support system is robust and in place. Um, Because that they are going to also feed into the next part of the concept, which is the integrated educational frameworks. Now, this is where, um, some of those things live. That's what, this is where your academic interventions live. This is where you're a tier tiers, one, two, and three live. This is where your special education SEL PBS. School social works will counseling. Um, any of those, um, systems, those practices, those, um, pedagogies. This is where those live in the integrated educational framework, because one of the things that, um, that is gonna make your system robust as, as most of you know, is. Is the braiding and interconnecting of those systems into an integrated, um, framework for students. And so you can see that on this left side of the concept map, um, really there are some underlying things that need to be considered as you are before you're even starting to intervene like before you're even thinking about. The the, the what and the, how, you know, I hear all the time, just, just tell me what to do and how to do it, and I'll do it. And if you've not heard the teacher asked for, just tell me what to do and show me how to do it and I'll do it. Um, then I want to know where that person is because, um, I get that question a lot is just tell me what to do and how to do it. And I. Um, because without the who in mind, um, the what and the, how really, really aren't going to be, um, as effective as you want them to be. And so, um, that leadership in that educator support system, uh, really are the primary, um, foundations of, of creating that integrated educational framework. Um, and so that's. Just what we talked about, the organizational integration of all of the systems that we know are good for kids. Um, and then thinking a little bit about, um, the health of the school culture. And health healthy school culture is obviously different than positive school culture because with positive, I mean, positive is not a bad thing, but if you enter into that realm of toxic positivity, um, that can be just as detrimental, you know, if everybody's just happy and fine all the time, um, that's not necessarily where you want to be either. So you really want a school culture. That's healthy, something, you know, where people know where they can get support. They aren't stressed out. They're not locking themselves behind their doors. And, um, you know, and they're active, engaged in decision making and, and curriculum and, um, staff meetings and PR you know, professional development and things like that. On the right side of the concept map, we have family community partnerships, um, because we definitely want to create those back and forth partnerships. Um, this is where a lot of, uh, Journey through communication channels. That's going to happen over here. And I'm really looking at, um, family as a educational partner in, you know, the health and wellbeing of the S of the students within the school. Um, but also what resources. Families and the community can provide to, um, to help with these integrated systems and making sure that all of those pieces are working, um, as, as efficiently as possible. And so family and community are all are going to play with each other and they're going to work together. Um, and they're also going to feed into, um, the primary role of this. Of the MTSS system. So it's, it's not always just about, um, you know, the communication, but it's actually creating those, um, you know, those shared partnerships and, and the, the shared, um, you know, meeting the needs of kids based on what's available in that community. And then the other piece over here is policy and practices. And so thinking about policy and practices, um, not only the ones that are school level, you know, um, like your token economies or your fun Fridays, or, um, whatever other kinds of practices that you are incorporating. Um, you really want to think about those, um, from a, um, marginalized and benefit, um, Lens because some practices without meaning to, um, can actually, um, exclude, you know, children because they have, um, you know, because they present with behaviors or they present with challenges that will constantly get them, um, disqualified from being able to participate in the fun stuff, or they don't get the tickets, they don't get, um, you know, The B box or the, uh, you know, the soar cards or whatever you want to call them. Um, and so really thinking about how those practices are inclusive as you're looking through and building your framework, um, so that, you know, all students can benefit from those. And then you're looking at your local education agency. Um, the other schools that are in your district, you're looking at your district level, um, prep, policy and practices. And then also the state education agency. And then it obviously goes out to the federal and things like that. So what, what is being offered and how can they help support, um, your integrated system? And so when you take all these pieces together, um, really what we're looking to get is that inclusive academic instruction and inclusive behavior and social, emotional instruction, and, um, thinking about, you know, inclusion. All of those students that are together and feel welcomed and feel understood and feel seen. And so, um, collectively, uh, when you're thinking about your tiered systems, um, you really want to take into consideration some of these extraneous, um, Things, you know, entities, domains, um, that maybe don't always get, uh, you know, their five minutes of fame in a data discussion or they're, um, you know, in a policy or practices, discussion. Um, but they are definitely things that are going to help you to either restructure, um, or we're launched, you know, uh, a good comprehensive system.
---
Lesson 3 - Implementation Science
Video Transcript
Click to view full transcript

So with implementation. So the implementation science continuum, um, is. Lovely simple. It's it's deceiving because it looks like it's simple and then it's really not. So you've got four stages of implementation, um, exploration, installation, partial implementation, and then full implementation. And the, the partial implementation, um, is one that oftentimes. Skipped. We, we think that we've got, um, you know, we, we pick a practice and then we just say, go, or we pick a practice and we give, uh, you know, one or two days of training, and then you might have a consultant from that company that comes in, you know, two or three times for a couple of hours to meet with teachers. And then it's just expected to be in place. And, um, and, and I think, you know, historically we, we have seen. Those kinds of things don't work. There are steps that need to be taken, um, that may not necessarily come from, you know, the practice that you have selected, but that have to come from within your building and you move in and out of the different stages of. Implementation science, depending on when you come up against barriers and what you have to do to get through that barrier. Sometimes that means going backwards, um, to a different part of, or a previous stage of implementation. And, um, you might also have different initiatives that are working at different levels of the, of the, of the continuum at different times. So in the exploration phase, this is where you're going to conduct a full needs assessment and collect all of the data that you have available to you. Um, here's where you're going to, uh, do some resource mapping and resource mapping is where you collect and you actually list out all of the resources that you have available to you, and that includes people and their expertise and their passions. It includes. Time, uh, because time is often one of those things that, um, we think, well, we have to build an, an intervention block. How are we going to do that? But he, he thinks of time, um, from like a debit card perspective and that each child, when they walk through the school day and through the school doors for that day, um, are essentially handed a debit card with the number of. That they have available to them, um, while they are in school. And that everything that you ask that child to do is going to deduct minutes or out of their debit card. And so, um, that's a good way to think about things when you think of some of our more, our, some of our most challenged students, um, and how many minutes they're spending in transition, how many minutes they're spending, um, you know, Within the classroom and transitions from classroom to classroom, um, taking the small group out in the amount of time that it takes to walk from here to there and, and kind of all those things, if you, you know, so time is one of those resources that really needs to be looked at, um, and could really have a huge impact in that exploration phase. And then you also have your practices. You have. Your curriculums, your programs and all those other kinds of resources. So you're going to collect like a whole list and map them out into tier one, tier two, tier three special ed, um, and then other kinds of resources, um, here's where you determine who will participate on the implementation team. Sometimes that decision is made outside of the exploration phase. Um, when you're thinking about implementing, um, a grass roots, MTSS. In your, in your buildings. Um, you really have to think about waiting until you've done the needs assessment. And you've done your resource mapping, um, before you determine who is going to participate on the implementation team because they have the implementation team. Doesn't just have to be. Leaders that have certificates and leadership, or they have master's degrees. It could be, you know, anybody in your building that has, um, something to offer and can be utilized in a way that helps to maximize those minutes and maximize, um, those policies and those procedures and those practices, um, within your school. And you're really looking for those teachers and staff members that have those qualities. Um, in addition to the ones that we looked at earlier, in addition to like what their professional title is. Um, and so, and that can take some time to get to know and to figure out who's interested. Who's not interested. Um, and then who, you know, who has, or has. A passion or a expertise that maybe is hiding that you're not, that you don't know about. And then you're going to go through some of your other things, you know, hard schedule, your meeting, dates, hard schedule. Um, some of those, you know, some of those like nuts and bolts kinds of things that'll happens, uh, during the exploration phase. And one thing that can be, um, really misleading too, is that this can take up to a whole school year to get through this process. So if you're looking to read that. Um, and change what might be a singular RTI system into a school-wide MTSS system. It could take. Essentially somewhere between eight and 10 months to get through that whole expo exploration, um, stage of the implementation science. And if you're looking to build an RTI or build an MTSS from the ground up, then, you know, something to keep in mind is that this is not something that happens in one staff meeting or in two staff meetings. This is something that happens. Over the course of a relatively long amount of time. The, uh, the installation parts is, is where, um, if you think of, you know, your phone or a computer and, you know, with the installation part, right. You know, tap, download, and then all of the things that that app has to offer gets downloaded into your phone so that it becomes usable for you. Right? And so this is where you're going to look at the needs that you assessed earlier and prioritize them. And then once you're done prioritizing them, you select a. That you want to work on. Um, and then you're going to go through that process of matching the available resources that will move you toward that goal. So again, as you're looking at all of the different resources that you have available to you, um, just because one resource says that it has to be work, you know, work over here, um, doesn't mean that there isn't something else that, that might be. T to match that goal. And then this is fluid, right? So like if you, if you go six or seven weeks and a particular resource that you've Nacht to meet the goal, isn't moving that goal. Um, you, you know, you come back and you look at what else you might have available. Um, this is where you're also going to assess capacity, uh, turnover. Um, Absences, um, all kinds of people away for conferences, professional development, those are all the new things that are going to get in the way of your collective school capacity for implementing your practices in your school. And so I'm assessing capacity on. Uh, almost on the annual basis is another important part of making sure that your RTI systems are sustainable because you're going to have teachers that have come and gone. You know, some teachers are going to be, um, you know, trained in morning meeting and others are going to be trained in restorative practices. And, but the two don't meet. Right. So you're going to have one teacher with one profile and another teacher with another person. And so looking at where, um, where you may have to pair up, some teachers are looking at getting some, um, additional training to get folks up to speed with whatever practices that you're choosing. And so assessing capacity annually is, is one of those installation things that is kind of always ongoing. It's like, it's like the updates, you know, on an app, for example, um, establish your communication channels. And then you're going to name your actions. Uh, you're going to make, you know, shoot your targets, make your timeline, and then decide who is going to be responsible. This is where you're going to establish your look for is how are you going to know if things are working and if things are not working and that goes for your staff and how overwhelmed they are or stressed out, they are with all the things they're being asked of them, but also the students as well, because that's, they are the whole reason why. W why we are doing this and why we're doing this, um, in such a, in such a huge systemic way. And this is also where you select your practices. Um, so you'll have looked at all of the different things that you, um, that you have access to. And then you'll select the ones that you're going to, um, either, you know, revitalize or install, initiate, um, whatever, you know, whatever needs you have in terms of practices. And this process is a little bit quicker, you know, it can be done in roughly around two to four months because it's really just like a continuation of, of the exploration phase. And then just like, it's like the getting ready, right. It's the, you know, um, getting ready to launch. So it's like the, you know, packing for your trip. In terms of partial implementation. Um, this one sometimes doesn't get the, uh, the, the spotlight as often as it should. Um, because we're always in a hurry to get to that full implementation, like we talked about earlier. And so, um, you want to start with a grade level or two or a population or to, um, to, to try out the practice that you have put into. Um, you want to figure out how you want to figure out ahead of time, how you're going to monitor fidelity. Um, don't wait until, um, you know, you question whether a particular, um, grade level or a particular teacher is struggling with implementing. The practice with fidelity. You want to already establish those, look fours and figure out how you're going to monitor that on a very regular basis. And I'm going to put out there that, um, your regular screening from fall middle fall, winter and spring is probably not quite enough. Um, I'm even going to advocate that you do a little bit more monitoring a fidelity, um, in between there. And that's going to be where a lot of your leadership. Um, partners are going to come in. You're going to provide ongoing coaching and relevant PD, um, at a variety of levels. So whole group, small group, individual, what are the trends that you're seeing as you are monitoring fidelity? So you can select, you know, if you have four teachers. Are all struggling with the same concept of, or they're all struggling with managing their time or they're all struggling with, um, you know, implementing interventions because they don't yet have, um, enough class room managing. Established or whatever it winds up being. It's not necessarily going to just be one teacher, you know, so you can collect them and try to address those things as a cohort, small group, whole group, whatever it winds up being. Um, and then knowing, and being prepared to stop what you're doing and move back into the installation phase or even the exploration phase, if something is just not working. Um, and that's a really hard question because most of these practices, Cosmo. They are expensive. They're difficult to implement. And they take a lot of effort to lift them. And so you don't want to stop what you're doing because you know, you want to try to get the, you know, the most out of it, but being able to ask what isn't working simply just moves you back into some earlier stages of implementation so that you can assess them and make sure that you're going to get the value out of them that you're looking for. And this kind of thing can go on for somewhere, anywhere. To 18 months, you really want to give enough time for things to take hold. You're perfecting your processes as a leadership team, and then your, your teachers that are taking on the, you know, the trial period, they're, they're figuring out how to get things going your month. And you're noticing that they are, um, fully implementing and they are ready to be, you know, kind of self-sustaining with just a few check-ins and assessing here and there and meetings with you before you move to that full implementation. And then with the full implementation, that's where, um, you introduce it to the rest of your community. And you're going to continually model and monitor, sorry for fidelity, addressing areas of need moving backward in the, the continuum, um, based on, you know, where you need to go based on what you're seeing. And so, um, when you're thinking about, um, doing a pulse check on your systems, Kind of think about where you are in your, in the implementation science continuum, where would you fall, um, with certain initiatives that you have going on? Um, because that can help you to, to think about some really targeted ways that you can, um, ask what's not working and then come up with a plan to try to get it working better for you.
---
One School's Efforts in Action
Video Transcript
Click to view full transcript

So one of the example schools, um, recently within the last year or two, um, decided to, or attempted to try the implementation science model, um, to build their RTI from the ground up and they weren't calling it RTI. Um, they were calling it MTSS because, um, what they really wanted to, to keep a. Vision on was the whole school functioning and not necessarily just the, the groups of students that were looking to that needed intervention.

And so, um, you know, what they, what they want to doing is, um, many of the pieces of the exploration phase. Um, and then, uh, maybe skipping over a few of the. So for example, um, this particular school did a needs assessment. They did their resource mapping. They did create a vision, but they went into it with a predetermined team.

Right. So they didn't do the team. Um, you know, th th th the team construction, they didn't build their team from their pool. Um, the team was created for them, or they, they predetermined who was going to serve on that team. Um, and so they, they did pretty good with that exploration phase, um, in terms of. You know, setting up their systems and, um, defining and articulating information to staff and families and, and things where things were ready to go

when they got to the installation phase. Um, they did even a little bit better. Right. So, um, they prioritize their needs and separate. They decided on decision rules and then, um, their decision rules they're look for is, and then they actually created a flow chart that was posted in some of the common places that teachers would hang out.

So the teacher room, the office, you know, um, a cup, there was a work room where it was posted and then every teacher also had it. In there, you know, in like their staff materials and things like that, so that they would always know kind of where they were and where they needed to go, where they needed support, where they needed to get help.

They had their timeline all mapped out for when they were going to do. And like the time intervals in between. And then they did the work to create a master schedule. And so, um, they looked at the schedule that they had and then they basically like tore it down to nothing and then added in, um, using their resources.

They rebuilt that schedule to minimize the time that the highest needs students were moving around the building. And, and, you know, wasting that transition time and figuring out how they could incorporate a master schedule that would support learners and also be inclusive. I'm sad to say that they skipped parcel partial implementation.

They went straight for the full implementation by, um, not, uh, dripping it into their system. Uh, it's not recommended to skip this step. And then they're filling the implementation piece. Um, it, you know, what was going pretty well. Um, and so they were, they were keeping up with their schedule. They were, um, monitoring for fidelity using, um, what they, uh, a process called instructional rounds.

I don't know if you've heard of instructional rounds, but they are linked in the resources. Um, and then they also found that, um, the teachers were coming to them because they had a lot of people coming and going from their class. And they were feeling a little bit overwhelmed about, um, different people that were coming and going that maybe they didn't recognize or didn't introduce themselves, or they were just unsure.

And so they, the teachers kind of came to them to the leadership team, was like, we need more clarity about, you know, what, what it is that's happening when you come into my room. Especially if you don't talk to me, like if I'm busy and you're, and I'm teaching. Tell me like why you're here. I need some more clarity so that I'm not feeling like, you know, that I'm, you know, that I've done something wrong or that, you know, there's a problem that I need to, that I need to do.

And so the team went back to the exploration phase and said, okay, we have a, we have a problem here. Our teachers need more clarity. What are some of the ways that we can address the problem? They decided that they would use a leave behind system. And so they, um, looked at some practices, um, where items got left behind and, um, for the teacher and, uh, they decided on a three-piece, uh, policy or three-piece practice.

So praise. Prob and Polish. Um, and so when, uh, when a new straighter would come in, or one of the implementation team folks would come in to do their instructional round or to do like a, just a one-off like walkthrough, um, they would leave a piece of paper that would praise something that they saw the teacher doing.

Um, ask a question and then, um, Polish it up by, you know, just, um, moving them forward. You know, um, you know, inspiration or, um, giving them something that they could think about, or, um, you know, I wondered when I saw this, maybe you could think of, or maybe you could try and kind of give suggestions if needed.

And then they created on the materials and they communicated with that with the staff. And so that was, um, implemented into their, um, into their implementation.
Reflection Questions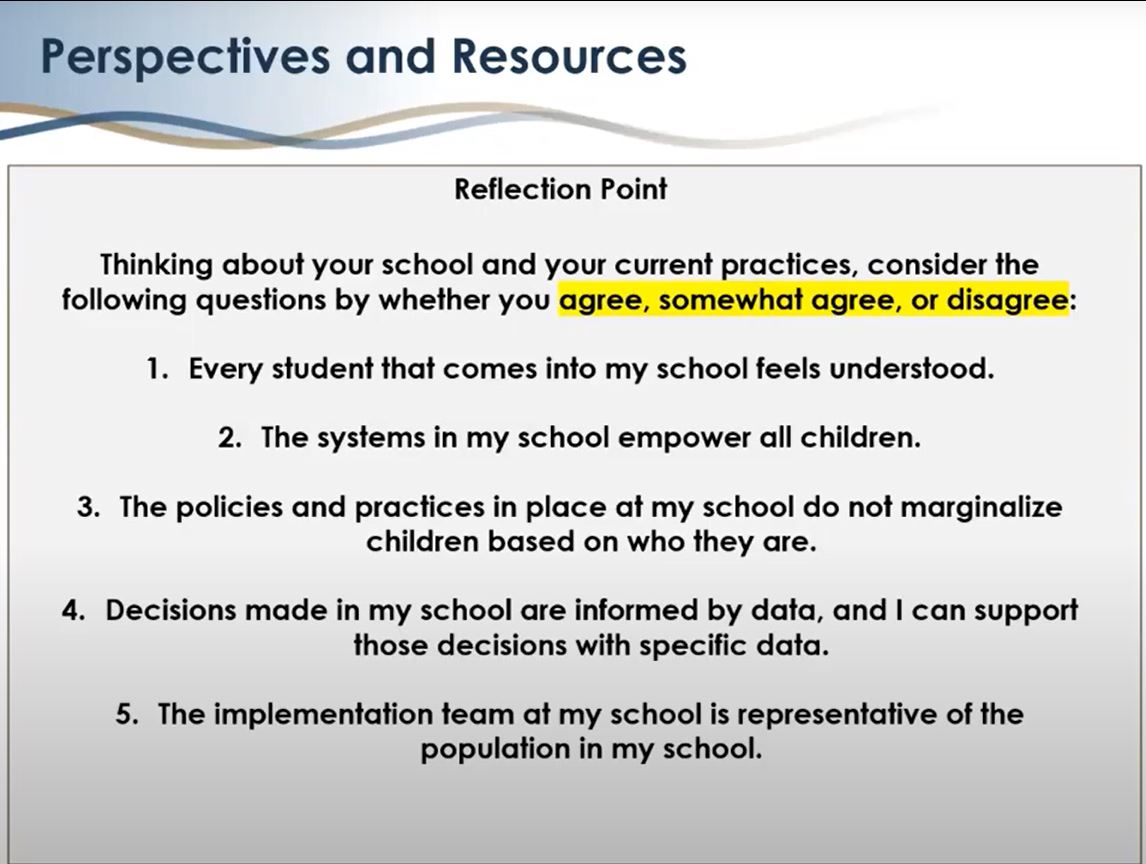 Wrap Up