Sharks in New England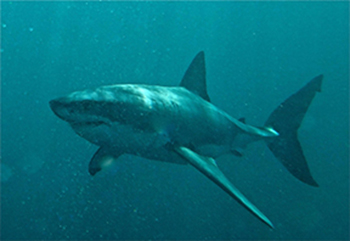 photo by Matt Davis, DMR
The Northwest Atlantic Ocean is home to a variety of marine species, and sharks are no exception. From the large filter-feeding basking shark to the small bottom-dwelling spiny dogfish, sharks of all shapes and sizes can be found inhabiting the waters of New England. Perhaps the most notorious and charismatic of these fishes, however, is the white shark.
White sharks are classified as a highly migratory species, traveling large distances in search of optimal foraging and mating opportunities. Their presence in New England is historically documented, and they are most often observed during late spring, summer, and fall months. White sharks are considered an apex predator of their ecosystems, meaning they exist at the top of the food web with few predators. Young white sharks predominantly prey on bony fish, but as they grow and mature, the primary source of food transitions to marine mammals.
Concerning their populations, the management of white sharks in the Northwestern Atlantic could be considered a conservation success story. Research suggests that abundance has increased following the implementation of conservation measures in the 1990's, and protection of marine mammals in the 1970's has resulted in recovery of seal populations, which are a major prey of white sharks. However, according to the International Union for the Conservation of Nature (IUCN), as of 2019 the white shark remains a globally vulnerable species, threatened by fishing and harvesting in parts of the world.
In 2021, Maine DMR unveiled a new resource for people on the water or on the shore to confirm if what they see is a white shark. A form is now available online, that provides a convenient way to submit photos and a description of what you see to the Maine DMR science bureau. Visit here for more information and a link to the form.
Additionally, you can submit shark sightings via the Sharktivity app on your Android or iPhone (https://www.atlanticwhiteshark.org/sharktivity-app).
To see white shark detection data, visit the Atlantic White Shark Conservancy's White Shark Logbook: https://shiny.atlanticwhiteshark.org/logbook/
Ongoing Research and Collaboration
In 2020, the Maine Department of Marine Resources, in collaboration with Massachusetts Division of Marine Fisheries, the Atlantic White Shark Conservancy, and James Sulikowski of Arizona State University, initiated efforts to monitor the presence of white sharks in southern Maine waters. With the placement of acoustic monitoring devices (or "receivers"), which record signals from acoustic transmitters (or "tags") attached to sharks by researchers outside the DMR, the DMR and its collaborators monitored trends in coastal shark activity. Results from this preliminary survey were used to expand the survey's scope in 2021, incorporating more than 30 acoustic receivers across southern and Midcoast Maine. Efforts to track coastal white shark activity in Maine will continue in 2022, with the additions of a real-time alert receiver deployed at Popham Beach (in partnership with DACF), and a real-time alert receiver deployed in Saco Bay (Dr. John Mohan, UNE).
To further improve the management and scientific knowledge of white sharks in the Northern Atlantic, Maine DMR has partnered with several regional organizations to form the New England White Shark Research Consortium (NEWSRC). With access to a large variety of resources and knowledge, the DMR and NEWSRC aims to further our understanding of white shark ecology, distribution, and habitat use. Members of the NEWSRC include: Atlantic Shark Institute, Atlantic White Shark Conservancy, Center for Coastal Studies, Canada Fisheries and Oceans, Massachusetts Division of Marine Fisheries, New England Aquarium, New Hampshire Department of Natural and Cultural Resources, National Oceanic and Atmospheric Administration Apex Predators Program, Rhode Island Department of Environmental Management and Division of Marine Fisheries, Sulikowski Shark Lab of Arizona State University, University of Maine, Bigelow Laboratory, University of Massachusetts (Amherst and Dartmouth), and University of New Hampshire.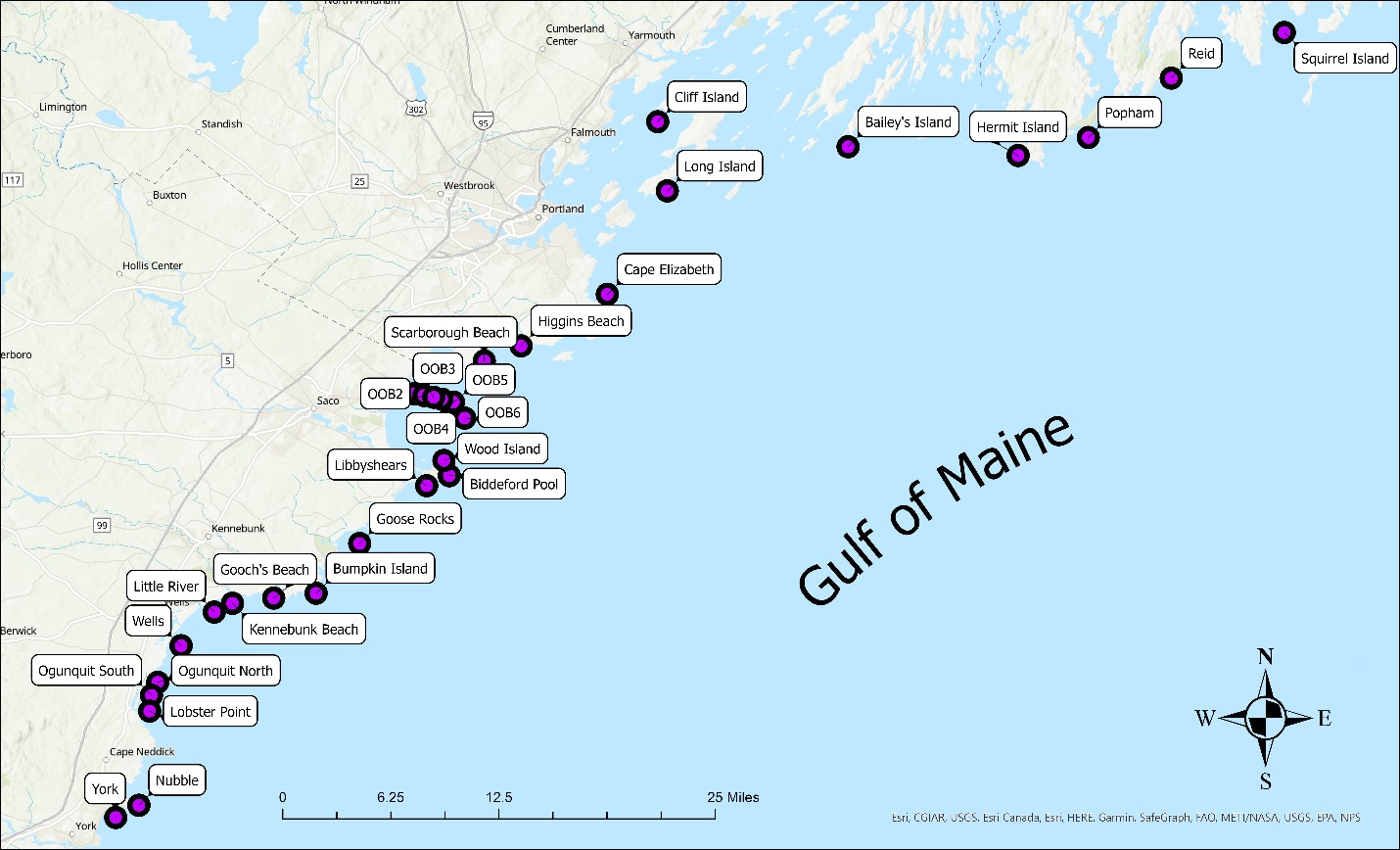 The department deployed 31 receivers between York and Boothbay Harbor in 2021.
All sites were chosen to ensure that data supports efforts to protect public safety and to provide important information about migration and habitat use of great white sharks in the Gulf of Maine. It is important to remember that sharks without transmitters will not be detected by receivers.
Receivers deployed in 2021 were retrieved in the winter of 2022 and data was downloaded by DMR Science Bureau staff. It has been shared with the New England White Shark Research Consortium, which will incorporate it into its ongoing research. Sharks which were detected on nearby, non-DMR receivers are not shown on this webpage, but their data has been passed on to the Consortium for analysis.
Data from the acoustic receivers has been uploaded to the Atlantic White Shark Conservancy Sharktivity app, as well as the White Shark Logbook\These resources provide provide users with a recap of shark activity detected by receivers, in addition to shark sightings information and alerts in their area. The Sharktivity app also allows users to upload their own photos and locations of sharks they spot. Information and app downloads can be found at https://www.atlanticwhiteshark.org/sharktivity-app.
2021 Acoustic Receiver Array Details:
Receivers deployed: 31
Depths range: 22' to 65'
Individual fish detected: 125
Individual sharks detected:29
Total transmitter pings: 138,000+
Shark pings: 1,800+
Detection Highlights
Earliest detection: "Didi" on Jun 15th by Hermit Island
Latest detection: "Mallory" on Nov 21st by Ogunquit Beach
Largest shark: "Pipit" - 15' female white shark tagged in 2017
Smallest shark: unnamed 4.5' female white shark tagged in 2017
Sharks detected by two or more receivers: 21
Most receivers per shark: "Mousie" - detected at 18 receivers from July 19th to October 7th
Most active months: July (13 white sharks) and August (18 white sharks)
Most active receivers: Hermit Island (18 white sharks)
Acknowledgements
The receiver array was made possible in 2021 thanks to members of the New England White Shark Research Consortium, with special thanks to Massachusetts Division of Marine Fisheries, Atlantic White Shark Conservancy, and the Sulikowski lab. Transmitters detected by this array originate from regional collaborators both within and outside the consortium. Receiver deployment was made possible by Maine Marine Patrol, with special thanks to Curtis LaBelle, Evan Whidden, and Alex Hebert.
About the New England White Shark Research Consortium
Maine DMR, in collaboration with members of the New England White Shark Research Consortium, aims to characterize the presence and habitat use of white sharks in coastal Maine waters. Established in 2020, the consortium continues to expand its monitoring coverage within the northern Gulf of Maine and throughout the region.
Shark Facts
Sharks belong to a group of animals called Elasmobranchii - fish that have bones made of cartilage. Stingrays and skates belong to this same group!
Sharks are old - the first is thought to have originated over 400 million years ago!
Not all sharks are apex predators ? some smaller species, like the spiny dogfish, are prey for larger species.
Some sharks give live birth, while others produce eggs. In very rare instances, scientists have observed parthenogenesis; that is, a female shark reproduced without male contact!
Sharks are important - whether big or small, sharks help to regulate prey populations and transfer energy within their ecosystem. This is important in sustaining marine environments.
Shark attacks are extremely rare - more people succumb to injury from lightening strikes than they do shark attacks.
Though rare, attacks are recorded ? reported attacks are tracked globally and publicly compiled in the International Shark Attack File (https://www.floridamuseum.ufl.edu/shark-attacks/)
Shark Safety
If you choose to swim, surf, or paddle, be aware of your surroundings
Stay close to shore
Swim, paddle, and surf in groups
Avoid areas where there are seals or schooling fish
Avoid murky, or low visibility water
Limit splashing
Avoid swimming at dawn/dusk when lighting is low
Adhere to all signage at beaches and follow lifeguard instructions
Additional advice is available at https://www.floridamuseum.ufl.edu/shark-attacks/reduce-risk/swimmers/
For more information, please contact DMR Scientist Matt Davis at Matthew.M.Davis@Maine.gov.