New Developments at DHHS
Update: May 17, 2019
The Maine Department of Health and Human Services (DHHS) has regularly provided updates on improvements and initiatives within our Offices over the past several months. Those updates can be found by visiting the "Department Updates" section of the DHHS homepage.
We also plan to highlight ongoing activities and changes occurring at a Department-wide level. In today's update, we'll address our new organizational chart, how to communicate with the Department about our services and programs, and resources available for individuals in crisis.
New Organizational Structure
Since the confirmation of Commissioner Jeanne Lambrew in February, DHHS has implemented a new, flattened organizational structure. Under this structure, the Directors of each Office report directly to Commissioner Lambrew, rather than the Deputy Commissioners, facilitating communication and decision-making. The Deputy Commissioners' focus is on operations, administrative issues, developing policy, and engaging with stakeholders.
Constituent Services
The Office of Constituent Services provides support to those with questions or concerns regarding any of the many programs and services offered through DHHS. Acting as a liaison, Constituent Services coordinates with the Commissioner's office, the Maine congressional delegation, the Office of the Governor, State legislators and members of the public to resolve problems and answer informational inquiries. During the first three months of 2019, the Office received 1,126 inquiries. Of those requests, 430 addressed questions regarding eligibility and benefits for DHHS programs, 236 regarding health services such as aging or mental health services, and 183 regarding child welfare.
Individuals looking for assistance may submit inquiries online, by phone at (207) 287-5846, or by email at scott.perkins@maine.gov. Please note that Constituent Services is not to be used in the event of an emergency or to report abuse or neglect of any kind.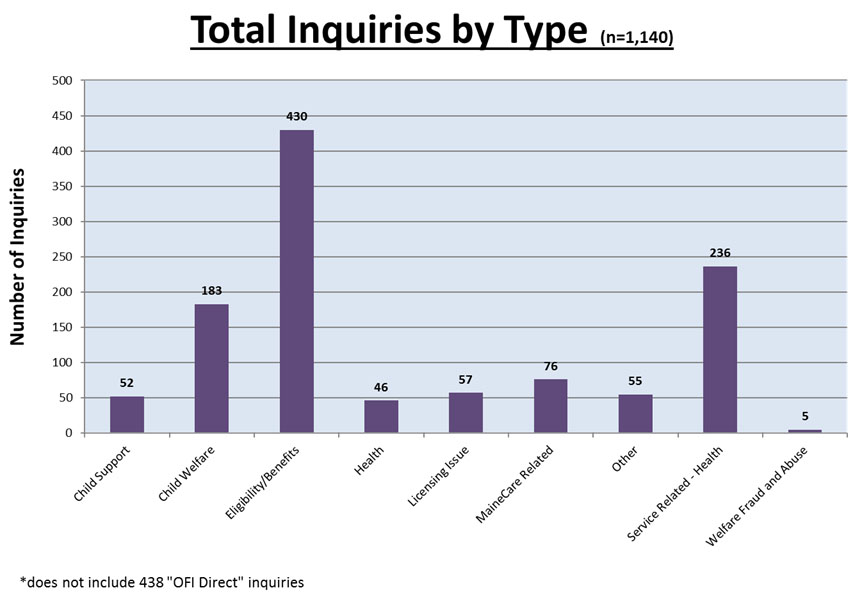 Crisis Hotlines
The Department has also updated its crisis hotlines page to provide the most accurate and appropriate resources. You can now download and print a pocket-sized card with information on connecting to the Statewide Crisis Hotline, Child and Adult Protective Services, substance use disorder resources, as well as a range of other services available through the Department and other providers.