COVID-19: Contact Tracing
Contact tracing is a process used by Maine CDC to contact people who may have been exposed to someone who has COVID-19 to provide guidance and support. Contact tracing is a key tool to help prevent further spread of COVID-19. In Maine, contact tracing is done with the Sara AlertTM system by staff at Maine CDC and in collaboration with other facilities. Learn more about Maine CDC contact tracing and case investigation positions.
What is Sara AlertTM?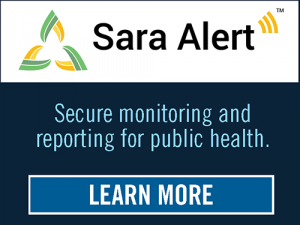 Maine CDC is using a new web-based tool, Sara AlertTM, to support the monitoring and reporting of COVID-19 close-contacts. Close-contacts are people who were within 6 feet of a COVID-19 case for 15 total minutes or more within 24 hours. This includes the 48 hour period before the COVID-19 case became symptomatic (or within 48 hours prior to getting tested if asymptomatic).
Through Sara AlertTM, people who have been potentially exposed to COVID-19 can report symptoms through web, text, email, or automated call. Individuals enrolled into Sara AlertTM will receive automated messages each day to report if they have symptoms of COVID-19. This will allow Maine CDC to know if people exposed to COVID-19 are well or have become ill, and promptly provide guidance to anyone reporting symptoms.
By answering our call and enrolling in Sara AlertTM, you can easily report your symptoms each day through the method and the time of day you pick. No need to wait around for a call from us every day, simply enroll and report the presence or absence of symptoms.
Who will receive a call from a Maine CDC Contact Tracer?
People who are a close contact to someone with COVID-19 may receive a call from a Maine CDC contact tracer.
What will I be asked?
Contact tracers will ask you:
Your date of birth
What county you live in
Your contact information including phone number, mailing address, and email address (if your preferred contact method)
If you have symptoms of COVID-19
This information is kept private, just like a medical record. Information that goes in the Sara AlertTM system includes date of birth and address. It is deleted 14 days after you end quarantine. You may request your data not go in the Sara AlertTM system. If you request to not share the information, the team will continue to monitor you without messages from Sara AlertTM. You can also choose not to answer questions that make you uncomfortable.
Contact tracers will never ask you:
Your social security number
Your immigration status
Your credit card number, bank account, or other billing information
An honest conversation with the person on the other end of the phone helps keep your family and friends safe.