About Us
Commissioner Ricker Hamilton
of the Department of Health and Human Services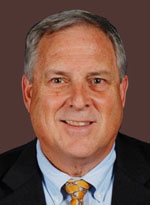 Commissioner Ricker Hamilton oversees the largest agency in state government, the Maine Department of Health and Human Services, which has an annual budget of over $3.4 billion and more than 3,400 employees. He was appointed as acting Commissioner in May of 2017 and nominated for Commissioner in October.
Prior to this role, Commissioner Hamilton served as Deputy Commissioner of Programs for Maine DHHS for nearly four years. He has more than 40 years of experience in management, program development, strategic planning, and social work in programs that provide services for children and families, substance use disorder, mental health, sexual assault and domestic violence, aging and disability and acute psychiatric care.
He is an instructor at the Maine Criminal Justice Academy, serves on the American Bar Association's Commission on Law and Aging, acts as an advisor and trainer for the FBI; Department of Justice, Office on Violence Against Women; National Clearinghouse on Abuse in Later Life; National Institute on the Prosecution of Elder Abuse; and the Federal Law Enforcement Training Center. He received the 2016 Children's Advocate Award from the Maine Coalition Against Sexual Assault.
Commissioner Hamilton holds a B.A. degree from St. Anselm College, an M.S.W. degree from Boston College Graduate School of Social Work, and received certification by the Maine Criminal Justice Academy as a Reserve Law Enforcement Officer.
Maine Department of Health and Human Services (DHHS)
DHHS serves approximately one-third of the people of Maine, providing health care and social service support to children, families, the elderly, the disabled, people with mental illness or substance abuse issues, and the poor. The Department operates two state psychiatric hospitals; provides public health information, guidance and management through the Maine Center for Disease Control and Prevention; and provides oversight to hospitals, nursing homes and other health care entities through the Division of Licensing and Regulatory Services.