About Us
Acting Commissioner Bethany Hamm
of the Department of Health and Human Services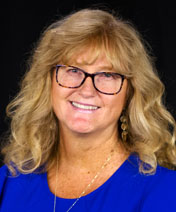 Acting Commissioner Bethany Hamm oversees the largest agency in state government, the Maine Department of Health and Human Services (DHHS), which has an annual budget of over $3.4 billion and more than 3,400 employees. She was appointed as acting Commissioner in August of 2018.
Acting Commissioner Hamm has worked in various capacities within the Department for over 30 years. Prior to her current role, Acting Commissioner Hamm served as the Director of the Office for Family Independence (OFI) for nearly five years, following her work as Director of Policy and Programs for OFI. In her role as Director, Acting Commissioner Hamm was responsible for direct oversight of Maine's public welfare programs including, Temporary Assistance to Needy Families (TANF), Medicaid eligibility, the Supplemental Nutrition Assistance Program (SNAP), Disability Determination Services, and Child Support Enforcement.
Acting Commissioner Hamm has been instrumental in advancing policies and partnerships in Maine that move families toward economic stability, reduce families' dependence on public assistance programs, and focus highly on the value of work.
Maine Department of Health and Human Services (DHHS)
DHHS serves approximately one-third of the people of Maine, providing health care and social service support to children, families, the elderly, the disabled, people with mental illness or substance abuse issues, and the poor. The Department operates two state psychiatric hospitals; provides public health information, guidance and management through the Maine Center for Disease Control and Prevention; and provides oversight to hospitals, nursing homes and other health care entities through the Division of Licensing and Regulatory Services.